#DoYourJob
Reckless Obstruction 
This Thursday, House Republicans left Washington for an almost two-week recess without completing any of the urgent business, before Congress, and without carrying out the job the American people elected them to do. Instead, they have continued their path of obstruction, recklessly blocking action on major public health crises facing our nation. They have recklessly chosen to obstruct the robust action needed to protect families from Zika, to provide the resources needed to confront opioid addiction, and to help the lead-poisoned children of Flint, Michigan. They have continued to prevent the fair hearing and prompt vote owed to President Obama's Supreme Court nominee, and they continue to block action to support good-paying jobs to grow American's paychecks and to build an economy that works for everyone.

The American people need and deserve better. House Democrats will continue to fight to bring about the solutions the American people desperately need, and to challenge our colleagues across the aisle to 'Do Your Job'.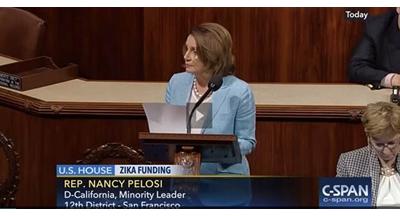 Congresswoman Nancy Pelosi speaks on the House Floor in opposition to a recklessly inadequate response to the Zika virus.

Continued Anti-LGBT Bigotry 
Only a week after House Republicans demonstrated their shocking thirst to discriminate against the LGBT community, they were at it again, voting against their own bill,simply because it affirms protections for LGBT Americans. An amendment was added to the Energy and Water funding bill that upheld President Obama's historic executive order banning anti-LGBT discrimination by federal contractors. In response to this, my colleagues across the aisle voted down their own bill, once again laying bare the depths of their bigotry. 

This action is made even more despondent as this week, our nation celebrated the 86th birthday of Harvey Milkwhose enduring courage in the face of hate and his abiding faith in the beauty of diversity empowered LGBT Americans to be full participants in our democracy. As Republicans push their agenda of discrimination in the Congress and statehouses across the nation, San Franciscans and all who seek justice find hope and strength in Harvey's legacy. That's why House Democrats are fighting to pass the Equality Act, and ensure that every American can be free to be who they are without fear of discrimination or injustice. Every LGBT person, in every state in America should know: we are with you.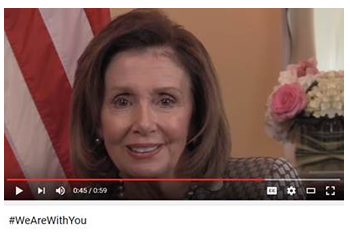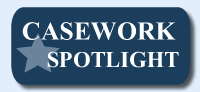 My constituent, a small business owner, contacted my office several years ago about a tax lien wrongfully filed against her business due to a transmission error from the IRS. At that time, my staff was successful in assisting the constituent with removing the wrongful lien. However, a year later my constituent was told by a general contractor that her company was not authorized to perform work for them due to their credit score, which still listed the tax lien. With the help of the Taxpayer Advocate Service, my staff was able to obtain for my constituent IRS Form 10916A, which shows the lien withdrawal. With this, my constituent was able to correct their credit score, and her business operations have returned to normal. 

Caseworkers in my San Francisco office work to address any problems or concerns you may have with a federal government agency. To submit a Casework Authorization Form, please visit my website.
Please feel free to forward this information to your family and friends. To learn more about these efforts, to express your views, or to sign up for email updates, please visit my website. I am also on Twitter at http://twitter.com/NancyPelosi.
 


Sincerely,

Member of Congress