Deal or No Deal
Now that their weeklong vacation is over, Senate Republicans are preparing to pull the rug out from under their constituents, threatening immense suffering for seniors, working families and people with pre-existing conditions just to give massive tax breaks to the ultra-rich. Recent CBO reports reveal that, as brutal as Trumpcare's impacts are in the immediate future, this cruel bill will create even deeper damage in the long term.
According to the CBO, Medicaid cuts over the next 10 years will devastate millions of seniors, people struggling with opioid addiction, and working families in communities across America.  These staggering Medicaid cuts will reach 35 percent by 2036, spelling catastrophe for rural hospitals, veterans, and seniors in nursing homes.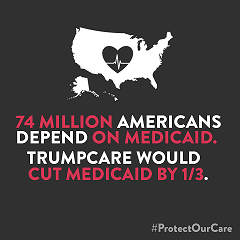 Trumpcare fundamentally means higher health costs, millions of hard-working Americans losing health coverage, gutting key protections, a crushing age tax, and stealing from Medicare. With Trumpcare's Medicaid cuts alone, millions of Americans will be denied access to the care they need.  If Trump and his cronies have their way, an entire generation will be cut off from one of the most important pillars of health security in America.  

The battle to defeat Trumpcare is a fight to protect Americans' right to health care today and long into the future.  Democrats are all hands-on-deck to defend seniors and working families and #ProtectOurCare.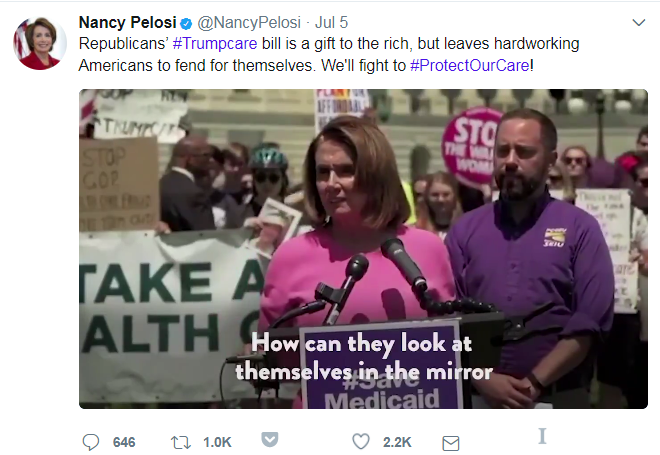 Jobs, jobs, jobs.
June's jobs report shows an economy where American workers still aren't getting the bigger paychecks they deserve.  Despite all the Trump Administration's promises, automakers and other industries are shipping American jobs overseas, and the White House offers nothing but embarrassing tweets.  Hard-working Americans are being left behind by an Administration that hasn't lifted a finger to create good-paying jobs or raise wages. 

More than six months into the Congress, there is no infrastructure bill, no budget, no tax reform, and no jobs agenda of any kind.  Instead of working to raise Americans' wages, the GOP is trying to raise Americans' health costs with the job-killing and cruel Trumpcare bill.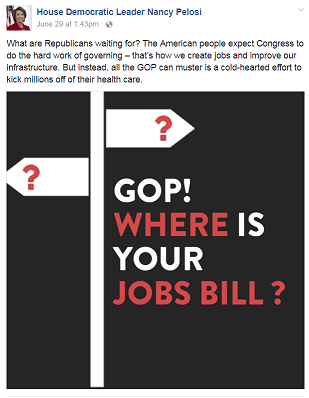 The Affordable Care Act has strengthened the health of America's families and the economy. It has created good-paying jobs, slowed the growth of health care costs and even reduced medical bankruptcies. Republicans should abandon their blind obsession with repeal, and join Democrats in real action to raise workers' wages and create good-paying jobs for everyone, everywhere in America.
Delaying Transgender Enlistment
Last week, the Defense Department announced just hours before a July 1 target that they will defer implementation of the Obama Administration's plan to allow openly transgender Americans to enlist in the military.  The Trump Defense Department's decision insults the brave, honorable service of the transgender Americans already serving openly in our armed forces.  
 
The repeal of 'Don't Ask, Don't Tell' in 2010 showed that we only strengthen our military by honoring our values of freedom and equality.  Continuing to bar transgender Americans from enlisting needlessly turns away exceptional men and women who just want to do their part to defend our freedoms. No one with the strength and bravery to serve in the U.S. military should be turned away merely because they are transgender.
                                                                                                My office recently assisted a constituent with obtaining his employment authorization from U.S. Citizenship and Immigration Services (USCIS). My constituent and his wife, a U.S. citizen, recently married, and he subsequently applied for permanent residency. While the application for permanent residency is pending, he is allowed to apply for employment authorization so that he can contribute to his family's finances. In April, USCIS approved my constituent's employment authorization. However, two months later, he still had not received the physical employment authorization card. Adding to the level of concern, my constituent was to start a new job at the beginning of the month, which he could not do until he received the physical card. Upon learning of the situation, my staff immediately contacted USCIS conveying my constituent's concerns. Very shortly thereafter, USCIS issued the card and mailed it to my constituent. With his card in hand, my constituent was able to begin his new job.
Caseworkers in my San Francisco office work to address any problems or concerns you may have with a federal government agency. To submit a Casework Authorization Form, please visit my website.
Please feel free to forward this information to your family and friends. To learn more about these efforts, to express your views, or to sign up for email updates, please visit my website. I am also on Twitter at http://twitter.com/NancyPelosi.
 


Sincerely,

Member of Congress