Comey Speaks
Honest Loyalty 
This week we all watched as Director Comey testified before the Senate Intelligence Committee about the Trump-Russia connection. Director Comey's resolute testimony detailed the frightening reality of President Trump's contempt for justice.  President Trump's concerted and inexcusable effort to shut down the FBI's investigation of his cronies' ties to Russia disgraces the Office of the President.  

Instead of protecting our democracy from Putin, President Trump worked relentlessly to obstruct the investigation of Michael Flynn and his campaign's possible collusion with Russia.  Nothing less than the integrity and security of our democracy is at stake.

With investigations inside the Justice Department and inside the Congress, we need an outside independent commission as well.  It is clear the special counsel must be supplemented with an outside independent commission to get the facts about Trump officials' conduct and the full extent of Russia's interference.
CLICK TO WATCH: Republicans repeatedly try to interrupt Congresswoman Nancy Pelosi while she speaks on the repeal of the Dodd Frank Act. The Congresswoman took the opportunity to call out Republicans for their efforts to empower Wall Street firms at the expense of working class families, seniors, students, and veterans.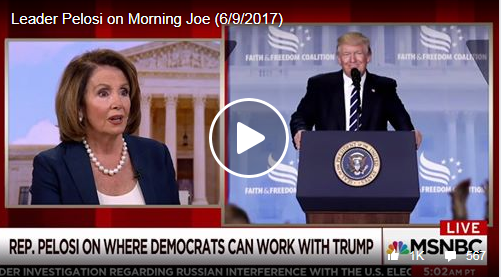 Congresswoman Nancy Pelosi appears on MSNBC's Morning Joe: "First, Donald Trump tries to charm you. If that doesn't work, he bullies you. If that doesn't work, he walks away from you. And then, he tries to sue you."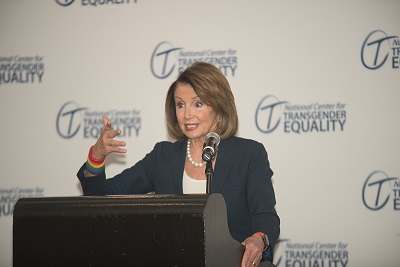 Congresswoman Nancy Pelosi speaks at the #TransLobbyDay on behalf of the National Center for Transgender Equality.  
                                                      My constituent, a US citizen who immigrated from Yemen, had been experiencing difficulties with bringing his wife and mother over from Yemen after conflict broke out in the country in 2015. My constituent initially filed immigrant petitions for his wife and mother in the summer of 2015 with U.S. Citizenship and Immigration Services (USCIS). He reached out to my office in 2016 after waiting nearly seven months without progress. My staff contacted USCIS and was able to ascertain that the case was in queue for an interview at the local office. After attending the interview, nearly a year after filing the petition, my constituent's petitions for his wife and mother were finally approved. My constituent then had to send documentation to the State Department's National Visa Center (NVC) in preparation for the consular interview abroad. When my constituent's wife's and mother's cases were inadvertently separated, my staff inquired with NVC to make sure the cases were processed together. Because the U.S. Embassy in Yemen has been closed since 2015, my constituent had an especially long wait for an interview to be scheduled at an alternative U.S. Embassy. Eventually, my constituent's wife and mother were scheduled for a consular interview at the U.S. Embassy in Djibouti. After attending their second interview at the Embassy, my office was able to confirm for the constituent that the cases were nearing completion. Shortly thereafter, my constituent's wife and mother were granted their immigrant visas, and after two long years, they have finally been reunited in their new home in the United States.

Caseworkers in my San Francisco office work to address any problems or concerns you may have with a federal government agency. To submit a Casework Authorization Form, please visit my website.
Please feel free to forward this information to your family and friends. To learn more about these efforts, to express your views, or to sign up for email updates, please visit my website. I am also on Twitter at http://twitter.com/NancyPelosi.
 


Sincerely,

Member of Congress