Celebrating 100 Years Since Women Fought For & Won the Right to Vote
Women Earning The Right To Vote 
One hundred years ago, our nation took a momentous step forward when the House of Representatives passed the 19th Amendment, guaranteeing women the right to vote.  This historic achievement came as a result of generations of courageous women who fought to have their voices heard and to take their rightful place as full and equal citizens in our democracy.  Their success could not have been achieved without the tireless work of countless unsung heroes, women of color who bravely raised their voices against the injustices of gender, race and class.

In the 100 years since women fought for and won the right to vote, they have helped deliver remarkable progress for our nation.  Today, Congress is blessed by the leadership of more than 100 women Members, who, just like the suffragists of the past, are fighting to protect and expand the sacred right to be heard at the ballot box for all Americans.  Yet, across the country, the right to vote is under attack from a brazen voter suppression campaign that is silencing the voices of American voters, particularly communities of color.

Inspired by the legacy of generations of suffragists and guided by the vision and values of our women Members, Democrats are advancing bold legislation to protect the ballot and fulfill our founding promise of justice for all.  We will not rest until every American, regardless of their race, gender or zip code, can freely exercise the sacred right to vote, which is the mainstay of our American Democracy.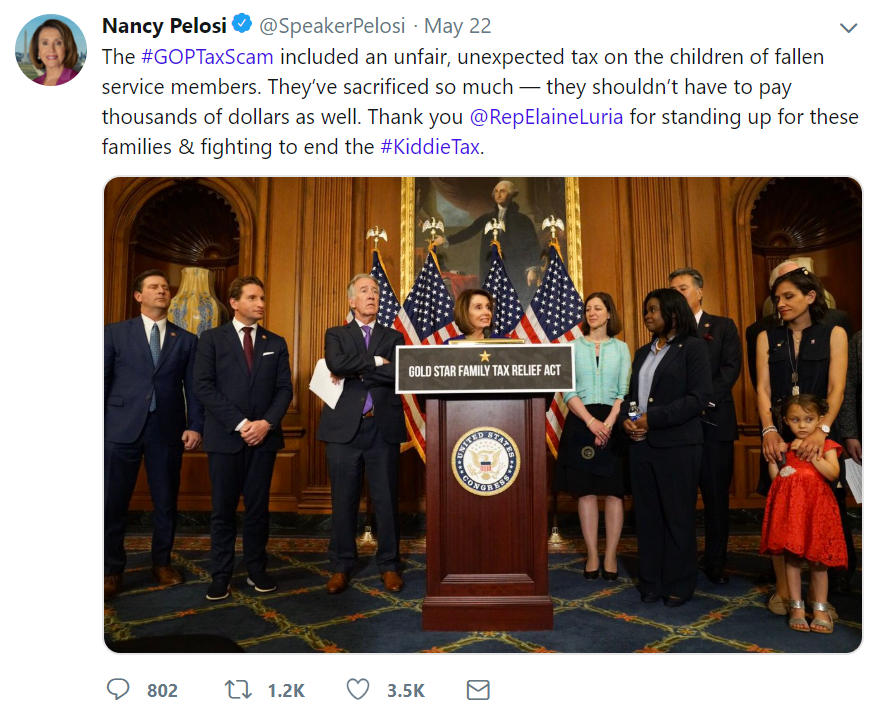 Celebrating Harvey Milk Day 
On May 22nd, Harvey Milk Day,  Americans across the country join the people of California to celebrate a man whose bold vision and unwavering voice for hope, equality and justice transformed our nation. As the first openly LGBTQ person elected to public office in California, Harvey Milk gave the green light to all oppressed, disenfranchised and marginalized Americans to 'stand up and start to fight' to take their rightful place as full citizens in our democracy. 

The movement that Harvey Milk began in San Francisco over 40 years ago, continues to be seen in the record number of LGBTQ Americans elected to office across the country.  More and more, our city halls, state houses and Congress reflect the beautiful diversity that enriches our communities and strengthens our democracy.  This new generation of LGBTQ leaders and activists has worked tirelessly to change history and deliver progress for all Americans by helping pass fully inclusive hate crimes legislation, send the hateful 'Don't Ask, Don't Tell' policy into the dustbin of history and ensure marriage equality for all Americans.

Harvey Milk Day is about more than honoring his remarkable life or mourning his tragic murder; it is about living up to the example he set for how to live a life of passion and purpose, dedicated to the American ideals of equality, compassion and opportunity.  Inspired by Harvey Milk's enduring legacy and the tireless advocates who have heeded his call to action, last week, House Democrats took the historic step to finally, fully end discrimination against LGBTQ Americans by passing the Equality Act.  While more work remains to be done, we will never rest until we have achieved Harvey Milk's life's work and fulfilled our founding promise of equality for all.

Remembering Our Fallen 
On Memorial Day, a grateful nation humbly pauses to remember the brave men and women who answered the call to serve and made the ultimate sacrifice.  These proud patriots raised their right hand and swore an oath – from the Revolution and the Civil War, to the fields of Western Europe and the jungles of Vietnam to the struggle against terror in Iraq and Afghanistan, they have fought for democracy, they have fought for freedom and they have fought for the ones they love, and in doing so they have helped advance a brighter future for all Americans. 
  My office recently assisted a veteran with a claim pending with the Department of Veterans Affairs (VA). He had contacted our office because he had not received a timely response from the VA regarding his outstanding claim. Our office contacted the VA on his behalf and conveyed the details of his situation. As a result, the VA rendered a decision in favor of my constituent, awarded him a $46,000 retroactive payment, and instituted a new monthly benefit.

Caseworkers in my San Francisco office work to address any problems or concerns you may have with a federal government agency. To submit a Casework Authorization Form, please visit my website.
Please feel free to forward this information to your family and friends. To learn more about these efforts, to express your views, or to sign up for email updates, please visit my website. I am also on Twitter at http://twitter.com/NancyPelosi.
 


Sincerely,

Member of Congress