An All-Out Assault on Children's & Seniors' Health
Medicare and Medicaid Under Threat
I had the great privilege of returning to Mission Neighborhood Health Center on Tuesday to discuss our shared commitment to protecting the health care of our San Francisco residents.  Thank you to the courageous advocates like Jonah Cohen and his mother Jennifer, and Brenda Storey and her daughter, Sage, who told their stories about the impact of the GOP health care sabotage on their lives. 
Fifty-three years ago, President Johnson signed Medicare and Medicaid into law, making a fundamental promise of health and economic security to our seniors and working families.  Two years after President Johnson signed that legislation, Mission Neighborhood Health Center opened its doors, securing the promise of health and economic security for so many San Franciscans.
Yet today, our nation's bedrock guarantee of dignity and security is under attack. Republicans' malicious campaign to undermine these bedrock promises has left the American people with a raw deal on health care, jeopardizing our families' futures and the future of our economy.  After exploding the deficit with their tax scam, they are fighting to dismantle protections for 130 million people with pre-existing conditions and working to shatter the guarantee of Medicare and Medicaid.
Democrats are fighting for A Better Deal for the people, with real action to strengthen the vital lifelines of Medicare and Medicaid, lower Americans' health care and prescription drug costs and protect the health care of people with pre-existing conditions.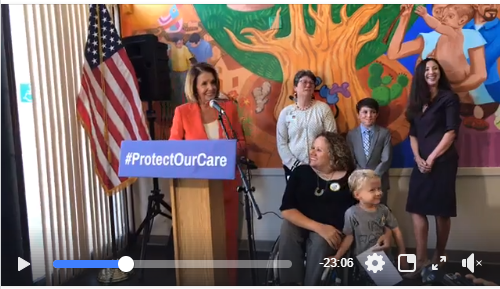 Congresswoman Pelosi San Francisco held a press conference highlighting relentless attacks on Medicare, Medicaid and people with pre-existing conditions with impacted individuals and families at the Mission Neighborhood Health Center. 
Hunters Point Naval Shipyard Clean-Up
Last Friday, I sent letters to the Office of Inspectors General of the EPA and Navy calling for an immediate investigation of the failed Tetra Tech EC clean-up and for an urgent briefing on the status of the Hunters Point clean-up and re-testing.  Following my request, on Tuesday, I met with representatives from the Navy, Environmental Protection Agency, California Department of Public Health, California Department of Toxic Substances Control and Hunters Point Naval Shipyard Citizens Advisory Council.
I articulated my concerns and those of the community about the unacceptable lack of progress and the results of the clean-up, in addition to the concerns of transparency from the federal agencies.  Bayview-Hunters Point residents deserve an expedited plan to clean up the Shipyard to restore trust within the community, address concerns about health and safety, and deliver on promises of revitalization and opportunity.
The fraud committed by Tetra Tech EC was universally acknowledged as unprecedented and wholly unacceptable.  All parties agreed that it is essential to hold Tetra Tech EC accountable for their monumental failures and that progress must be made expeditiously and as safely as possible.
The health and security of Bayview-Hunters Point residents remains a top priority of mine, and I will continue to work closely with the community and state and federal agencies to ensure the proper completion of this project.   
 

My office recently assisted a constituent who was experiencing issues with retirement benefits from the Social Security Administration (SSA). As a dual American-Canadian citizen, she was required to provide documentation from the SSA showing coverage in order to qualify for the Canadian pension program. She had contacted our office because she was unable to obtain a resolution on her own. Therefore, my office contacted SSA on her behalf and conveyed the details of her situation. As a result, SSA sent over the relevant documentation, allowing her to receive her pension.

Caseworkers in my San Francisco office work to address any problems or concerns you may have with a federal government agency. To submit a Casework Authorization Form, please visit my website.
Please feel free to forward this information to your family and friends. To learn more about these efforts, to express your views, or to sign up for email updates, please visit my website. I am also on Twitter at http://twitter.com/NancyPelosi.
 


Sincerely,

Member of Congress