Americans Deserve Action
Shooting in Thousand Oaks 

Our nation awoke to news on Thursday of a mass shooting of staggering tragedy and heartbreak.  It is particularly wrenching that this attack was carried out at a bar hosting a college night, targeting innocent young people enjoying an evening of music and community.
We are all humbled and grateful for the swift response of law enforcement and first responders, and we are heartbroken by the loss of Sheriff's Sgt. Ron Helus, a 29-year veteran of the force.  His courage represents the best of America, and his heroism is a blessing to our country.
The American people deserve real action to end the daily epidemic of gun violence that is stealing the lives of our children on campuses, in places of worship and on our streets.  House Democrats will fight to pass bipartisan, commonsense solutions to prevent gun violence in communities across the country.
May it bring some measure of comfort to all who have been hurt or have lost loved ones that so many grieve and pray with them during this time.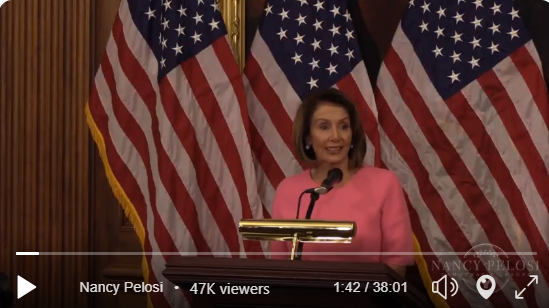 Congresswoman Pelosi held a press conference in the U.S. Capitol on Wednesday.
Firing of Attorney General Jeff Sessions

This week, President Trump bragged that he could destroy the Special Counsel investigation any time he wanted.  The President is now making good on that boast with the firing of Attorney General Sessions and the appointment of a partisan Acting Attorney General who has publicly advocated for the curtailment of the Russia investigation.  Acting Attorney General Whitaker must be recused from any involvement from the Russia investigation, and Deputy Attorney General Rosenstein should be allowed to continue to oversee the investigation, unhindered.
There is bicameral legislation to protect Special Counsel Mueller and preserve the documents of the investigation, which has passed in a bipartisan manner in the Senate Judiciary Committee.  House Judiciary Committee Ranking Member Jerry Nadler and House Democrats have introduced an identical bill in the House.
The President's threat of firing Mueller or Rosenstein is extremely dangerous and discouraging, and must be addressed with highest level of seriousness and purpose.  What is encouraging, though, is the public's commitment to protecting the Constitution and their opposition to the President's interference in the Special Counsel investigation.
 
My office recently assisted a Section 8 Project-Based Voucher recipient who was experiencing an issue in her apartment operated by the Department of Housing and Urban Development (HUD). She had contacted our office because her housing unit had serious habitability issues that included mold, raw sewage, asbestos, dust, and debris, which had caused her to become sick. She had requested to move to another unit but did not receive any response from her landlord or property management. Therefore, our office contacted HUD on her behalf and conveyed the details of her situation. As a result, the property owner and management were notified, and she was offered relocation to two available units.
  Caseworkers in my San Francisco office work to address any problems or concerns you may have with a federal government agency. To submit a Casework Authorization Form, please visit my website.
Please feel free to forward this information to your family and friends. To learn more about these efforts, to express your views, or to sign up for email updates, please visit my website. I am also on Twitter at http://twitter.com/NancyPelosi.
 


Sincerely,

Member of Congress