A Win for Working Families
A Win for Working Families 
Ending the specter of another Government Shutdown, Congress today passed a bill to keep the government open, create jobs, invest in the future and grow the paychecks of hardworking families. While imperfect, the Omnibus bill is a bipartisan compromise that stands as a major victory for working families over the Republican Congress's special interest priorities. 

As always, House Republicans fought to put the special interests first – insisting on giftwrapping a giveaway for Big Oil by lifting the 40-year old ban on crude oil exports. Yet thier desperate thirst to help Big Oil empowered Democrats to win sweeping victories for working families throughout the bill: 
We won major new investments in clean and renewable energy, adding wind and solar tax credits that will eliminate close to ten times more carbon pollution than the exports of oil will add.
 
We secured substantial increases in investments for research and development, education & early learning, medical research, infrastructure and law enforcement.
 
We forced them to remove numerous toxic policy provisions – known as "riders" – that would have attacked women's health, weakened our oversight of big Wall Street banks, undermined the Clean Air Act and Clean Water Act, assaulted our climate, dismantled campaign finance reform, and hurt workers and children. 
 
We reauthorized the 9/11 Health and Compensation Act, affirming our deep commitment to the heroes of September 11th, 2001 struggling from illnesses after their time at Ground Zero.
With this bill, Congress has averted another disastrous Government Shutdown – and we have taken bipartisan action to create jobs, strengthen the middle class and enhance our national security. Today, we secured an enormous win for working families, and for America's future.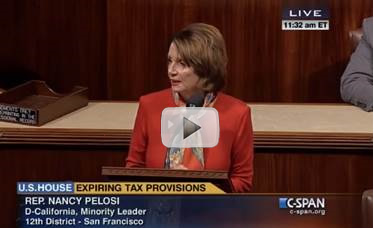 Congresswoman Nancy Pelosi delivers remarks on the floor of the House opposing the tax extenders bills.

A Trojan Horse
On Thursday, House Republicans passed legislation to lock into place hundreds of billions of dollars in permanent, unpaid-for special interest tax breaks. These massive giveaways to the special interests and big corporations are deeply destructive to our future, and they come at the expense of hard-working families. 

This Republican tax extender bill is like a Trojan Horse: while it includes some positive measures to support working families pushed by Democrats – such as the Earned Income Tax Credit, the Child Tax Credit, and the American Opportunity tax credit for higher education – the bill is heavily weighted towards the special interests and big corporations. For example, it includes $86 billion in tax giveaways that will encourage big corporations and financial institutions to keep their income offshore and avoid paying their fair share of U.S. taxes. These permanent, unpaid-for tax measures explode the deficit by more than $600 billion in the next ten years alone. It is almost an immorality.

We have a responsibility to pass legislation that grows the paychecks of hard-working families and invests in the future of our children. Their tax extender bill fails to meet that test. That is why I refused to place my name – and the name of every hard-working San Franciscan – next to this bill. In the New Year, House Democrats will continue to fight to ensure that we build an economy that works for everyone, not just the privileged few.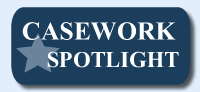 My constituent recently had to reduce her work hours in order to care for her mother who suffered a stroke. As a result, my constituent, who receives a housing voucher to pay for rent, submitted a request for rent reduction to the San Francisco Housing Authority (SFHA) based on loss of income. However, SFHA did not take into account all of the documentation my constituent had provided, and after submitting multiple requests for the record to be corrected, my constituent contacted my office. My staff promptly contacted SFHA with the documentation provided by my constituent and highlighted the oversight. Shortly thereafter, SFHA re-reviewed the reduction and made the appropriate adjustments to her rent. 

Caseworkers in my San Francisco office work to address any problems or concerns you may have with a federal government agency. To submit a Casework Authorization Form, please visit my website.
Please feel free to forward this information to your family and friends. To learn more about these efforts, to express your views, or to sign up for email updates, please visit my website. I am also on Twitter at http://twitter.com/NancyPelosi.
 


Sincerely,

Member of Congress