A New Dawn
The People's House 
Yesterday, I was honored to be sworn in as the Speaker of the U.S. House of Representatives for the 116th Congress.  I am particularly proud to be the woman Speaker of this Congress, which marks 100 years of women winning the right to vote, as we serve with more than 100 women in the House of Representatives – the highest number in history!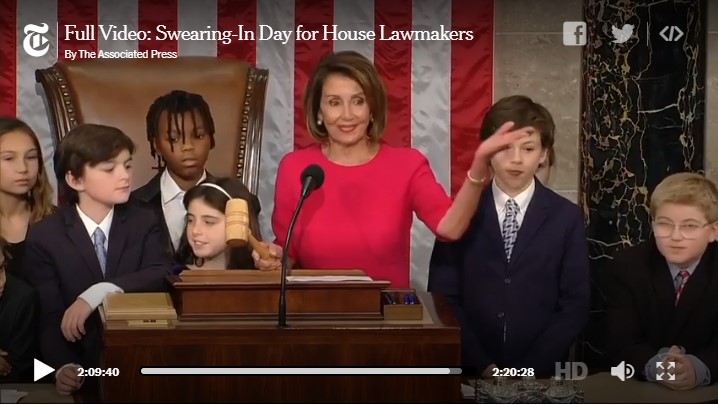 Congresswoman Nancy Pelosi is sworn in as the Speaker of the House of Representatives for the 116th Congress. (Video courtesy of the New York Times)
I am proud to serve the people of San Francisco and I thank you for entrusting me to be your voice in Congress, where I will serve in the spirit of Saint Francis, our patron saint: "Lord, make me a channel of thy peace."
We enter this new Congress with a sense of great hope and confidence for the future, and deep humility and prayerfulness in the face of the challenges ahead.  This Congress must accelerate a future that advances America's preeminence in the world, and opens up opportunities for all – fighting for the middle class and all who aspire to it, and building an economy that gives all Americans the tools they need to succeed in the 21st Century: public education, workforce development, good-paying jobs and secure pensions.
With the new Democratic majority, we will take action on overdue legislation that has bipartisan support in the Congress and across the Country.  We will make our communities safer and keep our sacred promise to the victims, survivors and families of gun violence by passing commonsense, bipartisan background check legislation.  We will make America fairer by passing the Equality Act to end discrimination against the LGBTQ community.  And we will make America more American by passing the Dream Act – protecting our patriotic, courageous Dreamers! Our common cause is to find and forge a way forward for our country.  
Our House will be For The People!  Working together, we will redeem our promises to the American people: lowering health care costs and prescription drug prices, and protecting people with pre-existing conditions, increasing paychecks by rebuilding America with green and modern infrastructure and passing HR 1 to restore integrity to government, so that people can have confidence that government works for the public interest, not the special interests.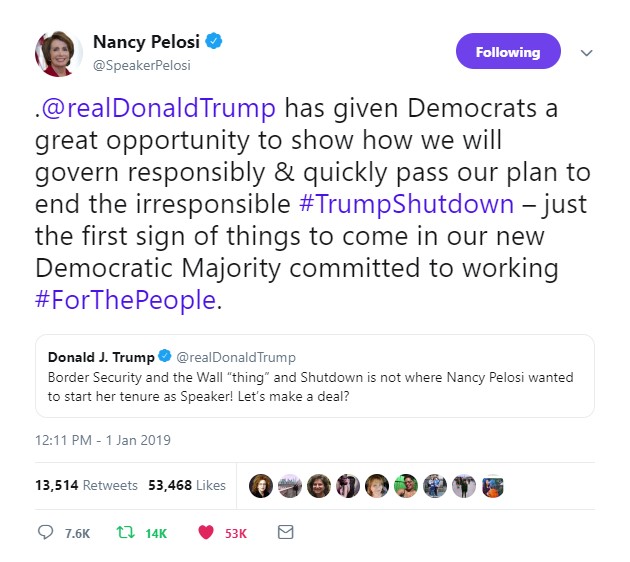 My office recently assisted a veteran regarding his disability benefits claim with the Department of Veterans Affairs (VA).  He had contacted our office because his claim was reopened after an initial denial in 2017, but he had not received any updates.  Our office contacted the VA on his behalf and conveyed the details of his situation.  As a result, the VA rendered a decision in favor of my constituent, awarded him a $29,000 retroactive payment, and resumed his monthly benefits.

Caseworkers in my San Francisco office work to address any problems or concerns you may have with a federal government agency. To submit a Casework Authorization Form, please visit my website.
Please feel free to forward this information to your family and friends. To learn more about these efforts, to express your views, or to sign up for email updates, please visit my website. I am also on Twitter at http://twitter.com/NancyPelosi.
 


Sincerely,

Member of Congress