A New Beginning
A New Beginning
After more than 50 years, it is clear that the policy of isolating Cuba is serving neither the interests of the American people nor the democratic aspirations of the Cubans. We must acknowledge our policy towards Cuba is a relic of a bygone era that weakens our leadership in the Americas and has not advanced freedom and prosperity in Cuba. 

President Obama's decision to normalize US-Cuban relations has achieved a historic diplomatic breakthrough that renews our leadership in the Western Hemisphere. I commend the President and Secretary of State John Kerry for their vision and leadership in this initiative, and in securing the release of American prisoner Alan Gross and the US intelligence agent who has languished in Cuban prison for two decades. The initiatives announced by President Obama this week, including those in the field of agriculture, build on the bipartisan work of many in the Congress over the years. We also recognize the role of the abiding moral leadership of Pope Francis in helping our nations reach this new beginning. 

However, we must also acknowledge that democratic activists and political prisoners have suffered for decades under the brutal reign of this oppressive regime, and the pain they and their families continue to face will not cease today. With clear eyes, we will continue to call on the Cuban regime to yield to the political, social, and economic dreams of the Cuban people.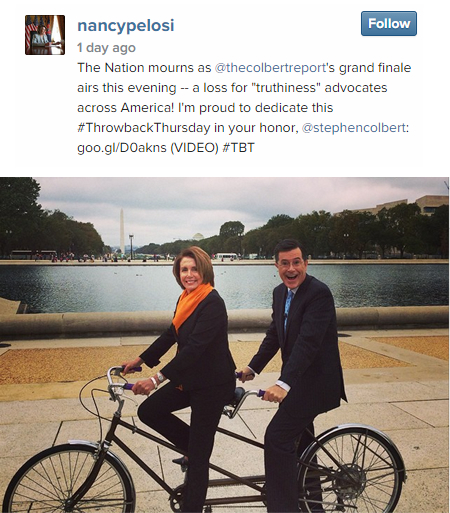 To follow Congresswoman Nancy Pelosi on Instagram, please click here.
Please feel free to forward this information to your family and friends. To learn more about these efforts, to express your views, or to sign up for email updates, please visit my website. I am also on Twitter at http://twitter.com/NancyPelosi.
 


Sincerely,

Member of Congress