A Nation of Immigrants
The President's Immigration Executive Actions
This week, the Supreme Court heard oral arguments in its review of President Obama's Immigration Executive Actions. The President's executive actions fall well within the broad authority and the clear legal precedent established by every Administration for the last 50 years – and House Democrats look forward to the Supreme Court affirming the legality of the President's vital immigration reforms.

In the face of breathtaking obstruction from Congressional Republicans, the President took bold, necessary action to bring our broken immigration system into line with our national interest and our values as Americans. For decades, presidents from both parties – including Ronald Reagan and George H.W. Bush – have exercised the broad immigration enforcement authority granted to them by the law and the Constitution. With his immigration executive actions, President Obama exercised that same authority to make critical improvements to our immigration system.

We must not perpetuate an obviously broken immigration system that tears families apart, dishonors our values as Americans, and fails to meet the needs of our country. While we look forward to the Supreme Court upholding the President's immigration executive actions, House Democrats will continue to push for Congress to act on the comprehensive immigration reform our nation so urgently needs.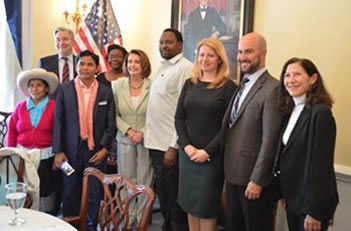 Congresswoman Nancy Pelosi meets with this year's Goldman Environmental Prize recipients – six individuals who have made a profound impact in their communities and throughout the world by fighting for environmental justice.

Celebrating Earth Day
For 46 years, communities around the world have united on Earth Day to highlight the urgency with which we must act to protect the world's air, water, land and wildlife for future generations. As Americans, we must come together to honor our shared responsibility to shape a healthier future for our planet and our children. This year's theme, 'Trees for the Earth', reminds us that the seeds we plant today will determine the landscape of our shared future.

On this day, we also mark monumental progress in protecting our planet, with more than 160 countries signing the Paris Climate accord. This agreement affirms that clean energy is the future, and challenges us to limit carbon pollution and address the climate crisis. Congress can no longer treat our environment as a point of partisan political debate – and we cannot afford willful blindness to the reality and severity of the climate crisis. Rather, we must work side-by-side to create a future of sustainability for our children and grandchildren.

I had the privilege this week of meeting with six individuals who embody these ideals and who push us to embrace our shared stewardship of this planet. The recipients of the Goldman Environmental Prize have made a profound impact on their communities and throughout the world. They serve as inspiration for all of us as we strive to combat the climate crisis and pass on the planet we all call home to future generations in a responsible way.
 
Nancy Pelosi
@NancyPelosi

---

On this 110th anniversary of the 1906 Earthquake, we recall the enduring spirit of #SF that rose from rubble & emerged as a beacon of hope.
12:06 PM - 18 Apr 2016

To follow Congresswoman Pelosi on twitter, please click here

.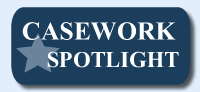 My office was recently contacted by a constituent who had been waiting for over one year for U.S. Citizenship and Immigration Services (USCIS) to issue her permanent resident card. The constituent contacted my office when she suddenly needed to travel to South America to see her mother who was ill, but was unable to travel because she was still waiting for her permanent resident card to be issued. Upon contacting my office, my staff discovered that USCIS was waiting for the State Department to provide a recommendation in the case. My staff then coordinated with the State Department and USCIS to ensure the constituent's case got back on track. Shortly thereafter, the constituent's permanent resident card was approved, and she is now able to travel internationally to see her mother.

Caseworkers in my San Francisco office work to address any problems or concerns you may have with a federal government agency. To submit a Casework Authorization Form, please visit my website. 
Please feel free to forward this information to your family and friends. To learn more about these efforts, to express your views, or to sign up for email updates, please visit my website. I am also on Twitter at http://twitter.com/NancyPelosi.
 


Sincerely,

Member of Congress