400 Years
Marking 'The Year of Return' 
It was an honor to lead a Congressional delegation to Ghana with the Congressional Black Caucus as we mark 'The Year of Return' and the 400th anniversary of the arrival of the first enslaved Africans in Jamestown, Virginia.  The sites we visited in Ghana are an inextricable part of America's heritage and will forever be seared in our hearts and minds.  

Landmarks like the 'Door of No Return', the portal of which the earliest enslaved Africans walked through to begin their journey to the American colonies, remind us of how far we have come as a nation, and how much we have to learn from our ancestors.  Our discussions and engagements with Ghanaian government officials and civil society leaders were key to advancing our shared interests and cooperative efforts to alleviate poverty, eradicate disease, address the urgency of the climate crisis and ensure economic prosperity and security for future generations.  

We look forward to building on the progress we have made together and strengthening our friendship to the benefit of both our nations.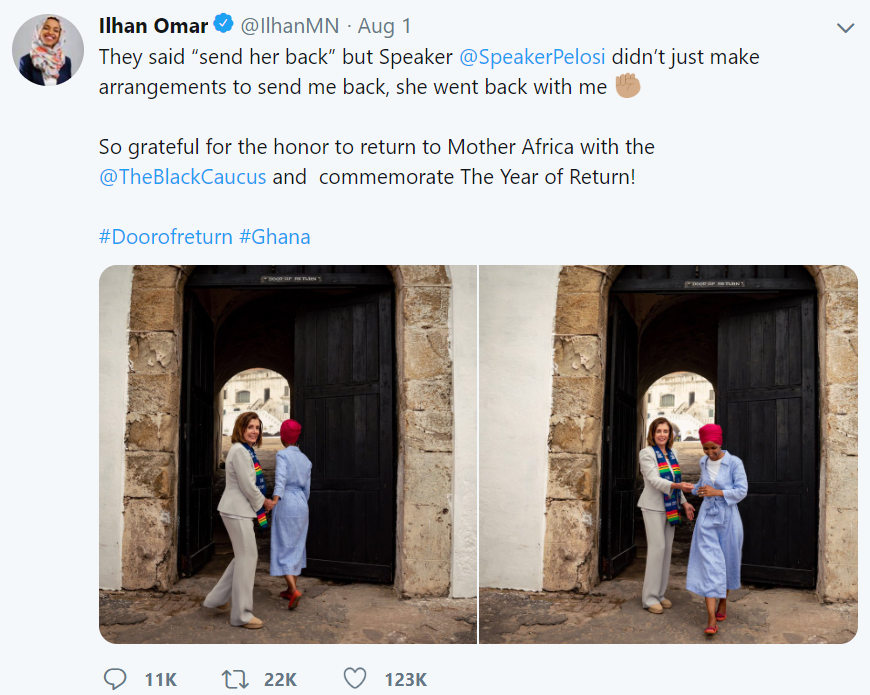 Holding the President Accountable 
When Members take the oath of office, we solemnly vow 'to support and defend the Constitution of the United States against all enemies, foreign and domestic.'  The Mueller report states unequivocally that Russia interfered in the 2016 election 'in sweeping and systematic fashion.'  And the Intelligence Community informs us that Russia is working 24/7 to undermine our elections.  This assault on our elections is a serious national security matter which the President chooses to ignore.  

The Mueller report and his testimony last week confirmed that the President's campaign welcomed Russian interference in the election, and laid out ten instances of the President's obstruction of justice. The President's more recent attempts to prevent us from finding the facts is further evidence of obstruction of justice.

To protect our democracy and our Constitution, Democrats in the Congress continue to legislate, investigate and litigate. 

The assault on our elections and our Constitution is a grave national security issue.  We owe it to our Founders to sustain our system of checks and balances and our democracy.  We owe it to our heroic men and women in uniform who risk their lives for freedom to defend our democracy at home.  We owe it to our children to ensure that no present or future president can dishonor the oath of office without being held accountable.

In America, no one is above the law.  The President will be held accountable.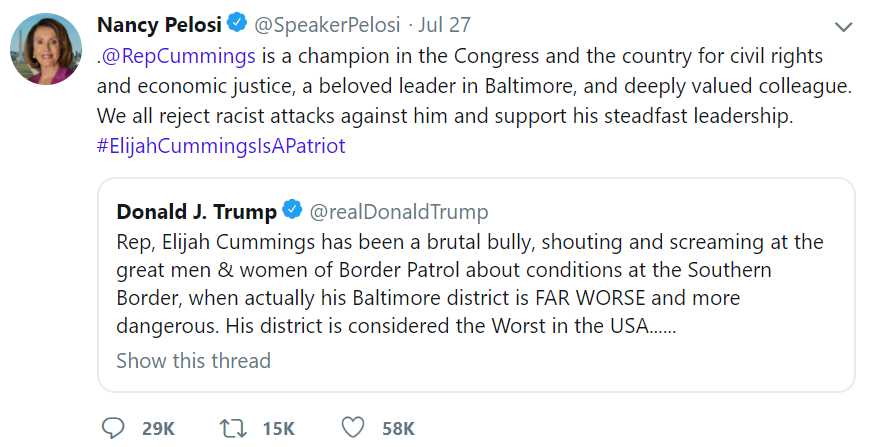 Was your information breached at Equifax? 
In the wake of the 2017 data breach that resulted in the exposure of 140 million individuals private information, Equifax has agreed to pay a $600 million settlement for the costs this breach.  If your information was one of the 140 million to be compromised, you might be entitled to a portion of the settlement. It only takes a few minutes to verify if your information was compromised.
  A constituent enduring a year-long wait to reunite with his wife and daughter, who remain in war-torn Yemen, recently contacted my office. Because the U.S. Embassy in Sana'a has temporarily suspended its operations due to the deteriorating security situation, my constituent's family received notices to conduct their consular interviews at the U.S. Embassy in Algiers, Algeria. Unfortunately, they could not obtain visas to travel to Algeria, and they were told that their cases would eventually be interviewed at the U.S. Embassy in Djibouti instead. However, after waiting four months without an update, my constituent contacted my office for assistance. My staff conveyed my constituent's situation to the U.S. Embassy in Djibouti, and as a result, his family was able to obtain a new appointment date at the U.S. Embassy in Djibouti. Shortly after attending the interview, my constituent's family was approved for their immigrant visas, and they will soon be reunited safely in the United States.

Caseworkers in my San Francisco office work to address any problems or concerns you may have with a federal government agency. To submit a Casework Authorization Form, please visit my website.
Please feel free to forward this information to your family and friends. To learn more about these efforts, to express your views, or to sign up for email updates, please visit my website. I am also on Twitter at http://twitter.com/NancyPelosi.
 


Sincerely,

Member of Congress