Your Questions Answered Live
Join Me For Another Telephone Townhall
You are invited to join me for a telephone town hall for San Franciscans on the coronavirus pandemic and Congress' ongoing response on Wednesday, May 6, 2020 at 5:15 p.m. To join this town hall, and ask me questions, please call in to (833) 261-6164. I hope to hear from you!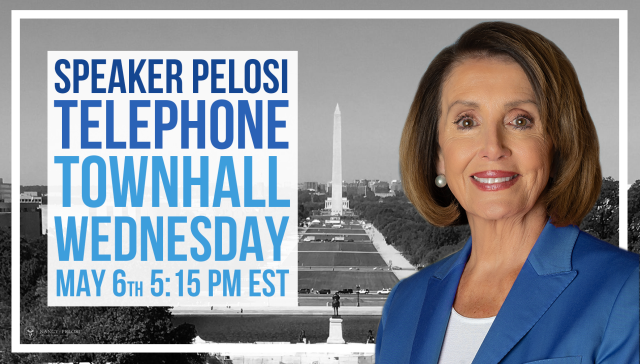 Coronavirus Oversight For The People
This week, I announced the Members of the House Select Committee on the Coronavirus Crisis, established by the CARES Act, which is a special bipartisan oversight panel empowered to examine all aspects of the federal response to the coronavirus to ensure that taxpayer dollars are being used wisely and efficiently.  We must ensure that taxpayers' dollars go to those in need, in a way that addresses disparities in access to health care and credit.

Modeled after the Truman Committee that saved lives and billions of taxpayer dollars by preventing waste, fraud and abuse during World War II, this panel will protect against price-gouging and profiteering and ensure that the federal coronavirus response is based on the best possible science and guided by our nation's leading health experts.  

The Committee Members are:
Majority Whip Jim Clyburn (Committee Chair) 
Chairwoman Maxine Waters, House Financial Services Committee
Chairwoman Carolyn Maloney, House Oversight and Reform Committee
Chairwoman Nydia Velázquez, House Small Business Committee
Chairman Bill Foster, Subcommittee on Investigations and Oversight of Science, Space, and Technology Committee
Chairman Jamie Raskin, Subcommittee on Civil Rights and Civil Liberties of Oversight and Reform Committee
Chairman Andy Kim, Subcommittee on Economic Growth, Tax, and Capital Access of Small Business Committee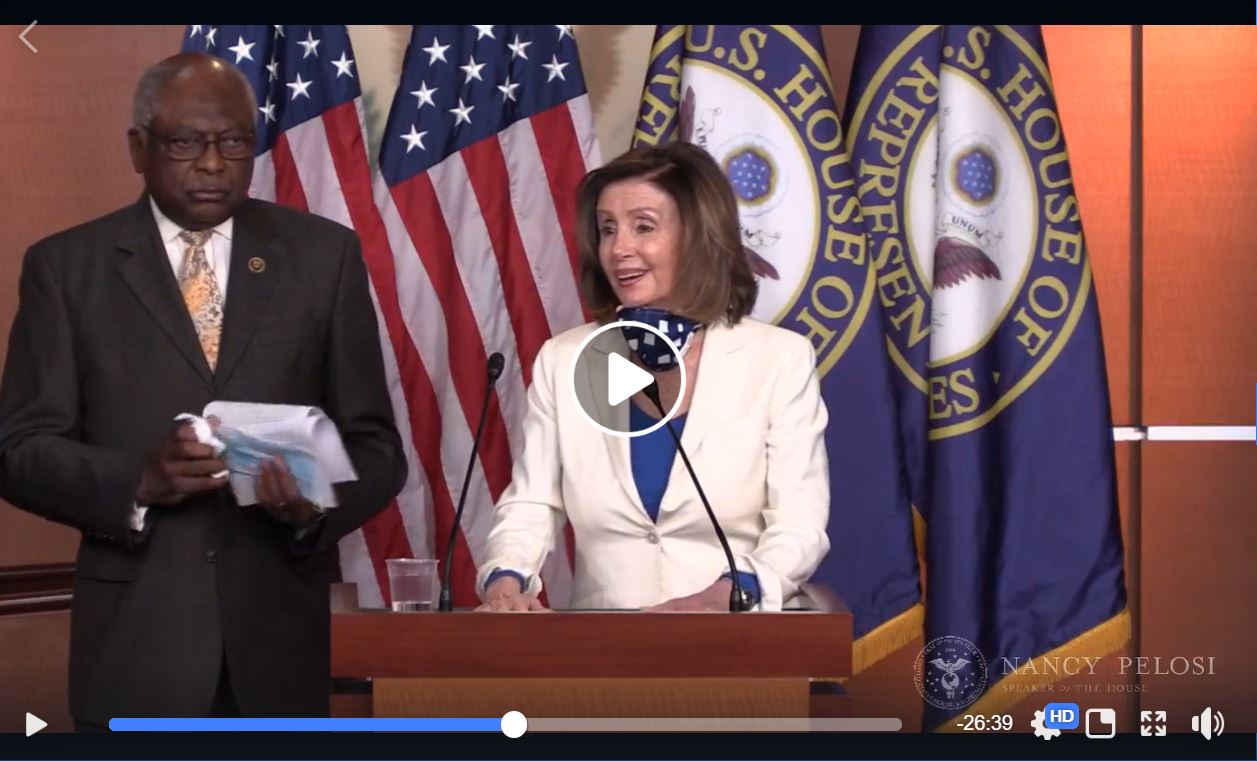 Congresswoman Nancy Pelosi and Majority Whip James Clyburn speak at the Capitol discuss the ongoing efforts to protect American lives, livelihoods, and the life of our democracy.
Affordable Internet For All
This week, we unveiled our next step to put Families First: the House Democratic Plan to Connect All Americans to Affordable Broadband Internet – led by Whip Clyburn, Chair of the House Democratic Rural Broadband Task Force.
The coronavirus crisis has exposed the reality that the digital divide is becoming a digital chasm: too many of our students and families denied the right to the affordable, high-speed Internet that they need to compete in the 21st Century Economy.  Our plan will aim to connect all Americans to high-speed Internet and encourage more choice, faster speeds and lower prices.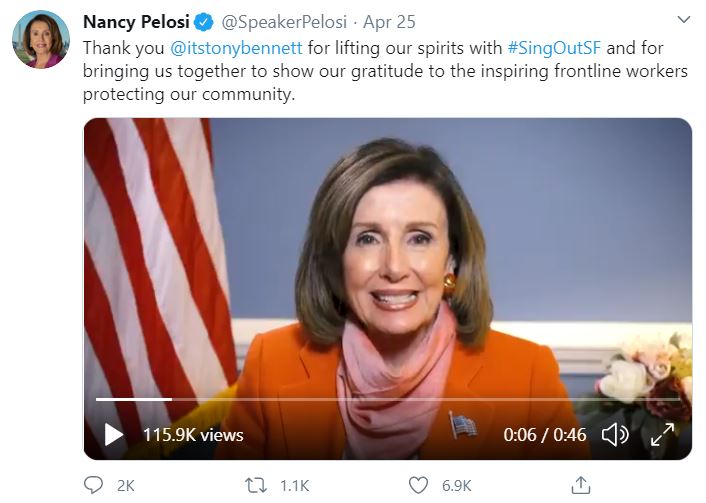 Staying Updated in San Francisco
With the ever present threat of COVID-19, it is important to stay updated with the ongoing changes in our community.  Below you can find some of those changes as well as tools and resources to help with these developments:
  My constituent recently contacted me to get assist for her elderly father who was stranded overseas. The situation was urgent because the country imposed a curfew and he was running out of medication. After staff contacted the US Embassy, the office was able to assist the constituent's father with getting on the next flight out of the country back to his family.
Caseworkers in my San Francisco office work to address any problems or concerns you may have with a federal government agency. To submit a Casework Authorization Form, please visit my website.
Please feel free to forward this information to your family and friends. To learn more about these efforts, to express your views, or to sign up for email updates, please visit my website. I am also on Twitter at http://twitter.com/NancyPelosi.
 


Sincerely,

Member of Congress