Wishing You A Happy and Safe Thanksgiving
A Season of Giving
Thanksgiving is a beautiful, all-American holiday, when our nation gives thanks for the great blessings that have been bestowed upon our great country.
Tragically, this Thanksgiving comes at a time of immense heartbreak, as our nation mourns the deaths of over 250,000 Americans to the coronavirus.  This vicious virus has torn through all our communities, and on this day in particular, we feel its devastating impacts, as many observe the holiday virtually, without the in-person comforting presence of family and friends.
During this extraordinarily challenging time, we must have empathy and compassion for all who are suffering.  And we must turn that empathy into action by swiftly passing a meaningful coronavirus relief bill to bring help, healing and hope to the millions who are suffering.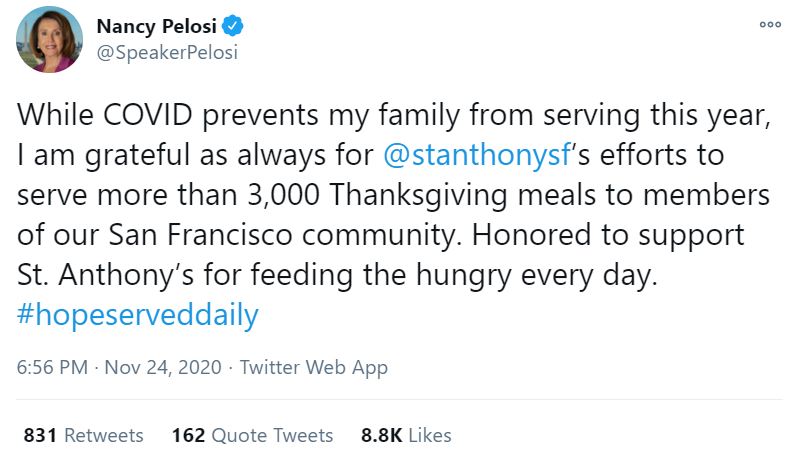 Turkey Tips from USDA
Taking the necessary steps toward safe food handling and sanitation will help protect you and your loved ones this year. To make sure your Thanksgiving meal is prepared safely, the U.S. Department of Agriculture (USDA) is offering food safety advice to reduce foodborne illness. You can also call the USDA Meat and Poultry Hotline at 1-888-MPHotline (1-888-674-6854) or visit FoodSafety.gov for more information.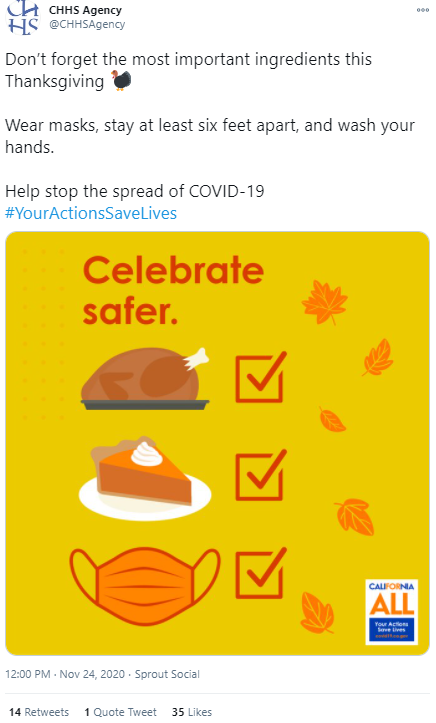 Staying Up To Date on COVID in San Francisco 
With the ever-present threat of COVID-19, it is important to stay updated with the ongoing changes in our community. Below you can find some of those changes as well as tools and resources to help with these developments:
  A constituent contacted our office with concerns from a neighbor of the Castro Street Post Office. The constituent had been unable to contact the Castro Post Office to change the two exterior lights on the side of the building to help illuminate the sidewalk on Diamond Street. After our office contacted the United State Postal Service (USPS), USPS replaced the smaller existing lights with two bright security lights that "light up the corner" in the words of the constituent.

Caseworkers in my San Francisco office work to address any problems or concerns you may have with a federal government agency. To submit a Casework Authorization Form, please visit my website.
Please feel free to forward this information to your family and friends. To learn more about these efforts, to express your views, or to sign up for email updates, please visit my website. I am also on Twitter at http://twitter.com/NancyPelosi.
 


Sincerely,

Member of Congress