Wishing You A Happy and Safe Holiday Season
Reflecting With Loved Ones
The Holiday Season offers a special opportunity to reflect on the miraculous blessings of family, community and Country.  As we celebrate in the company of our loved ones, I want to express my continued and profound gratitude for the honor of representing you in the Congress. Please accept my best wishes for a happy holiday and Happy New Year to you and your family.
As we celebrate with those closest to us, we cannot forget the over 315,000 lives that have been lost to the virus.  This vicious virus has torn through all our communities, and we continue to feel its devastating impacts, as many observe the holiday virtually, without the in-person comforting presence of family and friends. We will carry those lost souls in our hearts and remember them and their families in our prayers.

This Holiday Season it is more important that ever to remember to be safe.  Please refer to these helpful links below to make sure you are ready.
Delivering Wins for Americans and San Franciscans
On Monday, the Congress passed a strong emergency coronavirus relief agreement that secures urgently needed resources necessary to save lives and livelihoods in San Francisco and in communities across the country. 

Thanks to Democrats' efforts, we secured billions of dollars to defeat the virus and accelerate the free and equitable distribution of vaccines.  We secured direct payments to put money into Americans' pockets, including mixed status families, and averted the sudden expiration of Unemployment Insurance while adding a $300 per week UI enhancement for Americans out of work.  We won critically needed emergency rental assistance, including $26 million for San Francisco, as well as an eviction moratorium to keep vulnerable families in their homes.  And for those devastated by the economic impacts of the crisis, we increased access to capital for small and minority-owned businesses, won a 15 percent increase to SNAP benefits, expanded SNAP access to food insecure college students and secured $400 million for food banks facing dire shortfalls in 2021.

In San Francisco, families and businesses will receive vital funding to help address the health and economic crises inflicted by this pandemic.  With thousands of frontline workers facing furloughs, the nearly $975 million in transit funding for the Bay Area will be a lifeline to keep workers employed and ensure services keep flowing to residents in desperate need.  We secured $37 million for San Francisco International Airport as well as the Payroll Support Program for airlines to bring employees back to work and lift up this essential industry.  And to protect the health and safety of teachers, students and school staff, we secured over $10 billion in education investments for California, including nearly $7 billion for K-12 funding.  With an additional $10 billion in short-term relief for child care providers we will help them stay open and help get parents back to work.  And we further strengthen relief for students with the largest expansion of Pell Grant recipients in over a decade.

Democrats are proud to have secured the inclusion of the Save Our Stages Act, which secures $15 billion in support for live venues and arts institutions that enrich the Bay Area and communities across the country.  And to support our hardest-hit businesses, we secured changes to the PPP initiative so that restaurants and hospitality businesses can borrow 3.5 times their average total monthly payroll, rather than 2.5 times for other businesses, while also streamlining the loan forgiveness process for very small businesses and restaurants.  We will continue our work to provide additional support to help our most underserved businesses meet the pandemic's economic challenges.

While we celebrate these key wins, we know that this is just a first step and that more is required to support San Francisco families.  We look forward to working with the Biden-Harris Administration to advance relief that honors our state and local heroes on the frontlines of this crisis, crushes the virus and protects the health and well-being of all Americans.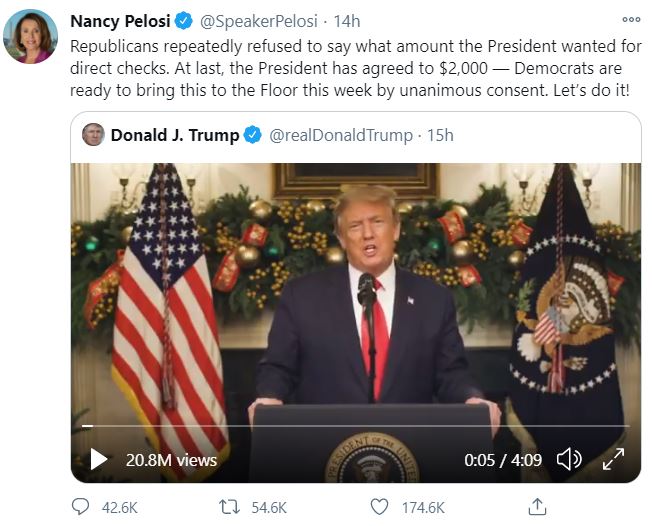 In addition to COVID relief, the bill also contained the annual government funding appropriations bills.  Additional wins in the government funding bill for San Francisco include:
Keeping Bayview-Hunters Point Community Safe with Hunters Point Cleanup:
$180 million increase over the President's Budget request for cleanup of closed military installations.  Of that increase, $80 million is specifically set-aside for environmental remediation of former Navy bases, such as Hunters Point and Treasury Island.  The rescanning and retesting needs at Hunters Point Naval Shipyard will likely receive most of these funds.  The $80 million is on top of the $19 million in the President's budget for Hunters Point. Before adding these new funds, Speaker Pelosi had secured $1.21 billion over the life of the project for Hunters Point cleanup.
Combating Homelessness:
$3 billion for Homeless Assistance Grants to support permanent supportive and rapid rehousing.  This $223 million increase over last year's funding will provide the highest funding level in the past decade. The bill also includes $43 million in new Section 8 vouchers for individuals and families experiencing homelessness, including veterans and survivors of domestic violence.
Providing Presidio Loan Funds:
$20 million in Treasury Department loans available to the Presidio Trust, which would be paid back with interest, giving the Trust the capital it needs to continue rehabilitation of all the remaining historic buildings and tackled deferred maintenance needs.  The Presidio achieved its self-sufficiency requirement in 2013 and no longer receives direct federal appropriations.
Defending Endangered Fish by blocking Shasta Dam raise:
The bill rejects the request by Interior Secretary Bernhardt, a former Westlands Water District lobbyist and the Bureau of Reclamation, to fund activities associated with raising Shasta Dam. Raising the Dam would flood critical parts of the McCloud River, protected under the California Wild and Scenic Rivers Act, harm sacred tribal lands of the Winnemem Wintu Tribe and degrade the downstream Sacramento River habitat of endangered and threatened Chinook salmon.  A California court agreed with Attorney General Becerra and found raising Shasta violates state law, and as the result of a settlement with the State, there is no longer any local sponsor.  
Funding Critical Efforts to End the HIV/AIDS Epidemic:
Key funding was provided to continue the End the Epidemic Initiative, with $175 million for the CDC ($35 million increase), $105 million ($35 million increase) for Ryan White and $102 million for Community Health Centers ($52 million increase) to support testing, prevention with PrEP and syringe access services, care, and treatment at the local level.  This Initiative is working to reduce new HIV infections by 90 percent in 10 years.
$3.1 billion, an increase of $20 million, for HIV/AIDS Research, including funding for the NIH Centers for AIDS Research as part of the Ending the HIV Epidemic Initiative.
Highest level of funding in HOPWA's history at $430 million, an increase of $20 million over last year's levels and $100 million above the President's budget request.  These increased funds will help protect legacy cities like San Francisco from funding cuts due to previous formula changes.
Enhancing the San Francisco Bay and Holding Polluters Accountable:
Provides a $3 million increase in EPA funds to protect and restore the San Francisco Bay and its watersheds, for a total of $8.9 million in grants. 
Protects our environment by including $9.24 billion, a $180 million increase, for the Environmental Protection Agency to ensure clean air and water and to hold polluters accountable.  This amount is $2.53 billion above the President's budget request.
Provides for the full $900 million now permanently available from the Land and Water Conservation Fund (LWCF) as a result of enactment of the Great American Outdoors Act.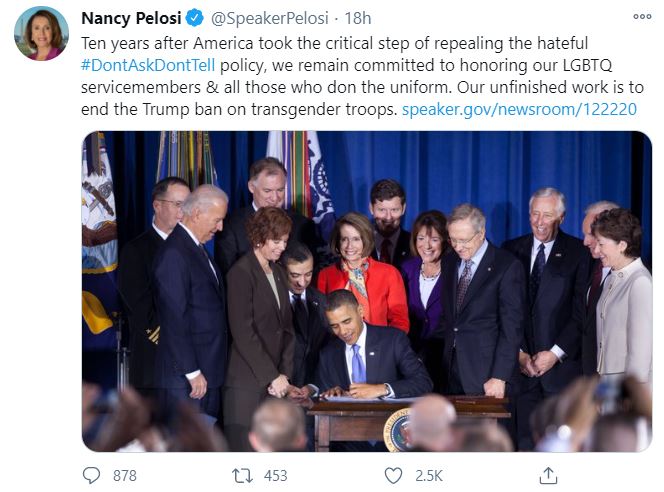 Introducing Senator Padilla
Yesterday, Governor Gavin Newsom announced that he would be appointing California Secretary of State Alex Padilla to fill Vice President-Elect Kamala Harris' seat as the next United States Senator from California.

As a Californian, I applaud this appointment.  Alex Padilla's historic appointment as the first Latino Senator from California is a victory for working families across our great state and our entire nation.  As a former local official, member of the legislature and statewide officeholder in California, Senator-designate Padilla brings great knowledge of California that will serve him well in the Senate.

The son of immigrants from a working class family, Secretary of State Padilla's story is the story of the American Dream.  He believes profoundly in the promise of America and as a Councilman, State Senator and Secretary of State, has worked relentlessly and effectively to make real our nation's Founding promise: that all are created equal.  As a U.S. Senator, he will now have a platform to further this mission for families across our state and our nation.

Secretary of State Padilla is a champion of our American Democracy.  As Secretary of State, his tenure has been distinguished by his outstanding work to protect voting rights, secure our elections from foreign attack and expand access to the ballot for millions.  His leadership to combat the climate crisis, end the gun violence epidemic and expand access to health care, education and jobs will similarly be critical as we work with the Biden-Harris Administration to ensure that every American has the opportunity to succeed in the 21st Century economy.

I congratulate Senator-designate Padilla and look forward to working with him in the U.S. Capitol.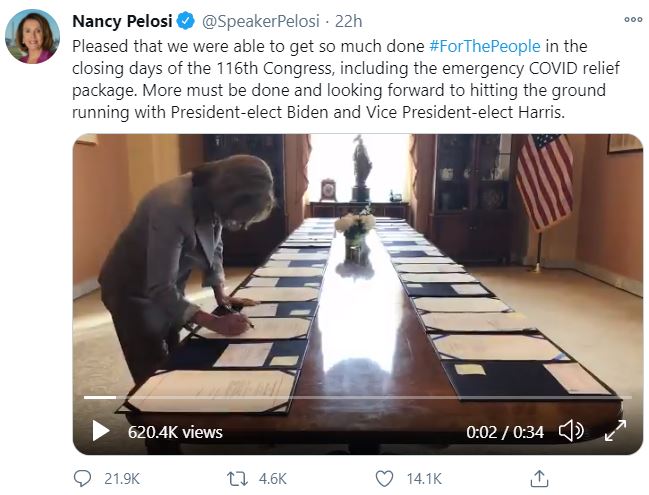 Staying Up To Date on COVID in San Francisco 
With the ever-present threat of COVID-19, it is important to stay updated with the ongoing changes in our community. Below you can find some of those changes as well as tools and resources to help with these developments:
  A constituent needed assistance with expediting an immigrant visa for her son, who was about to be aged out of the visa program. After contacting the Embassy, our office was able to expedite the visa interview appointment.

Caseworkers in my San Francisco office work to address any problems or concerns you may have with a federal government agency. To submit a Casework Authorization Form, please visit my website.
Please feel free to forward this information to your family and friends. To learn more about these efforts, to express your views, or to sign up for email updates, please visit my website. I am also on Twitter at http://twitter.com/NancyPelosi.
 


Sincerely,

Member of Congress