Weak Policies from a Weak Leader
The American People Have Had Enough
Over the weekend the President signed a series of weak, narrow and unworkable executive orders that don't come close to meeting the needs of the American people.  His meager announcements slash the unemployment benefits that millions need and leave many unemployed with no increase whatsoever, endanger seniors' Social Security and Medicare and leave out money for critical programs like education, testing and health care, elections and the Postal Service.
Does Not Actually Extend the Eviction Moratorium: provides no assistance to help pay the rent, which will only leave desperate families watching their debt pile higher.
Slashes Unemployment Insurance & Leaves Many With Nothing At All: the President is trying to slash $200-$300 from the lifeline that desperate families rely on, while leaving many Americans without any enhanced unemployment benefits at all, forcing states to pick up the bill and pushing them into making devastating cuts to life-or-death services.
Abandons Schools and Students: completely leaves out aid to schools to reopen safely, at the same time that the President bullies schools across the nation to begin in-person classes, without sufficient PPE and other protections.  If we want to get parents back to work, we must have a plan to keep schools from becoming COVID clusters. 
Fails Hungry Families: does nothing to put food on the table for hungry families, including the 14 million children who are food insecure.
The Administration's transgressions do not stop there. Democrats have made it clear to the Administration that we are willing to resume negotiations once they start to take this process seriously.  Sadly, the Administration does not see the needs of Americans as a priority, and are not budging from their position concerning the size and scale of a legislative package.
While Republicans fight to slash supports for families, the health and economic crisis accelerates:
Tens of millions are still out of work – more than 1 million filed for initial UI claims for 20 straight weeks and nearly 30 million were out of work and receiving UI benefits at the end of last month, as the lifelines from previous coronavirus bills run dry.
Over 1 million layoffs in state and local government – massive job losses in critical state and local services, with state budgets coming due amid crushing budget shortfalls.
Since the House passed The Heroes Act, 3.75 million more Americans have become infected for a total of 5.2 million, and 80,000 more have died for a total of more than 165,000 tragic deaths – heartbreaking numbers that continue to grow as the Trump Administration continues to fail to provide the testing and tracing needed to stop the deadly spread of the virus.
Time is of the essence, and Republicans must work with Democrats to help save lives and livelihoods now.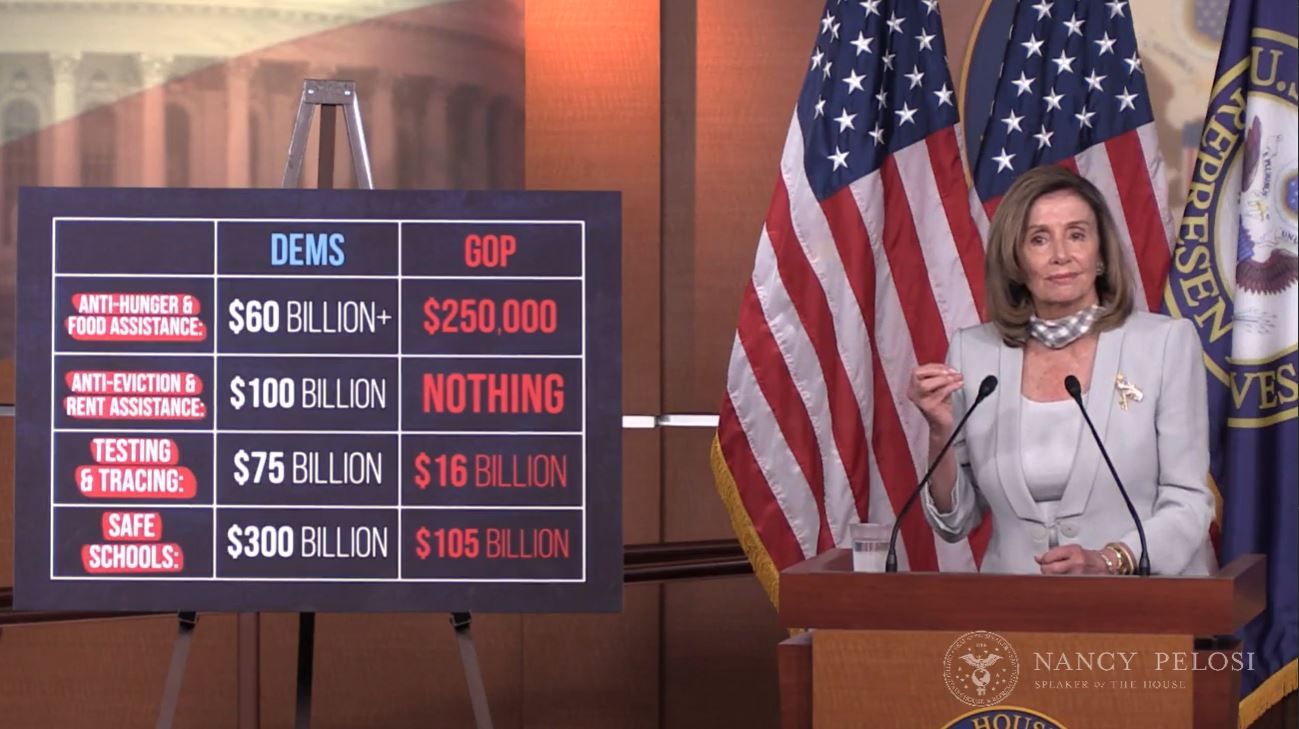 Congresswoman Nancy Pelosi speaks with reporters at the U.S. Capitol to discuss the dramatic differences in proposals for the next coronavirus aid package.
Beijing's Escalating Assault Against Hong Kong
Recently, Beijing has accelerated attacks on Hong Kong following the passage of its so-called "national security framework," by arresting democracy activists and journalists, firing and censoring academics, disqualifying candidates and delaying elections, arresting warrants for activists overseas including an American citizen and instituting retaliatory sanctions against U.S. officials.
Beijing's rapid escalation of its assault against Hong Kong under the guise of its so-called "national security framework" is extremely concerning and leaves no doubt that China's ultimate intent is to destroy Hong Kong's political and economic freedoms.  These actions signal the darkest weeks yet in Beijing's campaign of suppression, intimidation and cruelty against Hong Kong.
The United States Congress has always spoken with one voice, bipartisan and bicameral, in defense of those oppressed by Beijing and in support of freedom, justice and real autonomy for the people of Hong Kong.  We urge the Administration to continue to work to hold Chinese officials accountable for their abuses and to defend freedom and the rule of law in Hong Kong.  

The Congress is closely monitoring this disturbing situation. Indeed, the world is watching.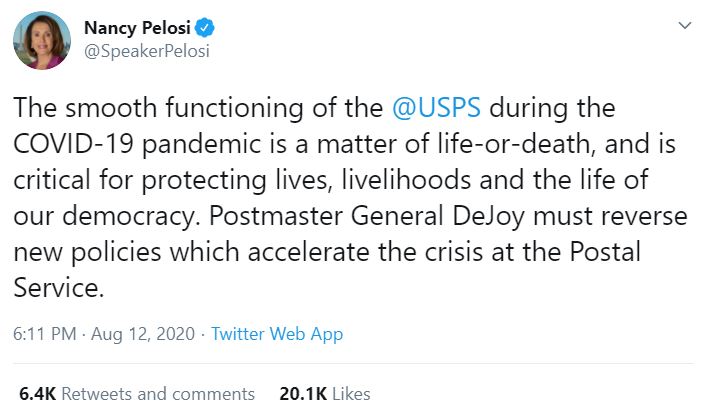 Staying Updated in San Francisco 
With the ever-present threat of COVID-19, it is important to stay updated with the ongoing changes in our community.  Below you can find some of those changes as well as tools and resources to help with these developments:
  My office was recently contacted by a constituent who was experiencing significant delay with her passport application. She needed to travel for urgent family emergency. After the office contacted the Passport Agency, the constituent was able to receive her passport application in time for travel. 

Caseworkers in my San Francisco office work to address any problems or concerns you may have with a federal government agency. To submit a Casework Authorization Form, please visit my website.
Please feel free to forward this information to your family and friends. To learn more about these efforts, to express your views, or to sign up for email updates, please visit my website. I am also on Twitter at http://twitter.com/NancyPelosi.
 


Sincerely,

Member of Congress