United Against AAPI Hate
Confronting Anti-AAPI Discrimination & Violence 
Americans are praying for the victims of recent violence against the Asian American Pacific Islander community in our country, and we grieve with their families, loved ones and all affected.  It is a profound injustice that, amid the coronavirus pandemic and economic crisis, the AAPI community also faces a surging threat in violence and deadly attacks.  The nearly 3,800 reports of incidents targeting the AAPI community over the past year are a challenge to the conscience of the country.
This week, I hosted a virtual community roundtable with leaders of the San Francisco AAPI community to discuss the disproportionate impact of the COVID-19 health and economic crises on the community and the rising threat of anti-Asian discrimination and violence.  We had the opportunity to discuss a range of topics, from the importance of immigration reform and affordable housing in the Bay Area to the need for Congress to pass the COVID-19 Hate Crimes Act and fund child care services, so we can get children learning and parents earning.
Our vibrant AAPI community is a fundamental and cherished part of the fabric of both San Francisco and country.  The nation must now come together to Stop Asian Hate and work to stem the tide of these horrific attacks.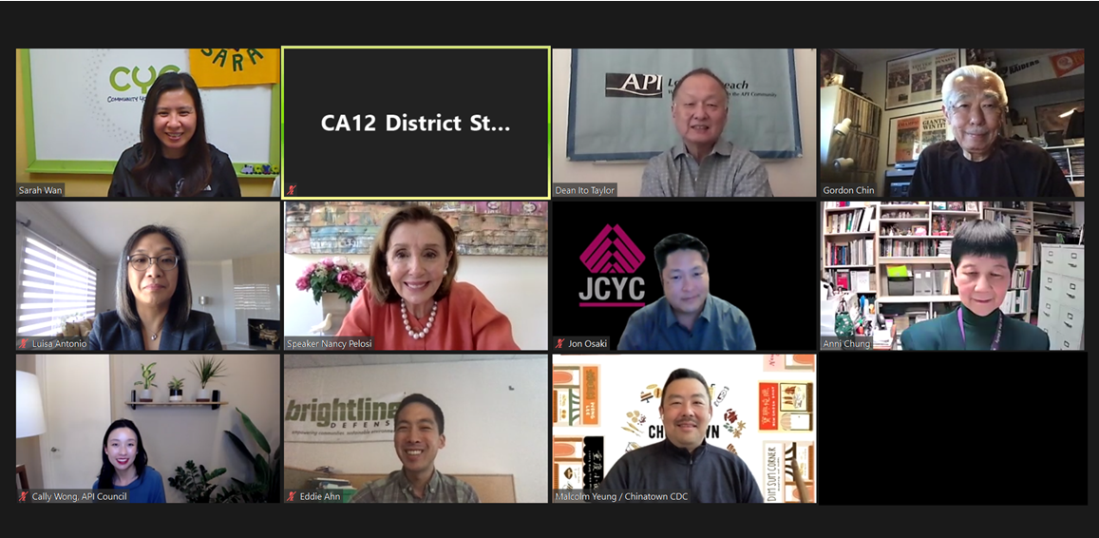 Congresswoman Nancy Pelosi virtually meets with leaders of the San Francisco Asian American Pacific Islander community to discuss pressing issues in the Bay Area.
 
Tragic Death of United States Capitol Police Officer
Today, America's heart has been broken by the tragic and heroic death of one of our Capitol Police heroes: Officer William Evans.  He is a martyr for our democracy.
Members of Congress, staff and Capitol workers, and indeed all Americans are united in appreciation for the courage of the U.S. Capitol Police.  Today, once again, these heroes risked their lives to protect our Capitol and our Country, with the same extraordinary selflessness and spirit of service seen on January 6.  On behalf of the entire House, we are profoundly grateful.
Congress stands ready to assist law enforcement with a swift and comprehensive investigation into this heinous attack.
May we always remember the heroism of those who have given their lives to defend our Democracy.  May it be a comfort to the family of Officer Evans that so many mourn with them and pray for them at this sad time.
American Jobs Plan 
This week, President Biden released the American Jobs Plan: a visionary, once-in-a-century investment in the American people and in America's future.  This package will create millions of good-paying union jobs, invest in American workers and turbocharge America's global competitiveness.
In reimaging and revitalizing our infrastructures in a transformative, resilient way, The American Jobs Plan will:
Make a significant investment in broadband.
Invest in long-neglected areas of our infrastructure, from clean water to schools, housing and child care centers, to seniors' and long-term care and veterans' facilities.
Be centered squarely on justice: with a Made in America tax plan that ensures that big corporations pay their fair share.
Have a laser-focus on creating opportunities for communities of color and rural areas too often left behind.
House Democrats are already working to advance a transformational infrastructure package, helping to Build Back Better with justice, progress and opportunity for all.


Honoring Transgender Day of Visibility
On Wednesday, the Biden-Harris Administration marked International Transgender Day of Visibility by formalizing protections for transgender servicemembers in the President's January 25th Executive Order, which reversed the hateful Trump policy.  This action acknowledges this truth: that our transgender service members are American heroes, and their service should be honored with dignity and respect.
Thanks to the courageous advocacy of the LGBTQ and military communities along with the leadership of Democrats, transgender servicemembers will now have access to the essential medical treatment needed to transition, to protections against discrimination and to the freedom to serve openly under their self-identified gender.
With this action, our military readiness will be enhanced, our core American values will be honored and those with the strength and bravery to serve will not be turned away because of who they are.  Trans rights are human rights – and we stand with all members of the transgender community in defense of their rights and dignity.

 
Celebrating with Loved Ones
The glorious Holy Season is a time for us, in a spirit of renewal, to reflect on the blessings that God has bestowed on our communities and country.  Best wishes for a meaningful Easter, Passover and Ramadan to all who celebrate, from my family to yours!
Staying Up To Date on COVID in San Francisco
With the ever-present threat of COVID-19, it is important to stay updated with the ongoing changes in our community.  Below you can find some of those changes as well as tools and resources to help with these developments:
My office was contacted by a San Franciscan who had issues receiving mail due to issues with the mailbox.  After my office reached out to the United States Postal Service, the agency was able to provide accommodation to ensure that the constituent could receive their mail.
Caseworkers in my San Francisco office work to address any problems or concerns you may have with a federal government agency.  To submit a Casework Authorization Form, please visit my website.
Please feel free to forward this information to your family and friends. To learn more about these efforts, to express your views, or to sign up for email updates, please visit my website. I am also on Twitter at http://twitter.com/NancyPelosi.
 


Sincerely,

Member of Congress