The Senate Must Act Now
Urgent Relief is Needed
Every day, the coronavirus and accompanying economic crisis accelerate further out of control – but Senate Majority Leader Mitch McConnell and Senate Republicans are refusing to give families and frontline workers the help they desperately need.

In light of the urgency of the needs of the American people and the hope that the vaccine presents, Leader McConnell must work with Democrats to finally begin a true, bipartisan effort to address the crisis.  The need to act is immediate, and we hope that with good-faith negotiations, using the bipartisan framework introduced by Senators last week as the basis for immediate bicameral negotiations, we can come to an agreement.  
We cannot get our economy working unless we can get the coronavirus under control.  We need to take major steps to finally establish a national COVID testing program and make sure our hospitals and community health centers have the resources to provide the care people need.  At the same time, we must significantly fund distribution efforts to get us from vaccine to vaccination and ensure that the vaccine is free and accessible to everyone.
Preventing permanent economic damage requires strong action, not a band-aid.  Unless the Senate stops blocking real relief to help those who are suffering and to stimulate the economy, we face the prospect of a prolonged recession with many people and businesses facing permanent economic damage.  Health experts and economists are clear that band-aid solutions will result in many more deaths, hospitalizations, business bankruptcies, lost jobs and people losing their health care.
Essential workers will lose their jobs and critical services will be cut unless Congress delivers emergency relief to state and local government.  Government budgets in both blue states and red states have been devastated by the coronavirus crisis because of huge revenue losses and the need for extraordinary emergency expenditures.  Without help from the federal government, states and localities will have to lay off essential workers and make damaging cuts in critical services, including education, schools and public safety.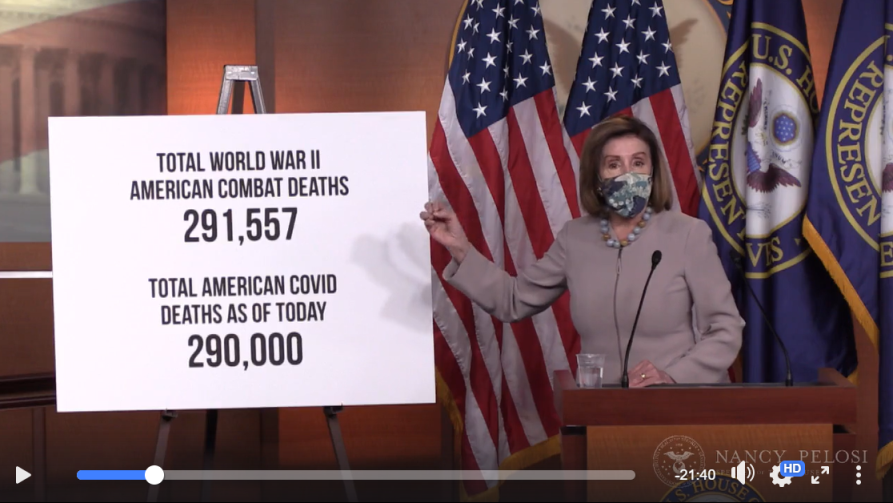 Congresswoman Pelosi holds her weekly press conference in the U.S. Capitol.
While it is progress that Leader McConnell has signed off on a $916 billion offer that is based off of the bipartisan framework, the President's new proposal – which starts by cutting the Unemployment Insurance proposal being discussed by bipartisan Members of the House and Senate from $180 billion to $40 billion – must not be allowed to obstruct the bipartisan Congressional talks that are underway.  The bipartisan talks are the best hope for a bipartisan solution.

The pandemic is real and Republicans need to stop playing political games and take real action.  Hospitals are at capacity, the death toll is rising and health experts are clear that it will only get worse. Congress cannot leave without having passed COVID-relief legislation.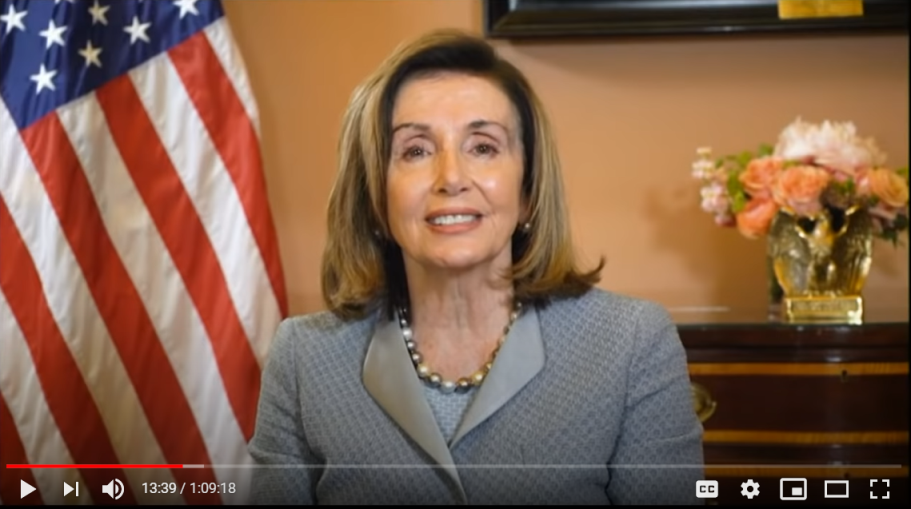 Congresswoman Pelosi speaks at the virtual Congressional Gold Medal Ceremony in honor of Chinese American World War II Veterans.
 
Building Back Better
On Tuesday, the House took crucial action to Build Back Better by passing the bipartisan Water Resources Development Act of 2020, which will strengthen and improve our nation's vital water infrastructure that millions of Californians and Americans across the country depend on.  As the climate crisis exacts a growing toll on our communities, this legislation takes bold steps to authorize and reform Army Corps of Engineers initiatives that will be essential to create good-paying jobs, upgrade harbor infrastructure and sustain critical natural resources that allow our local economies to grow and thrive.

This strong WRDA contains important wins for San Francisco, particularly protecting our Embarcadero Seawall from earthquake and flooding risks.  I was proud to secure language to ensure that flood risk initiatives in seismic hazard zones are not penalized in benefit-cost ratios and to guarantee that the Corps uses the best available, peer-reviewed science as they develop the San Francisco Seawall study.  This legislation also includes further victories that will be critical to protecting our Bay Area shoreline from flooding, and setting uniform regulations for the Port of San Francisco waterfront while preserving environmental protection reviews that are central to the strength of our communities.  In a major success for west coast ports, this bill will ensure harbor maintenance funds are fully utilized, as well as provide greater equity for donor ports. 

Now, the Senate must pass this bipartisan legislation so we can deliver results For The People.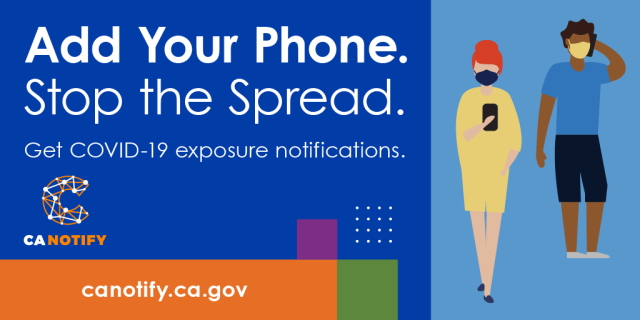 You can help save lives and learn when you have come in contact with someone who tested positive for the virus by signing up for California's COVID-19 exposure notifications on your phone.
Staying Up To Date on COVID in San Francisco 
With the ever-present threat of COVID-19, it is important to stay updated with the ongoing changes in our community. Below you can find some of those changes as well as tools and resources to help with these developments: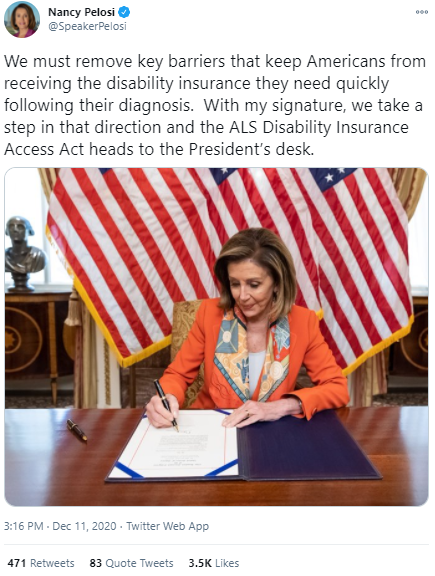 My office was contacted by a constituent who was experiencing a delay in getting a package from the US Postal Service (USPS). After my office contacted USPS, they were able to resolve the labeling issue and expeditiously deliver the package to my constituent.

Caseworkers in my San Francisco office work to address any problems or concerns you may have with a federal government agency. To submit a Casework Authorization Form, please visit my website.
Please feel free to forward this information to your family and friends. To learn more about these efforts, to express your views, or to sign up for email updates, please visit my website. I am also on Twitter at http://twitter.com/NancyPelosi.
 


Sincerely,

Member of Congress