Seeking the Truth Behind the Assault on Our Democracy
Select Committee on the January 6th Insurrection
This Wednesday, I announced that the House of Representatives will be establishing a Select Committee on the January 6th Insurrection.  January 6th was one of the darkest days in our nation's history, when our temple of democracy was attacked by insurrectionists.  The desecration of the Capitol resulted in multiple deaths, physical harm to over 140 members of law enforcement, and terror and trauma amongst staff, workers and Members of Congress.

Nearly six months later, many questions remain regarding the circumstance of this assault to our democracy and the response to it.  It is imperative that we seek the truth as to what happened.  A bipartisan Commission is the best way to proceed, but it has been four weeks since the Senate failed to pass the Commission.  We must now proceed without the support of Republican leadership.

The Select Committee is about ensuring that the Capitol dome remains a symbol of freedom and preserving America's role as an emblem of resilience, determination and hope. 

Stopping Military Sexual Assault
On Wednesday, Congress introduced the bipartisan Vanessa Guillén Military Justice Improvement and Increasing Prevention Act.  Vanessa Guillén was murdered at Fort Hood in April 2020 after she was sexually harassed by her supervisor, a violation that her command knew about and yet did nothing to stop or address. 

This legislation will improve the military's response to sexual harassment and reform the Army's sexual assault and sexual harassment prevention and response program.  The bill will remove the prosecution of serious crimes, including sexual assault, from the chain of command and put it in the hands of trained, independent military prosecutors.  Dealing with sexual assault cases in the military is long overdue, and it must be addressed. 

Senator Gillibrand and Bay Area Congresswoman Jackie Speier have shown courageous leadership by co-sponsoring this legislation.  I commend the family of Vanessa Guillén for turning their grief into change that will save other people who might be victimized.  Vanessa Guillén and her family deserve justice for her murder, and House Democrats will pass this legislation to do so.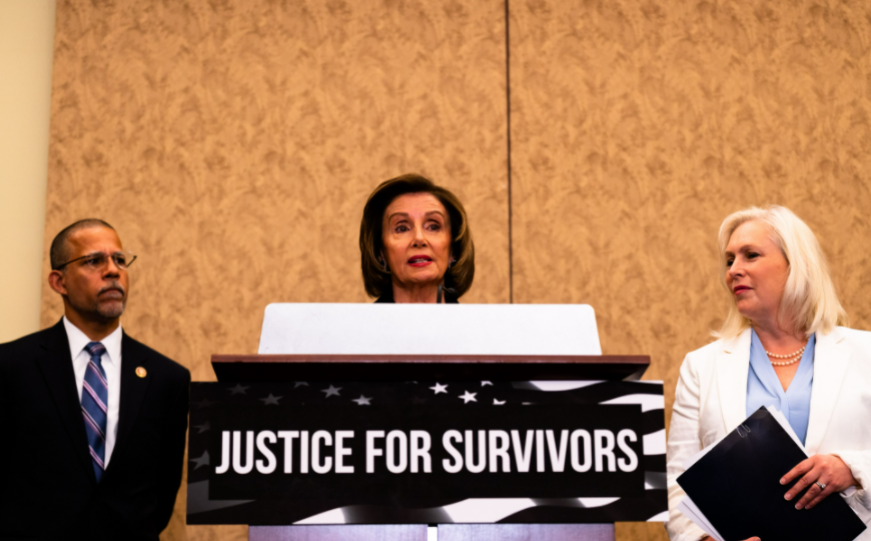 Congresswoman Nancy Pelosi joined bipartisan Members of Congress for the introduction of the Vanessa Guillén Military Justice Improvement and Increasing Prevention Act.
Child Tax Credit National Awareness Day
This week, I joined Golden State Opportunity, parents and advocates for a virtual press event as part of the Biden-Harris Administration's National Child Tax Credit Awareness Day to ensure parents are aware of the historic expansion of the Child Tax Credit in Democrats' American Rescue Plan and how to claim benefits for their families.  This enhancement will help over 27 million families across the country, as well as cut child poverty in half.  In San Francisco, nearly 60,000 children will benefit, with an average of $2,400 per family.

To determine if you are eligible for the Child Tax Credit, visit the Child Tax Credit Update Portal.  All eligible individuals will begin receiving payments in monthly installments starting July 15th through December 2021.  Most families will receive these payments automatically.  However, if you did not file a 2019 or 2020 tax return and did not receive an Economic Impact Payment in 2020 or 2021, you must use the Child Tax Credit Non-filer Sign-up Tool to receive the advance payments.

The three most important issues facing our Congress are the children, the children, the children. We must continue to fight for their health, their education, the economic security of their families, a safe environment in which they can succeed and a world at peace in which they can reach their fulfillment.  The expansion of the Child Tax Credit is a vital step toward helping transform our economy by putting families first.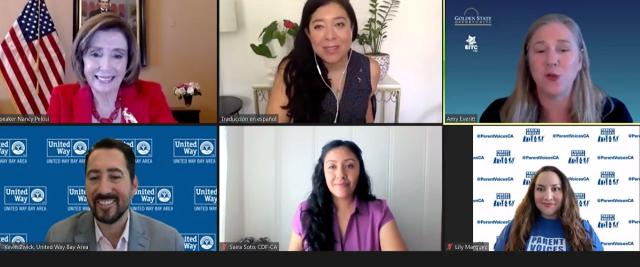 Congresswoman Nancy Pelosi joined a virtual roundtable to ensure all eligible families receive the American Rescue Plan's enhanced Child Tax Credit.
Beat the Heat: With rising temperatures across the Bay Area, here are some resources to help you and your family stay safe and beat the heat.
Wildfire Preparedness: As California enters another wildfire season, it is important to stay informed and  be prepared.  Check out these Wildfire Recovery Resources from the Governor's Office of Emergency Services to stay up to date on the latest information.

Help Is Here!
Under the leadership of Democrats in Congress and the Biden-Harris Administration, the American Rescue Plan is bringing hope and healing across the nation.  Through the American Rescue Plan, the National Endowment for the Arts recently announced that it will make $80 million in pandemic relief available to arts and cultural organizations.  For grants for organizations click here.  See below for how you can benefit from the American Rescue Plan:
Staying Up To Date on COVID in San Francisco 
The San Francisco Department of Public Health announced that the City College of San Francisco and Moscone Center South vaccination centers will close on June 26th and July 14th, respectively.  For eligible residents over the age of 12, find out where your local vaccination sites are.  Find out about testing options in San Francisco here.  California also announced a digital vaccination portal which can be accessed here.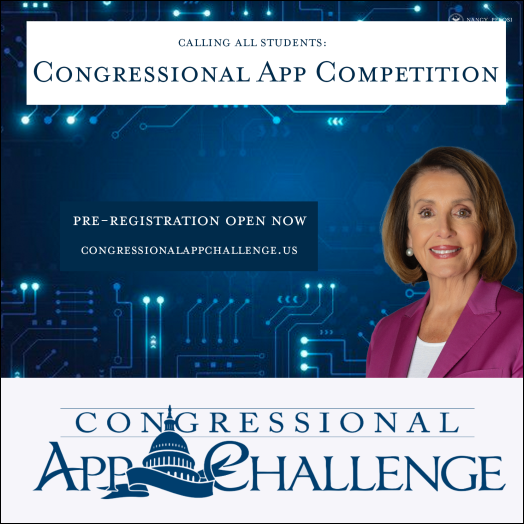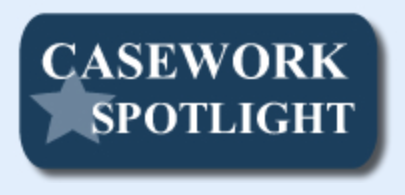 A San Franciscan contacted my office regarding a missing tax refund.  My staff contacted the Taxpayer Advocate Service and were able to expeditiously return the missing refund of over $20,000.

Caseworkers in my San Francisco office work to address any problems or concerns you may have with a federal government agency.  To submit a Casework Authorization Form, please visit my website.
Please feel free to forward this information to your family and friends. To learn more about these efforts, to express your views, or to sign up for email updates, please visit my website. I am also on Twitter at http://twitter.com/NancyPelosi.
 


Sincerely,

Member of Congress