San Francisco Strong
Housing for Veterans & Families in Need
This week, I had the honor of joining Swords to Plowshares and the Chinatown Community Development Center to celebrate the grand opening of the Edwin M. Lee Apartments in Mission Bay – home to more than one hundred veterans who previously experienced homelessness and low-income families.  It is fitting that this building bears the name of our beloved late Mayor Lee, who made it his mission to help veterans and families off our streets and into safe, affordable homes.  These apartments live up to his great legacy by empowering its residents to live with dignity, stability and community.
Building on this impressive work, the American Rescue Plan delivered millions more federal dollars to help San Francisco expand its affordable housing, and House Democrats will continue to fight for more resources as we advance infrastructure legislation through Congress.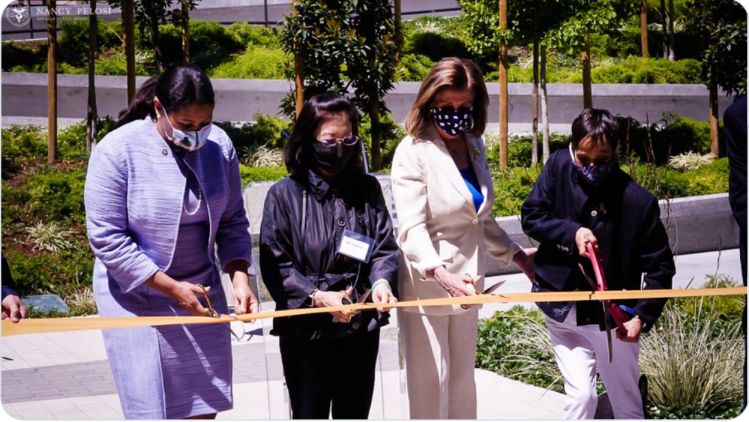 Congresswoman Pelosi joins Mayor London Breed and local leaders at the Grand Opening of the Edwin M. Lee Apartments in Mission Bay.
Celebrating 20 Years of Crissy Field
Yesterday, I had the pleasure of joining a celebration of the 20th anniversary of the revitalization of Crissy Field.  One of the highest honors of my life has been to lead the charge for the restoration effort in the Congress, working with the late Chairmen John Murtha and Daniel Inouye, and then-Representative Barbara Boxer, to secure hundreds of millions in federal funds to transform the entire Presidio from former military post into a world-class park.  With generous support from the Haas family and a community of volunteers, we cleaned up the mess left at the airfield, restored the tidal marsh, preserved the site's historical and cultural character and build a majestic open space in the heart of San Francisco for all to enjoy.
Over the last 20 years, Crissy Field has become inseparable from San Francisco's identity – strengthening the bonds in our community and welcoming visitors to our vibrant home.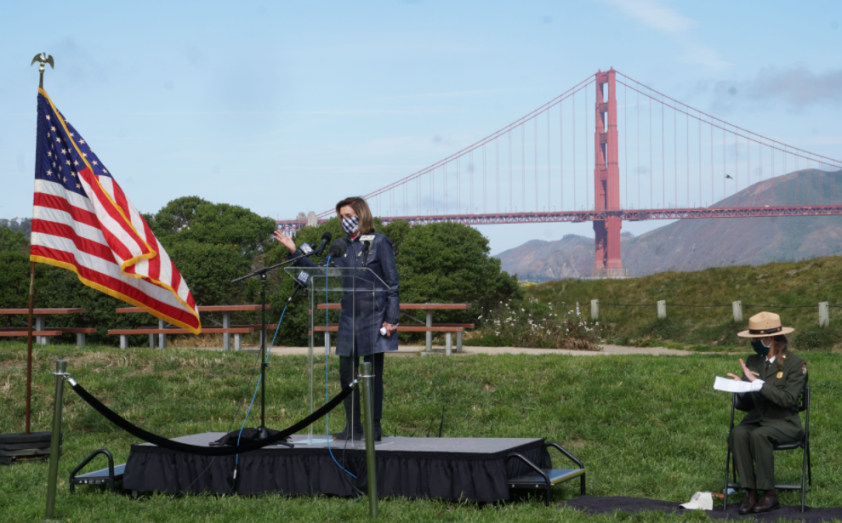 Congresswoman Nancy Pelosi celebrated the 20th anniversary of the revitalization of Crissy Field.

American Rescue Plan at Work
Thanks to the leadership of President Biden and Democrats in Congress, our local restaurants will soon get the help they need to reopen, rehire and thrive.  This week, the landmark Restaurant Revitalization Fund, developed by House Democrats and signed into law as part of the American Rescue Plan, began accepting applications and drew more than 186,000 applications.  Importantly, more than half of the applicants were owned by women, veterans or socially and economically individuals.
As we continue to implement the life-saving benefits of the American Rescue Plan, the President and Congress are hard at work to ensure that struggling businesses and vulnerable communities take full advantage of the resources available to them.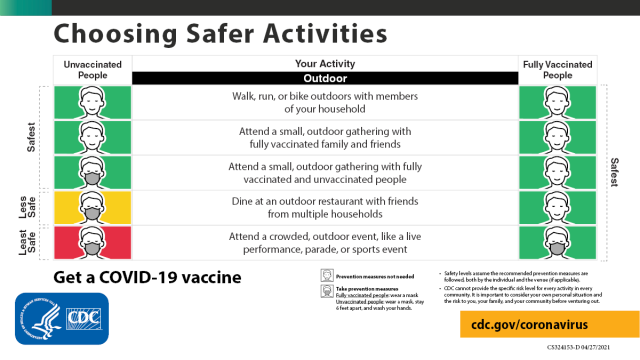 Getting Shots in Arms
Thanks to the critical resources delivered by the American Rescue Plan, the pace of vaccination has quickly ramped up over the last three months.  As of this week, more than 13 million Californians are fully vaccinated, including 73 percent of San Franciscans over age 16 having received at least one dose.
Our doctors tell us that getting vaccinated is the most important thing we can do to protect ourselves, our family and our community.  Visit vaccines.gov / vacunas.gov or text your ZIP code to GETVAX / VACUNAS to make your vaccine appointment today. 

The deadline for this year's Congressional Art Competition has been extended to Friday, June 11.  We encourage all students interested in the competition to apply here.

Staying Up To Date on COVID in San Francisco 
With the ever-present threat of COVID-19, it is important to stay updated with the ongoing changes in our community.  Below you can find some of those changes as well as tools and resources to help with COVID health:
Help Is Here!  
The American Rescue Plan is bringing hope and healing to Americans across the nation.  See below for how San Franciscans can benefit from these federal benefits:
If you are unsure how to correctly file your 2020 tax returns, you can find free federal tax assistance here.  If you were not required to file 2019 taxes – because you had little or no income and did not owe money to the IRS – you may need to file a tax return to claim your stimulus payments.
If you are an employer who is providing paid sick and family leave to your employees due to COVID-19, including leave taken by employees to receive or recover from COVID-19 vaccinations, you could be eligible for additional tax credits.  Please use this free online IRS tool to see if your business qualifies for any of the IRS relief programs.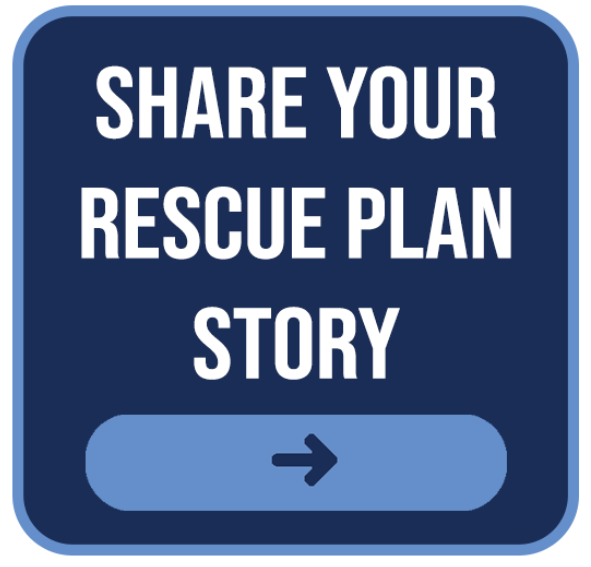 My office was contacted by a San Franciscan who needed assistance with a Paycheck Protection Program loan application for their small business.  After contacting the Small Business Administration on behalf of the constituent, we were able to facilitate the approval of more than $142,000 in Paycheck Protection Program loans directly for this San Franciscan's business.

Caseworkers in my San Francisco office work to address any problems or concerns you may have with a federal government agency. To submit a Casework Authorization Form, please visit my website.
Please feel free to forward this information to your family and friends. To learn more about these efforts, to express your views, or to sign up for email updates, please visit my website. I am also on Twitter at http://twitter.com/NancyPelosi.
 


Sincerely,

Member of Congress