Responding to Coronavirus
Combating Coronavirus
Americans urgently need a coordinated, fully-funded, whole-of-government response to keep us safe from the widening coronavirus epidemic.  That is why this week, the House and Senate passed a bipartisan, bicameral agreement on an emergency coronavirus response funding package of $8.3 billion of entirely new funds.
This bill commits more than $3 billion to the development of treatments and a coronavirus vaccine and includes  an additional $300 million to ensure Americans will have access to the vaccine regardless of their ability to pay. It protects against price-gouging of these medicines developed with taxpayer dollars by ensuring that the federal government will only pay a fair and reasonable price for coronavirus vaccines and drugs and providing HHS the authority to ensure that they are affordable in the commercial market.
This legislation provides $2.2 billion in public health funding for prevention, preparedness and response, including nearly a billion dollars specifically to alleviate the immense financial strain on state, local, tribal and territorial hospitals and health systems.  To protect public health, the bill will allow Medicare providers to extend telemedicine services to seniors regardless of where they live, at an estimated cost of $500 million. It also allows an estimated $7 billion in low-interest SBA loans to small businesses impacted by this epidemic.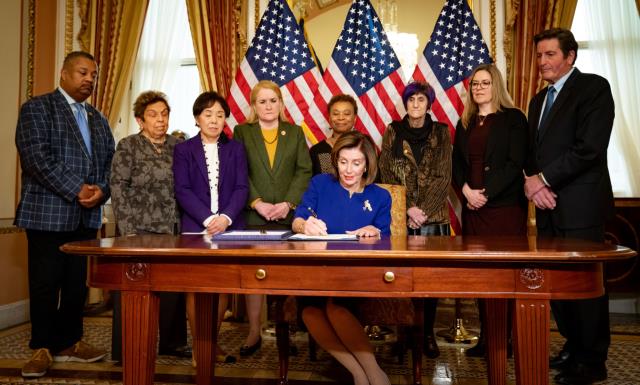 House Democrats join Congresswoman Pelosi to sign and send the bipartisan, bicameral emergency coronavirus response package to the President.
House Democrats will continue to listen to the experts and work to ensure every community is receiving what it needs to combat this urgent public health crisis.
Celebrating Women's History Month with Dolores Huerta
Each Women's History Month, Americans join together to celebrate the progress forged by generations of American women who struggled and sacrificed in the fight to secure equal rights, equal treatment and equal opportunity for themselves and all Americans.  This month, we also honor the extraordinary women from every corner of the country who are leading us into the future to ensure a more just and equal world in which our daughters and granddaughters can grow and thrive.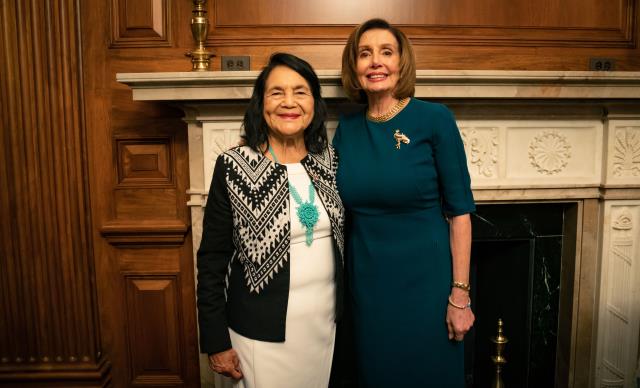 Congresswoman Pelosi and labor and civil rights activist Dolores Huerta attend the Women's History Month Reception in honor of Dolores Huerta.

This year, as we prepare to commemorate the centennial of the 19th Amendment, Women's History Month offers us the opportunity to pay special tribute to the trailblazing suffragists, whose persistent, dissatisfied leadership won American women the sacred right to vote.  This momentous achievement unleashed the power of women to have a voice in our democracy, and in the process helped deliver transformative progress toward a more perfect union for all Americans.  

Today, and always, we reaffirm a vital truth that when women succeed, America succeeds.  Guided by the leadership of an historic number of women Members of Congress, House Democrats are working to empower all women to be full and equal participants in our economy, our society and our democracy.  In recognition of the innumerable contributions and continued leadership of America's women, we will never stop fighting to advance the cause of freedom, equality and justice for all.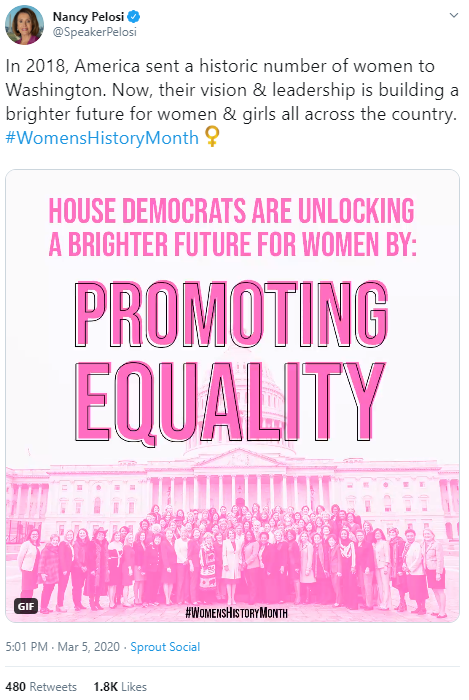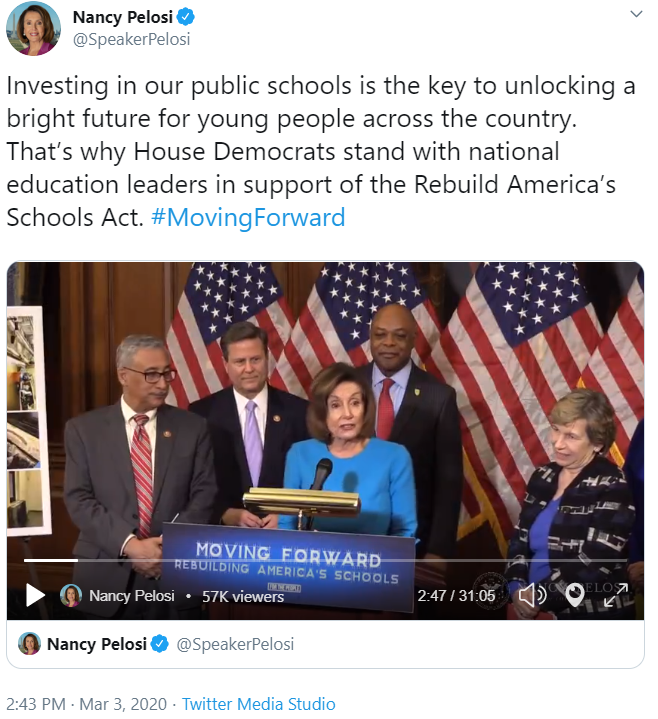 A constituent contacted my office for assistance with her retirement benefits she applied for with the Social Security Administration (SSA). After my office contacted Social Security Administration regarding the delay, she was approved for retirement and has started receiving her monthly retirement benefits.
Caseworkers in my San Francisco office work to address any problems or concerns you may have with a federal government agency. To submit a Casework Authorization Form, please visit my website.
Please feel free to forward this information to your family and friends. To learn more about these efforts, to express your views, or to sign up for email updates, please visit my website. I am also on Twitter at http://twitter.com/NancyPelosi.
 


Sincerely,

Member of Congress