Meeting the Needs of the American People
Protecting Lives, Livelihoods, and the Life of our Democracy
Today, our thoughts and prayers are with the President and First Lady for a swift and full recovery.  This is a sad day for our country, knowing that more than 7 million American families have faced the same worry after their loved one has been infected, and more than 209,000 have died.
Last night, House Democrats passed an updated Heroes Act to meet the health and economic needs of the American people during this crisis. 
The updated Heroes Act maintains key priorities from the legislation that passed the House in May, providing the absolutely needed resources to protect lives, livelihoods and the life of our democracy over the coming months.  Among the bill's many provisions, it:
Provides additional direct payments, cushioning the economic blow of the coronavirus crisis with a more robust second round of economic impact payments of $1,200 per taxpayer and $500 per dependent.
Preserves health coverage, protecting Americans losing their employer-provided health insurance by making unemployed Americans automatically receive the maximum ACA subsidy on the exchanges, as well as a special enrollment period in the ACA exchanges for uninsured Americans.
Restores unemployment benefits, ensuring weekly $600 federal unemployment payments through next January and preventing unemployed workers from exhausting their eligibility, providing a vital safety net for the record number of Americans who are unemployed, including those connected to the gig-economy.
Bolsters housing assistance, helping struggling families afford a safe place to live with tens of billions in new supports to assist renters and homeowners make monthly rent, mortgage and utility payments and other housing-related costs – preventing homelessness. 
Meanwhile, our negotiations with the Administration on a bipartisan relief package continue, and I am hopeful that we can reach agreement.  However, we still have significant disagreements in the following key areas:
Unemployment Insurance – The GOP number does not measure up to the need that we both recognize, particularly as long-term unemployment rises and families are exhausting their benefits.  This is separate from our disagreement over the dollar amount for the enhanced unemployment benefit.
Schools, and State and Local Funding – The September jobs report shows that 280,000 teachers and support staff have lost their jobs in the last month alone, with more than 800,000 fewer teachers and support staff employed compared to this time last year, overwhelmingly because of the coronavirus.  We have no right to salute our heroic frontline health care workers, police, fire, sanitation, transit and teachers if we do not give them the state and local funding needed to prevent them from losing their jobs.
Children – Essential to the well-being of America's working families is the Child Tax Credit and Earned Income Tax Credit.  In the original Heroes Act, we allocated to $149 billion, which we have cut to $57 billion in the updated bill.  The Republican proposal had zero.  We are hopeful that the Administration will join us at our level for the Child Tax Credit and Earned Income Tax Credit and are awaiting a response.  In terms of child care, we have $57 billion to their $25 billion, and are pushing them to come up to the higher level.
Testing & Tracing – Finally the Administration is coming closer to our number on the funds needed for the testing and tracing that science tells us is necessary to crush the virus.  However, we have not yet reached agreement on the language, which is critical to ensuring that the Administration uses these funds correctly to stop the spread of the virus. 
Appropriations – Many of the priorities in the bill are addressed in the appropriation section, which we have reduced to $144 billion.  The White House is suggesting cutting $44 billion more.  We await the changes that they are suggesting. 
We are expecting a response from the White House on these areas and others with more detail.  In the meantime, we continue to work on the text to move quickly to facilitate an agreement.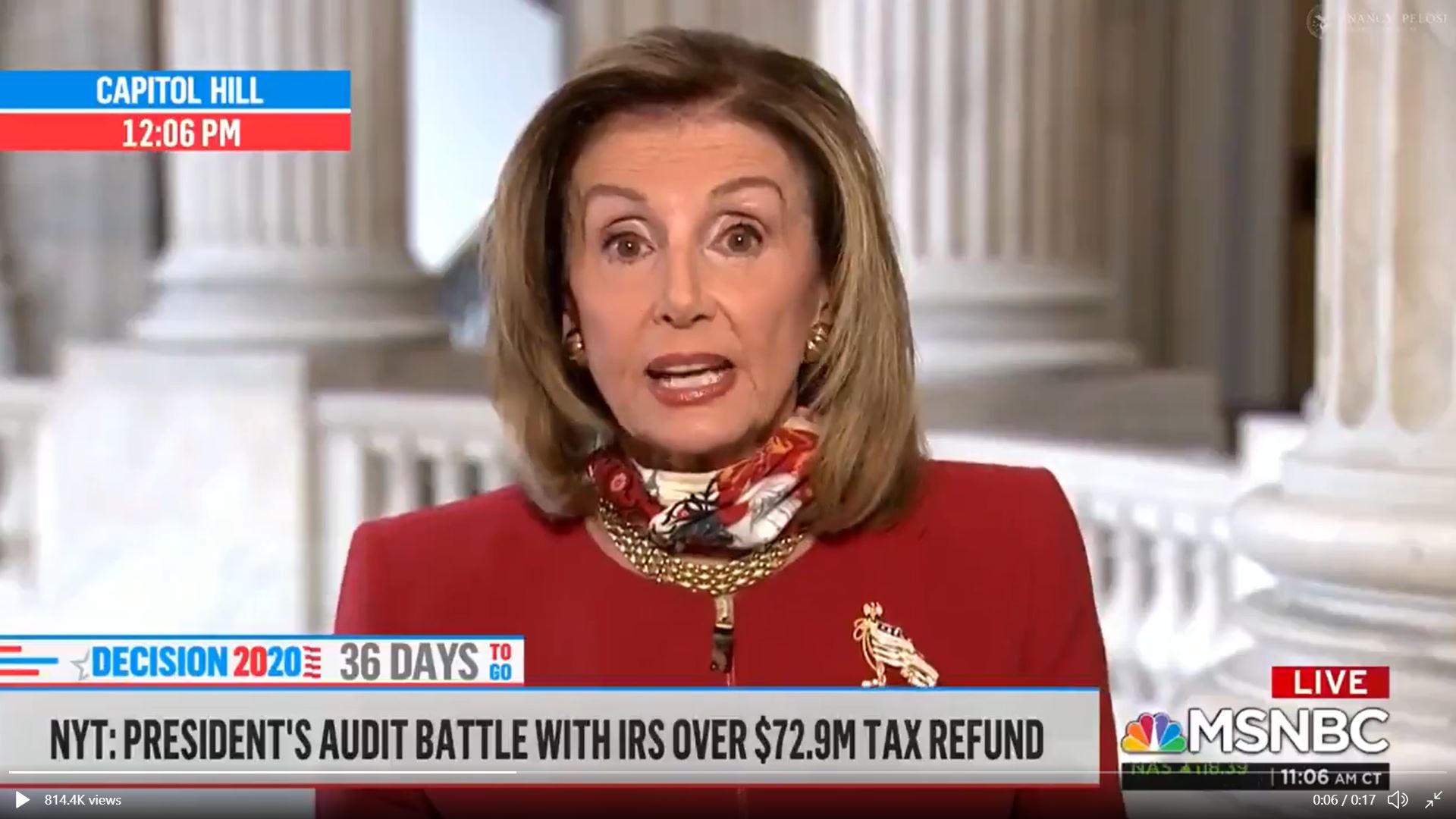 Congresswomen Pelosi speaks Andrea Mitchell regarding the national security threat posed by the President's millions of dollars of debt revealed by his tax returns.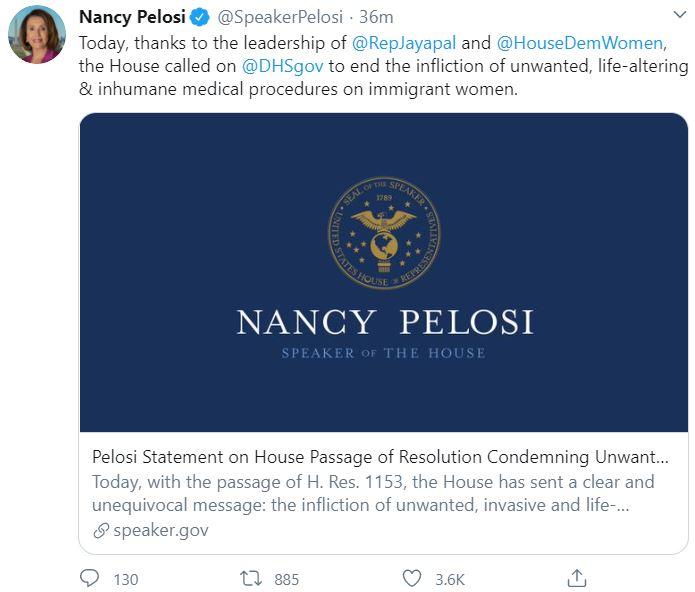 Defending the Health Care of Millions
Last weekend, the President nominated Amy Coney Barrett, a circuit judge on the U.S. Court of Appeals for the Seventh Circuit, to serve as Associate Justice of the United States Supreme Court. This nomination serves as a grave reminder of where the priorities of the Administration truly lie: in dismantling the Affordable Care Act through the Supreme Court.

For four years, this Administration has tried to crush the Affordable Care Act in the Congress and the Courts.  This nomination threatens the destruction of life-saving protections for 135 million Americans with pre-existing conditions together with every other benefit and protection of the Affordable Care Act. 

The rules preventing insurance companies from treating being a woman as a pre-existing condition will be gone.  Young people's ability to stay on their parents' insurance until age 26 will be gone.  The Medicaid expansion bringing health care to millions and Medicare drug savings for seniors from closing the 'donut hole' will be gone.  The ban stopping insurers from going back to placing annual and lifetime limits on your health care will be gone.  And the out-of-pocket cost maximums that prevent families from going bankrupt from endless medical bills will be gone too.

If this nominee is confirmed, millions of families' health care will be ripped away in the middle of a pandemic that has infected seven million Americans and killed over 200,000 people in our country.  This Administration is exploiting this vacancy against the clear and overwhelming will of the American people, as he dismantles the pillars of health and economic security in America. The American people will hold every Senator responsible for their vote at the ballot box.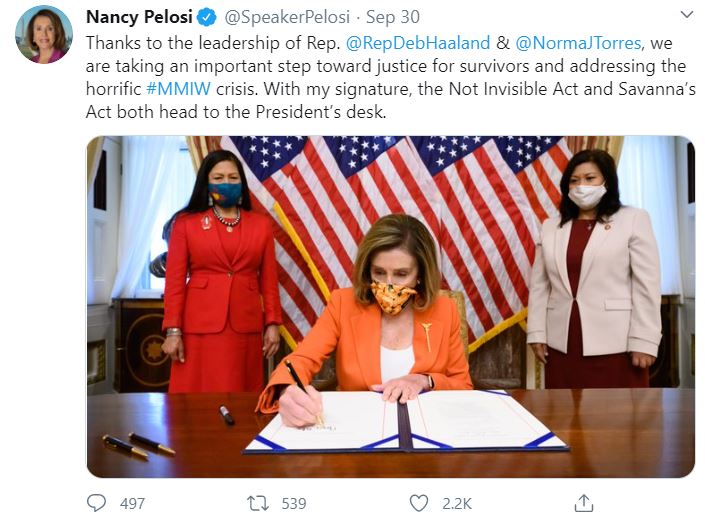 Wildfire Resources and Services
As California continues to be scorched by raging wildfires, our hearts ache for the families experiencing the crippling loss a loved ones, worrying over those missing, and suffering the destruction of house and property in these unprecedented disasters.  We pray for the brave firefighters, our nobility, and for the volunteers, and first responders who are working tirelessly to contain these fires and protect our loved ones.

In these trying times your federal government stands with you to serve the people of our great state and our local communities.  Below you can find some tools and resources to help you navigate these developments: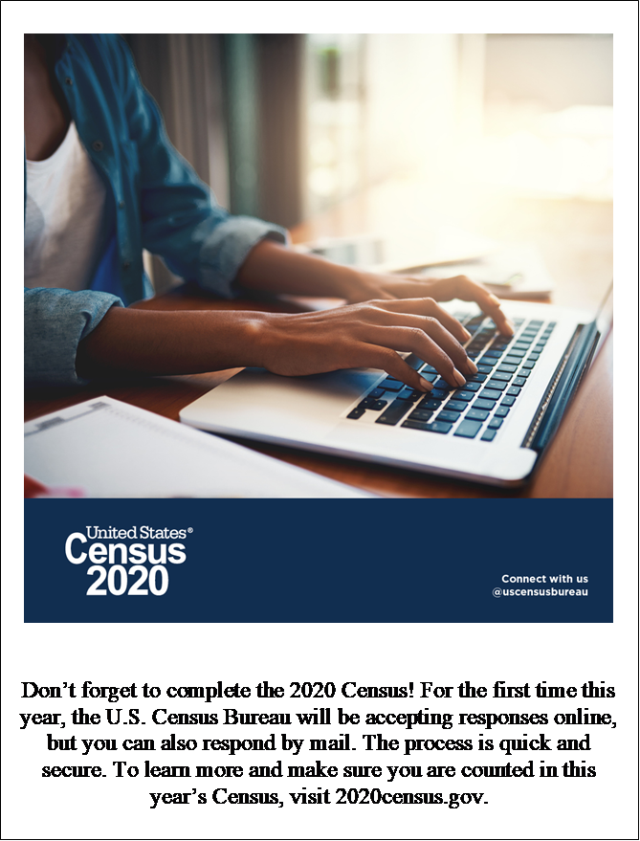 Staying Up To Date on COVID in San Francisco 
With the ever-present threat of COVID-19, it is important to stay updated with the ongoing changes in our community.  Below you can find some of those changes as well as tools and resources to help with these developments:
Gearing Up for November
Our elections depend on poll workers to keep things running smoothly on Election Day and ensure everyone's vote is counted.  If you are interested in being a poll worker this November and would like more information visit PollWorker.sos.ca.gov.  To register to vote, check your voter registration status, and track your ballot, please visit vote.ca.gov.

Mayor London Breed has released a wealth of information regarding the several ways to vote in the November Election. You can vote:
By Mail – This is the safest way to vote. The Department of Elections recommends voters return their ballots using a United States Postal Service blue mail collection box. The USPS provides nearly 1,400 collection boxes in the City. Find your nearest mail box here.
At the Voting Center – October 5 through November 3, and open weekends starting October 24.
At a Polling Place on Election Day – There are 588 polling places in San Francisco. Find your polling places on San Francisco's Voter Portal.
At Ballot Drop-Off Sites – Starting October 5 and through November 3, voters can drop-off ballots at the Voting Center.

Starting October 31 and through November 3, the Department will provide drop-off sites at the Chase Center, Bayview/Linda Brooks-Burton Library, Excelsior Library, and Portsmouth Square.

Accessible Vote-by-Mail System – allows voters to mark screen-readable vote-by-mail ballots using common internet-connected devices. After marking an AVBM ballot, a voter must download and print the ballot and return the ballot printout by mail or in person in a timely manner, just as vote-by-mail voters who use official paper ballots must do.
Authorizing another person to pick up your ballot – Beginning October 5, any registered voter may authorize a spouse, child, parent, grandparent, sibling, or person residing in their household to pick up a vote-by-mail ballot from the Voting Center and deliver it to them, provided the authorized person is at least 16 years old.
  My office was contacted by a constituent who needed assistance with securing a visa with the State Department.  The constituent needed visa for her childcare provider to provide specialized care for her young daughter who have severe medical conditions.  After contacting the U.S. Embassy, the office was able to assist the constituent with securing a National Interest Exception wavier for her au pair.

Caseworkers in my San Francisco office work to address any problems or concerns you may have with a federal government agency. To submit a Casework Authorization Form, please visit my website.
Please feel free to forward this information to your family and friends. To learn more about these efforts, to express your views, or to sign up for email updates, please visit my website. I am also on Twitter at http://twitter.com/NancyPelosi.
 


Sincerely,

Member of Congress