Legislation to Save Lives
Congress Prepares to Pass American Rescue Plan
This week, we pray for the over 465,000 who have died from the coronavirus, as we work to save the lives and livelihoods of our fellow Americans.  As the human cost of this virus increases day by day, the economic crisis is accelerating: millions of Americans are out of work, food and housing insecurity are climbing, school closures threaten our children's education, and our most vulnerable communities are bearing the brunt of these twin crises as underlying health and economic inequities grow worse.
In the House, our committees are writing the American Rescue Plan into legislation.  After a week of committee mark-ups, we have much to be proud of.
Child Tax Credit – The plan will provide a $3,000 tax credit per child ($3,600 if they are 6 years and under) to families, addressing the needs of nearly one in three adults having trouble paying for household expenses and the 12 million children at risk of going to bed hungry.
$15 Minimum Wage – gradually raising the minimum wage to $15 an hour and in doing so, increasing paychecks for 27 million workers and pulling nearly a million people out of poverty, a majority of whom are women of color.
The Democratic Congress and White House, through executive actions and legislation, have a plan to:
Beat the virus and safely reopen schools – The plan will mount a national vaccination program that includes setting up community vaccination sites nationwide.  It will also take complementary measures to combat the virus, including scaling up testing and tracing, addressing shortages of personal protective equipment and other critical supplies, investing in high-quality treatments and addressing health care disparities.  The plan will also make the investments necessary to safely reopen schools.
Deliver immediate relief to working families bearing the brunt of the crisis – The plan will provide direct assistance to households across America by $1,400 per person, bringing the total (including the $600 down payment enacted in December) to $2,000.  The plan will also provide direct housing and nutrition assistance to families struggling to get by, expand access to safe and reliable child care and affordable health care, extend and expand unemployment insurance so American workers can pay their bills and give families with children as well as childless workers a boost through enhanced tax credits.
Support communities struggling with the economic fallout – The plan will provide crucial support for the hardest-hit small businesses, especially those owned by entrepreneurs from racial and ethnic backgrounds that have experienced systemic discrimination.  The plan also provides crucial resources to protect the jobs of first responders, frontline public health workers, teachers, transportation workers and other essential workers that all Americans depend on.
As soon as we pass the American Rescue Plan, we will send it to the Senate for further legislative action to be signed by President Biden before unemployment benefits expire.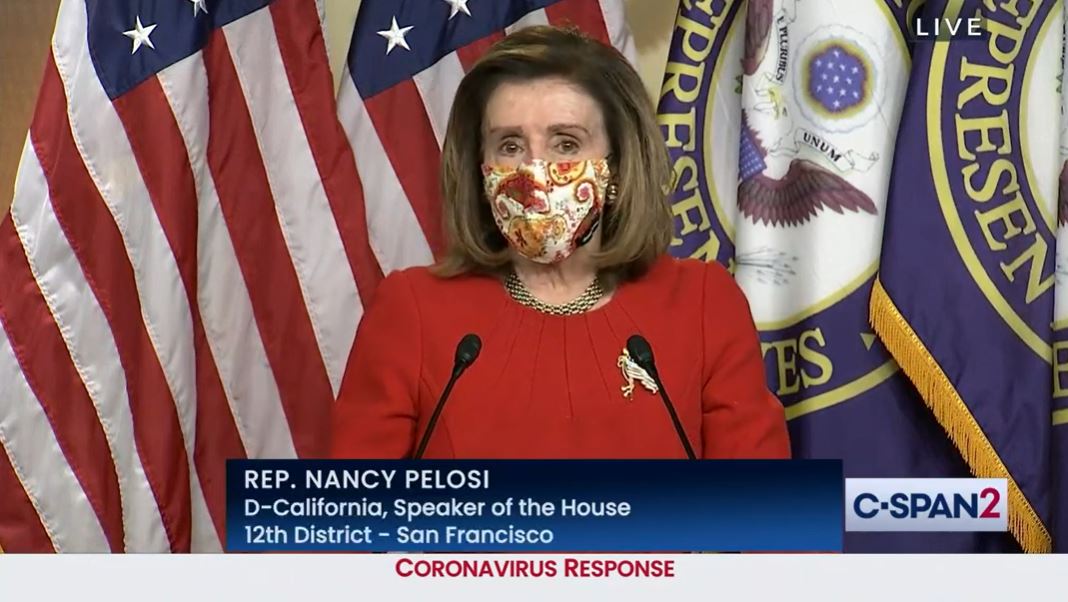 Congresswoman Nancy Pelosi talks with reporters at the Capitol about the progress being made on The American Rescue Plan
Celebrating the Lunar New Year
Today marks the first day in the Year of the Ox, and the celebration of the Lunar New Year.  This is a wonderful celebration, a time of meaningful reflection and a moment of optimism for the Asian American and Pacific Islander community as well as for the countless others who mark this festive season around the world.  As we welcome the Year of the Ox – recognized for hard work, honesty and integrity – let us all embrace these characteristics as we strive to meet the challenges facing our nation.
In San Francisco, we have long been blessed and strengthened by the vibrant culture, rich traditions and innumerable contributions that the AAPI community has made to our city.  This year, as the coronavirus pandemic forces the usual beautiful celebrations and parade to be held virtually and through works of public art, San Franciscans will continue to mark this joyful time by supporting our AAPI friends and neighbors who have been disproportionately impacted by the health crisis and the injustice of anti-AAPI violence and discrimination.  We applaud the Biden-Harris Administration's recent executive actions condemning these shameful attacks and their leadership in directing the Executive branch to combat the deadly violence against the AAPI community – honoring our nation's most sacred values or equality and justice for all.
As we work to defeat the crisis and pursue justice, we will continue to reaffirm what San Franciscans always say, that the beauty is in the mix.  This Year of the Ox, I offer my warmest wishes for a year ahead filled with the blessings of peace, happiness and the love of our families.
Staying Up To Date on COVID in San Francisco 
With the ever-present threat of COVID-19, it is important to stay updated with the ongoing changes in our community.  Below you can find some of those changes as well as tools and resources to help with these developments:
  A constituent contacted my office regarding the status of their economic impact payment.  After contacting the IRS, the constituent was able to have her EIP reissued and successfully delivered.

Caseworkers in my San Francisco office work to address any problems or concerns you may have with a federal government agency. To submit a Casework Authorization Form, please visit my website.
Please feel free to forward this information to your family and friends. To learn more about these efforts, to express your views, or to sign up for email updates, please visit my website. I am also on Twitter at http://twitter.com/NancyPelosi.
 


Sincerely,

Member of Congress