Keeping A Promise To The American People
Help Is On Its Way
Very early this morning, the Senate passed a budget resolution that paved the way for the House of Representatives to write legislation for final passage of the Biden American Rescue Plan.  Hours later the House agreed to the budget resolution and sent the legislation to Committees, bringing Americans one step closer to the aid they deserve.  The American people need to know that, during this historic crisis, Help is On the Way.  
The American people cannot afford any more delays.  Republican stalling already caused a painful lapse in critical unemployment assistance last year, and with additional unemployment assistance set to expire in March, Congress must create a failsafe to prevent more needless suffering.  The cost of inaction is high and growing every day.  
The President's American Rescue Plan takes a multiprong approach to tackling the public health and economic crises stemming from the COVID-19 pandemic.
Beat the virus and safely reopen schools – The plan will mount a national vaccination program that includes setting up community vaccination sites nationwide.  It will also take complementary measures to combat the virus, including scaling up testing and tracing, addressing shortages of personal protective equipment and other critical supplies, investing in high-quality treatments and addressing health care disparities.  The plan will also make the investments necessary to safely reopen schools.
Deliver immediate relief to working families bearing the brunt of the crisis – The plan will provide direct assistance to households across America by $1,400 per person, bringing the total (including the $600 down payment enacted in December) to $2,000.  The plan will also provide direct housing and nutrition assistance to families struggling to get by, expand access to safe and reliable child care and affordable health care, extend and expand unemployment insurance so American workers can pay their bills and give families with children as well as childless workers a boost through enhanced tax credits.
Support communities struggling with the economic fallout – The plan will provide crucial support for the hardest-hit small businesses, especially those owned by entrepreneurs from racial and ethnic backgrounds that have experienced systemic discrimination.  The plan also provides crucial resources to protect the jobs of first responders, frontline public health workers, teachers, transportation workers and other essential workers that all Americans depend on.
Next week, we will be writing the legislation to create a path to final passage for the Biden American Rescue Plan.  Our work to crush the coronavirus and deliver relief to the American people is urgent and of the highest priority.  With this budget resolution, we have taken a giant step to save lives and livelihoods.
Congresswoman Nancy Pelosi talks with reporters at the Capitol about the Build Back Better agenda and crushing the virus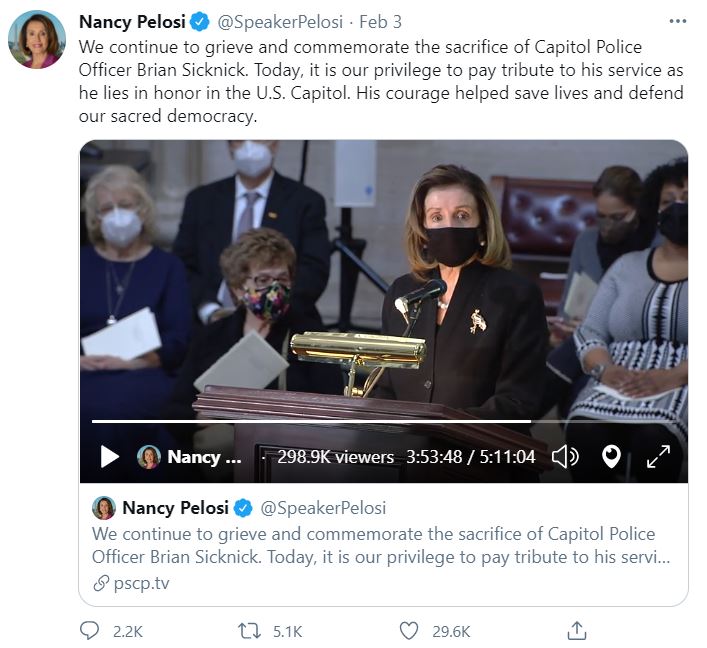 Protecting Human Rights At Home and Abroad
On Tuesday, President Biden signed executive actions that are a proud recognition of this truth: that immigrants are the constant reinvigoration of America, making America more American as they bring their hopes, courage and determination to succeed to our shores.

These important steps build on President Biden's Day One actions to make our immigration system more fair, orderly and humane and our nation more safe, strong and prosperous.  These Executive Actions honor our values by reunifying separated families, reforming our asylum process and promoting inclusion of new Americans into our communities.  And they restore sanity and common sense to our immigration system – replacing the chaos and cruelty of the Trump approach with stepped-up and more constructive engagement with our partners in the region to address the root causes of migration.

The President did not stop there. Two days later he signed executive actions that works to restore America's leadership on the international stage and to restore a foreign policy based on America's values and interests, ensuring that human rights – specifically the protection of LGBTQ communities, refugees and other vulnerable populations – are once more front-and-center of our national security agenda

The Democratic Congress is proud to work with President Biden to reverse the rashness and recklessness of the previous Administration and to Build Back Better: returning sanity and strategy to our national security policy so that we can advance stability, peace and prosperity worldwide.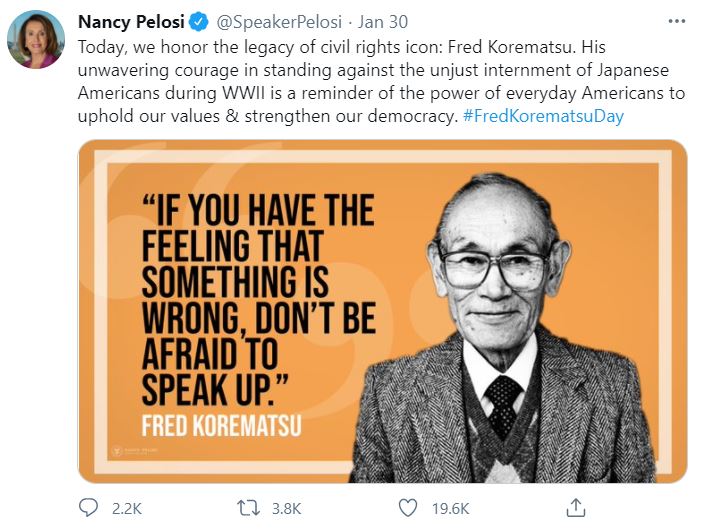 Staying Up To Date on COVID in San Francisco 
With the ever-present threat of COVID-19, it is important to stay updated with the ongoing changes in our community.  Below you can find some of those changes as well as tools and resources to help with these developments:
  A constituent contacted my office for assistance in her delayed Social Security Administration (SSA) Spousal Benefits claim.  My office worked with SSA and the constituent to ensure the correct documentation had been provided.  The constituent has since received retroactive spousal benefits, as well as monthly benefits moving forward.

Caseworkers in my San Francisco office work to address any problems or concerns you may have with a federal government agency. To submit a Casework Authorization Form, please visit my website.
Please feel free to forward this information to your family and friends. To learn more about these efforts, to express your views, or to sign up for email updates, please visit my website. I am also on Twitter at http://twitter.com/NancyPelosi.
 


Sincerely,

Member of Congress