Inaction Is Not An Option
Tragedy in San Jose
On Wednesday morning, our Bay Area community experienced an act of horrific gun violence when an armed gunman killed nine Santa Clara Valley Transportation Authority workers and himself at a VTA maintenance yard in San Jose.  I am personally devastated by this horrific mass shooting and am grateful for the first responders and members of law enforcement for their heroic actions.  My prayers are with the loved ones of Abdolvahab Alaghmandan, Adrian Balleza, Alex Fritch, Jose Hernandez III, Lars Lane, Paul Megia, Timothy Romo, Michael Rudometkin and Taptejdeep Singh.

This incident was the 15th mass shooting to take place in the United States just this year.  The gun violence crisis inflicts unfathomable anguish and pain on families and communities across the nation, taking a staggering toll of 40,000 American lives each year.  Inaction is not an option — and House Democrats will not relent until H.R. 8 and H.R. 1446, our bipartisan gun violence prevention bills, are enacted into law.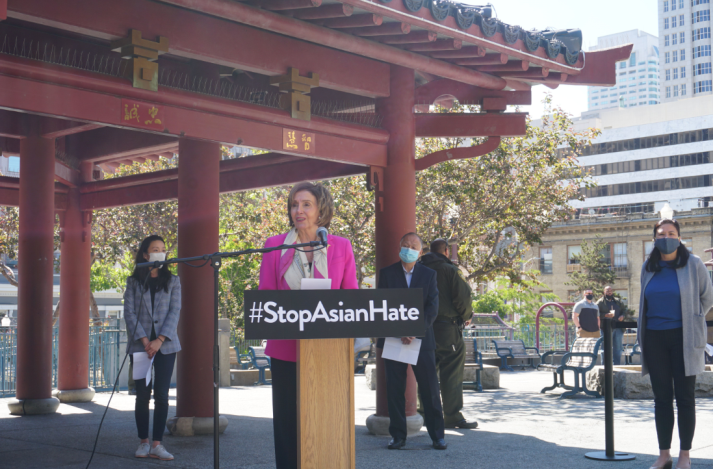 Congresswoman Nancy Pelosi joins Cally Wong, Director of the San Francisco API Council; Sarah Wan; Executive Director of Community Youth Center, and Dean Ito Taylor, Executive Director of API Legal Outreach for San Francisco API Council in Portsmouth Square to highlight the enactment of the bipartisan COVID-19 Hate Crimes Act
George Floyd, One Year Later
This week, as we marked one year since the brutal murder of George Floyd, I met with members of the Floyd family to discuss the progress of the House-passed George Floyd Justice In Policing Act.  This vital legislation, which the family has deemed worthy of his name, will help us take an important step toward ending police violence and advancing racial justice.

H.R. 7120, The Justice In Policing Act will:
Establish a framework to prevent racial profiling by police officers
Create the National Police Misconduct Registry
Limit qualified immunity for police officers
Lower the criminal intent standard to convince law enforcement officers for misconduct
As Congresswoman Karen Bass engages in negotiations on the next steps for this legislation, we remain hopeful that we will, in a bipartisan spirit, reach agreement and pass this legislation in its final form.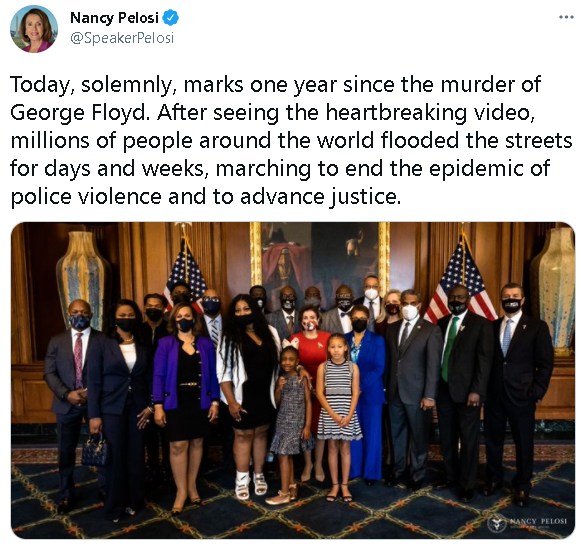 Rental Assistance
This week, San Francisco announced its Emergency Rental Assistance Program, which will begin accepting applications today, May 28.  The state of California has a Rental Assistance Program as well that is accessible to all Californians.  Both of these programs are federally funded under the Democratic Congress' American Rescue Plan and the December coronavirus relief package.
Help Is Here!
Under the leadership of Democrats in Congress and the Biden-Harris Administration, the American Rescue Plan is bringing hope and healing across the nation.  See below for how you can benefit from the American Rescue Plan: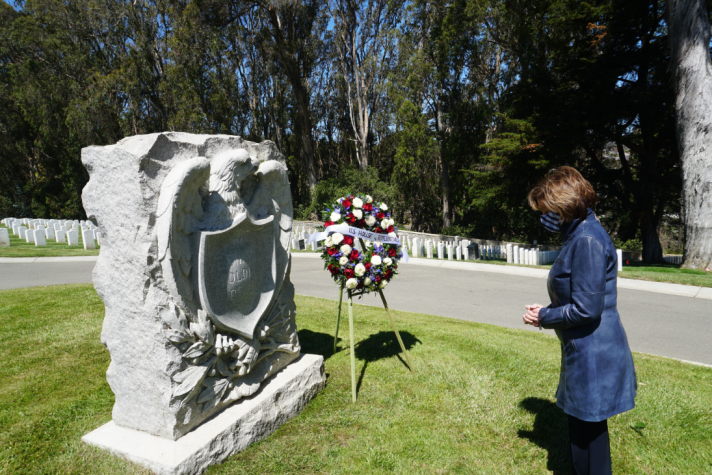 Congresswoman Pelosi pays her respects at the monument to the Unknown Dead at the San Francisco National Cemetery in the Presidio in honor of Memorial Day.
Staying Up To Date on COVID in San Francisco 
With the ever-present threat of COVID-19, it is important to stay updated with the ongoing changes in our community.  Below you can find some of those changes as well as tools and resources to help with COVID health:
The deadline for this year's Congressional Art Competition has been extended to Friday, June 11; apply here.
  My office was contacted by a constituent for assistance with the Department of Veterans Affairs for a disabled widow with benefits that were in limbo.  After my office contacted the VA and facilitated communications, she was approved for her in-home facility benefits and $16,028 in retroactive benefits.

Caseworkers in my San Francisco office work to address any problems or concerns you may have with a federal government agency.  To submit a Casework Authorization Form, please visit my website.
Please feel free to forward this information to your family and friends. To learn more about these efforts, to express your views, or to sign up for email updates, please visit my website. I am also on Twitter at http://twitter.com/NancyPelosi.
 


Sincerely,

Member of Congress