Historic Progress in Congress for California
Key Victories for San Franciscans
This week, the Congress passed a strong appropriations package, which achieves critical victories for the health, financial security and well-being of the American people – with key wins for California! 
Congressional Democrats proudly fought for and secured key investments to create good-paying jobs, rebuild our infrastructure, promote health, combat homelessness, advance progress for our communities and protect our environment.  For San Francisco, the funding package includes tens of millions of additional dollars for the rescanning and retesting of Hunters Point, a one million dollar increase in funds appropriated to enhance the San Francisco Bay, preservation for San Francisco's pristine drinking water, as well as bold investments in job-creating infrastructure for initiatives for the Embarcadero Seawall seismic and flood protection upgrade.

Here are some of the key victories for California in the FY20 Appropriations funding bills:
Funding Critical Efforts to End the HIV/AIDS Epidemic:
Key funding was provided for the initiative to End the Epidemic by 2030, with $140 million in new funding to the CDC, $70 million to Ryan White, and $50 million for Community Health Centers to support testing, prevention with PrEP and syringe access services, care, and treatment at the local level.
Highest level of funding in HOPWA's history, an increase of $17 million over last year's levels.  These increased funds will help protect legacy cities like San Francisco from funding cuts due to formula changes.
Rejected the President's proposed largest cuts ever to global AIDS, and instead provided $1.56 billion for the Global Fund, a 15.6% increase to be sustained over the three-year replenishment cycle, and held PEPFAR steady.
At least a $36 million increase to NIH Centers for AIDS research and AIDS research at NIAID.
In July 2020, San Francisco and Oakland will host the 23rd International AIDS Conference, last hosted in the Bay Area in 1990.  $5.1 million was included for the U.S. contribution to the AIDS2020 Conference.
Combating Homelessness and Supporting Affordable Housing:
Homeless Assistance Grants to support permanent supportive and rapid rehousing increased $141 million over last year's levels, including $80 million for homeless youth and $50 million for survivors of domestic violence.
HOME program to support affordable housing and Community Development Block Grants each increased by $100 million.
Fully Funding Wildfire Suppression and ending the cycle of "fire borrowing":
$5.553 billion for wildland fire management, $1.6 billion above the 2019 enacted level and $32 million above the President's budget request.
For the first time, the "fire-fix" won in FY 18 is being used to allow a $2.25 billion budget cap adjustment for fire suppression funding, preventing the Department of the Interior and the U.S. Forest Service from having to "borrow" funds from other activities that ensure the health of our forests and watersheds, and prevent wildfires.
 
Congresswoman Pelosi speaks at her weekly press conference to discuss the For The People agenda and the House of Representative's historic vote to defend our democracy.
Economic Justice for California
Two years ago this month, the then-Republican House passed their Tax Scam For The Rich, which handed 83 percent of the tax cuts to the wealthiest 1 percent, ultimately raised taxes on 86 million middle class families and added $2 trillion to the debt in the process.

To pad their giveaways to the wealthiest and big corporations, Republicans devised a bare-knuckle partisan raid on suburban, middle-class communities across America by capping the State and Local Tax deduction.  This cruel action was a double tax that punished communities that do not vote their way, which seriously hurt middle class families, homeowners, schools and first responders across America – particularly in California.

This week, Democrats restored fairness for middle class communities by repealing the unfair SALT deduction cap, reversing the immense and unjust giveaway to the wealthiest tax bracket, and providing additional tax benefits to the teachers and first responders who shouldered the burden of a ransacking of state and local governments.   We will continue to work to advance economic justice in America, and to rebalance the tax code with real reform that puts working and middle class families first.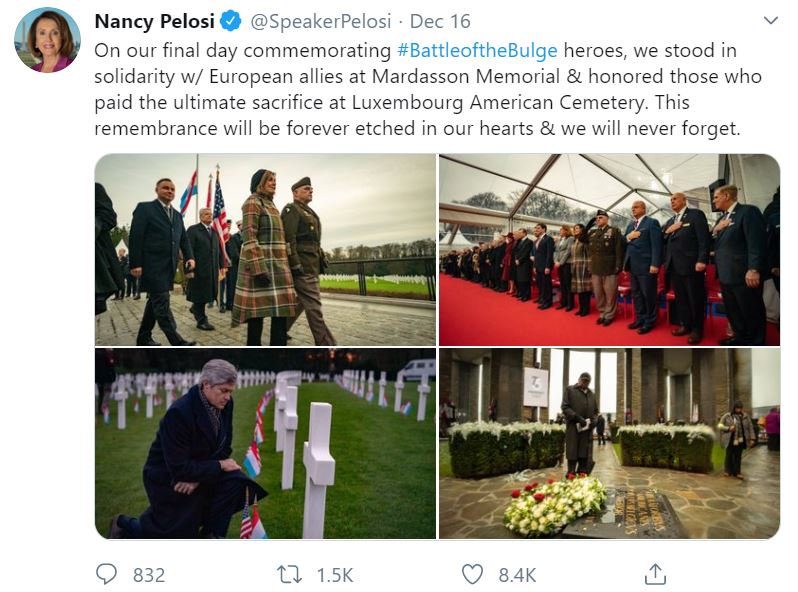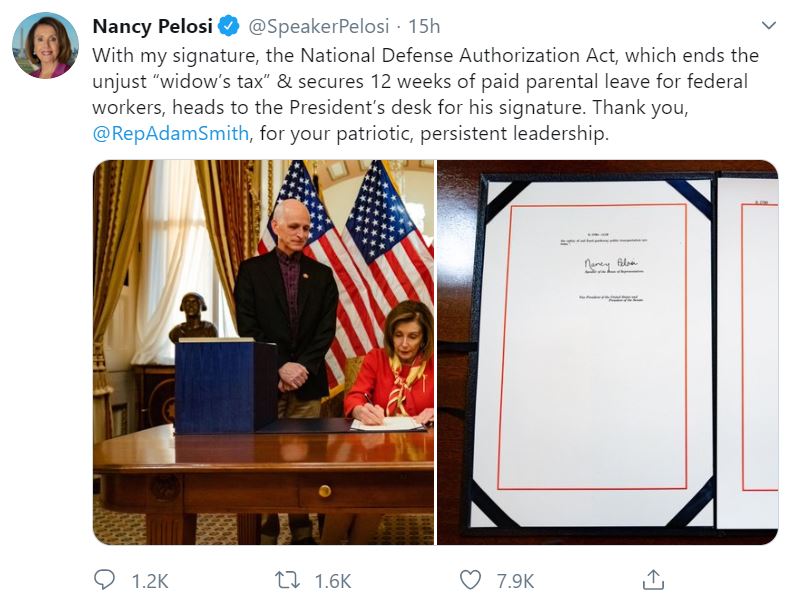 A Strong USMCA for American Workers
Yesterday, the House passed an historic trade agreement that is truly worthy of the American people: a new and dramatically improved U.S.-Canada-Mexico Trade Agreement.  We are hopeful that the USMCA will serve as a template for future trade agreements.

Hard-working Americans need more from the USMCA than just the same broken NAFTA with better language but no real enforcement.   After months of serious negotiations, key changes were made to the USMCA that make this a truly transformative agreement for America's workers.  Now, with our changes, the USMCA now has the strongest enforcement mechanisms of any U.S. trade agreement.

The USMCA also contains critical victories for workers' rights, for lower prescription drug costs and for environmental protections.  While the Administration's draft stacked the deck against labor violation claims, our changes enact new rules and monitoring tools to protect American workers, prosecute labor violations and ensure that Mexico is complying with labor reforms.  To combat the existential threat of the climate crisis, we strengthened rules and enforcement tools, are lowering pollution and increasing resilient infrastructure, and are setting American on a firm footing for progress when we have a President who bring us back into the Paris Climate Accords.   The Administration's unfair hand-outs to Big Pharma have also been eliminated, and new measures were taken to lower drug costs and improve access life-saving medicines.

This is a strong agreement that honors our promises For The People, and makes a difference for millions of workers and families across America.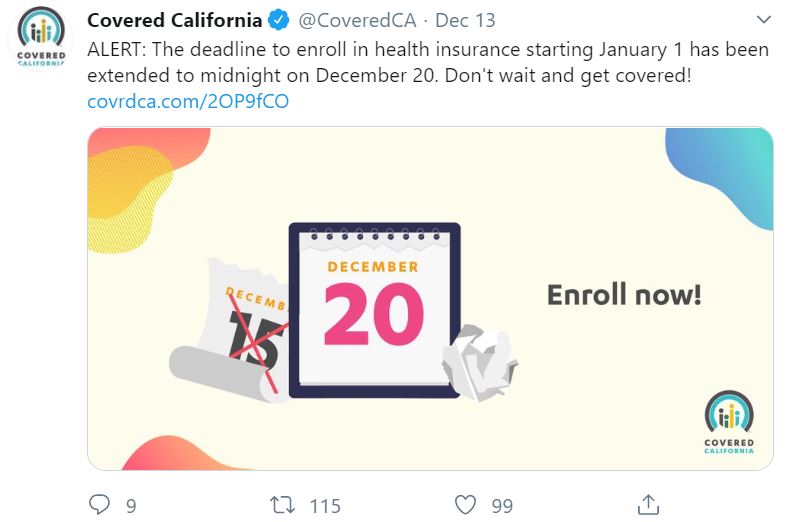 Today is the last day to sign up for health insurance through Covered California and be covered on January 1st.  After today you have until January 31st to sign up for coverage by February 1st.  Sign up today!
  My office assisted a constituent experiencing issues receiving her family's green cards through the United States Postal Service (USPS). Upon a determination by United States Citizenship and Immigration Services (USCIS) that the documents were sent through the USPS, our office contacted USPS on her behalf and conveyed the details of her situation. As a result, USPS was unable to locate the green cards but provided a letter advocating for her family's application fees to be waived in order to issue new green cards.
Caseworkers in my San Francisco office work to address any problems or concerns you may have with a federal government agency. To submit a Casework Authorization Form, please visit my website.
Please feel free to forward this information to your family and friends. To learn more about these efforts, to express your views, or to sign up for email updates, please visit my website. I am also on Twitter at http://twitter.com/NancyPelosi.
 


Sincerely,

Member of Congress