Help Is On The Way
Meeting The Needs Of The American People
When President-elect Biden was elected, he told the American people that 'Help is on the way.'  Yesterday, the President-elect announced that he is moving swiftly to deliver that help and to meet the needs of the American people with his new COVID-rescue package. House and Senate Democrats express gratitude toward and look forward to working with the President-elect on the rescue plan.
American families face an extraordinary combination of health and economic crises – from COVID-19 to racial inequality to climate change – all of which demand big, bold and immediate action.  The emergency relief framework revealed yesterday by the incoming Biden-Harris Administration is the right approach.  It shows that Congress will finally have a partner at the White House that understands the need to take swift action to address the needs of struggling communities. We will get right to work to turn President-elect Biden's vision into legislation that will pass both chambers and be signed into law.
After Congress passed the most recent emergency COVID-relief bill in December, Democrats were clear that much more needed to be done.  We are pleased the Biden-Harris package includes much of what we have been fighting for, including an increase in direct payments to $2,000 for American families, support for vaccine distribution and testing, additional aid to small businesses, funding to safeguard state and local jobs, extension of unemployment benefits, help for renters and children in poor and middle-class families and more.  The development of multiple COVID-19 vaccines was a tremendous scientific breakthrough, and it means that recovery is on the horizon.  But our country is still suffering some of the highest rates in the entire world of infections, hospitalizations and deaths from COVID-19.  These proposals by the Biden-Harris Administration will be critical to getting our country through this challenging period and towards a period of recovery. 
The final jobs report of the Trump Administration issued last week was a bright red warning sign that the economy needs additional help right away.  We've now lost more than 385,000 Americans to COVID-19, millions of Americans have lost their jobs and are looking for work, hundreds of thousands of small businesses have closed, frontline workers are being laid off and communities across the country are on the brink of collapse.  The robust package announced by President-elect Biden and Vice President-elect Harris shows we now have the necessary leadership in the Executive Branch to turn this around and we are ready to get to work to deliver aid without delay.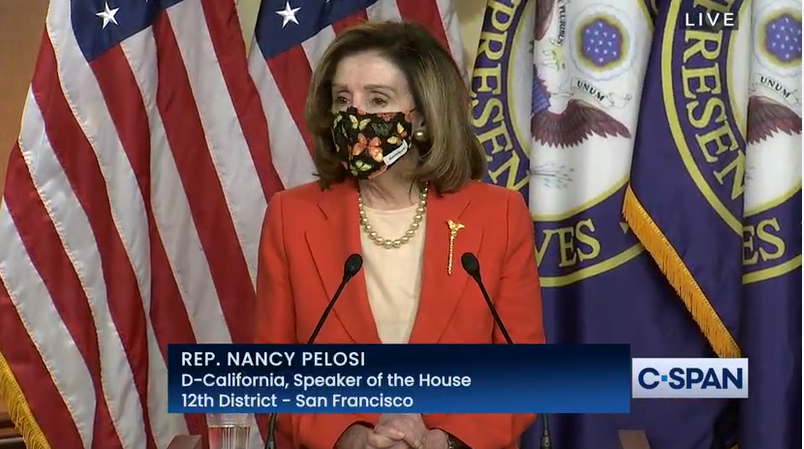 Congresswoman Pelosi speaks with reporters at the U.S. Capitol as America prepares for the inauguration of President-elect Biden and Vice President-elect Harris.
2nd Round of Paycheck Protection Program for Small Businesses Re-Opens for All Businesses January 19th
Earlier this week, the U.S. Small Business Administration (SBA) reopened the Paycheck Protection Program for new borrowers (First Draw) and certain existing PPP borrowers (Second Draw) through community financial institutions. To increase participation by underserved and minority, veteran and women-owned businesses, my office proactively contacted over 400 community-based and non-profit organizations last week to share this information. 

On Tuesday January 19th, 2021, the PPP will be open to all participating lenders. This round of PPP will provide up to $284 billion for forgivable small businesses loans, provided loan proceeds are used for job retention and other qualifying business expenses through March 31, 2021.

If you need help finding a participating lender, click here to use the SBA's Lender-Match. View PPP Guidance on Accessing Capital for Minority, Underserved, Veteran, and Women-owned Business Concerns here.

If you have questions about accessing this new round of PPP funding, do not hesitate to contact my San Francisco office if I can be of assistance with the SBA.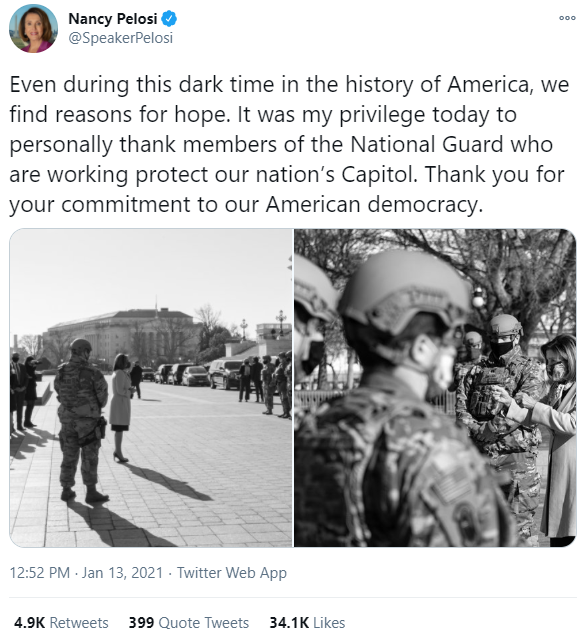 Staying Up To Date on COVID in San Francisco 
With the ever-present threat of COVID-19, it is important to stay updated with the ongoing changes in our community.  Below you can find some of those changes as well as tools and resources to help with these developments:
One of my constituents filed their income tax return in early February and had not received their tax refund yet. My office worked closely with the Taxpayer Advocate Service (TAS) and the Internal Revenue Service (IRS) to expedite the tax refund due to my constituent.

Caseworkers in my San Francisco office work to address any problems or concerns you may have with a federal government agency. To submit a Casework Authorization Form, please visit my website.
Please feel free to forward this information to your family and friends. To learn more about these efforts, to express your views, or to sign up for email updates, please visit my website. I am also on Twitter at http://twitter.com/NancyPelosi.
 


Sincerely,

Member of Congress