Health Care At Risk
Protecting American's Healthcare
Last night, in the dark of night, during a pandemic, President Trump and Republicans asked the Supreme Court to strike down every last protection and benefit of the Affordable Care Act.  At a time when families need affordable health care more than ever, the Trump Administration is trying to strip protections from 130 million Americans with pre-existing conditions and take coverage away from 23 million Americans.
We need to build on the progress of the Affordable Care Act to lower health costs and prescription drug prices, not rip away Americans' health care in the middle of a pandemic.  That is why House Democrats have been hard at work to defend and strengthen the Affordable Care Act.  On Wednesday, led by our Freshmen, we unveiled the Patient Protection and Affordable Care Enhancement Act:
Lowers health coverage costs – dramatically expanding the ACA's insurance affordability subsidies to cover more middle class families and to be more generous for those already receiving them.  Many enrollees will see their premiums cut by half or more, and for the first time, no one will have to pay more than 8.5 percent of their income for a silver plan in the ACA marketplaces.  
Negotiates for lower prescription drug prices – delivering the power to negotiate lower drug prices so that Americans no longer have to pay more for our medicines than Big Pharma changes for the same drugs overseas.
Expands coverage – pressing Medicaid expansion hold-out states with new carrots and sticks to adopt coverage for the 4.8 million Americans cruelly excluded from coverage, while restoring the outreach and advertising funding that the Trump Administration has slashed to prevent Americans from learning about the affordable health coverage available to them under the ACA.
Combats inequity in health coverage faced by communities of color – expanding more affordable coverage to vulnerable populations and fighting the maternal mortality epidemic by requiring states to extend Medicaid or CHIP coverage to new mothers for a full year post-partum.
Cracks down on junk plans & strengthens protections for people with pre-existing conditions – reversing the Trump Administration's expansion of junk health insurance plans that do not provide coverage for essential medical treatments and drugs, and that are allowed to discriminate against people with pre-existing medical conditions.
Our For The People agenda pledged that we would lower health costs and prescription drug prices – and in the middle of the historic health and financial security crisis of the coronavirus pandemic, affordable health care is more important than ever.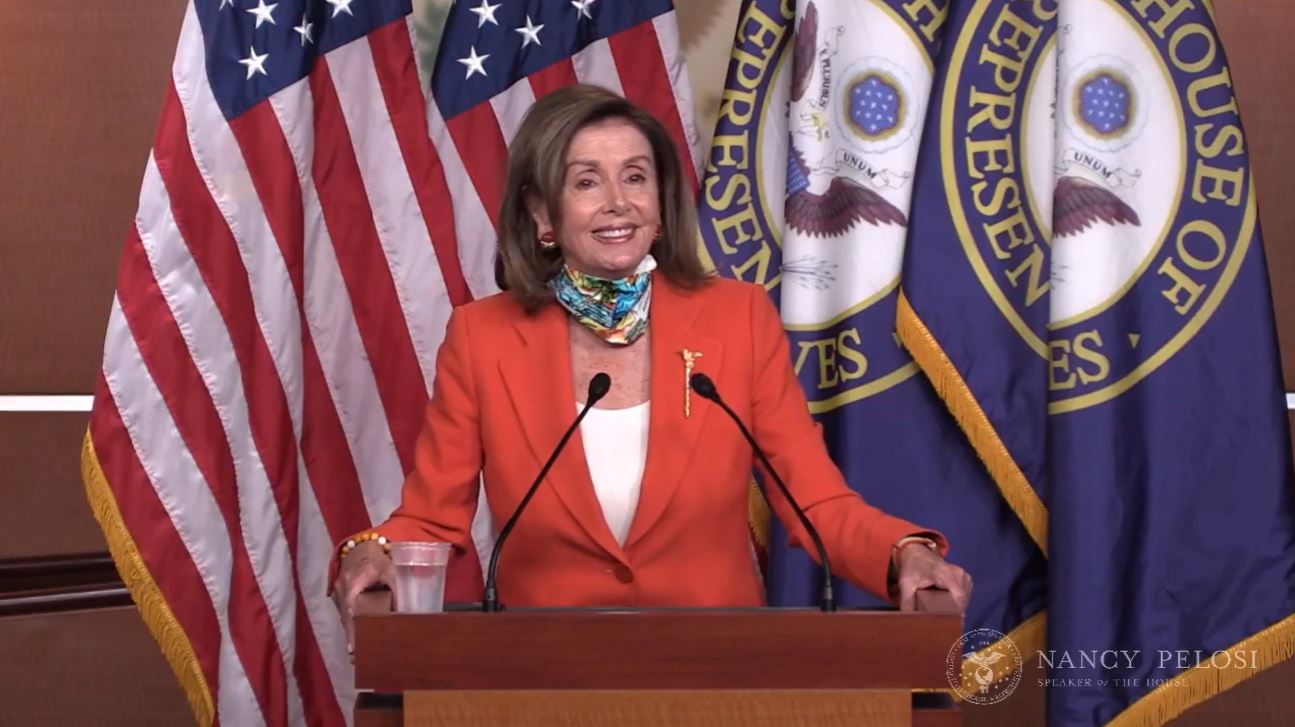 Congresswoman Nancy Pelosi speaks with reporters after the House took decisive action to secure justice for Black Americans killed by police brutality, passing the George Floyd Justice in Policing Act.
Standing With The Uyghur People
On Monday, President Trump admitted that in order to facilitate a trade deal with China, he has delayed imposing Treasury sanctions against Chinese officials involved in Uyghur mass detention camps.  Congress, on a bipartisan basis, has long spoken with one voice in defense of those persecuted by Beijing and will continue to do so.  If America does not speak out for human rights in China because of commercial interests, we lose all moral authority to speak out for human rights any place in the world.
Across the Xinjiang region, Beijing is subjecting the Uyghur people and other Muslim minorities to a campaign of brutal repression, from the mass incarceration of more than one million innocent people to a pervasive state of mass surveillance and predictive policing to countless incidents of torture, forced sterilizations and extrajudicial killings.
Since Day One of his Administration, President Trump has had the tools to hold Chinese officials accountable for these human rights abuses and others including in Hong Kong by deploying sanctions under the 2016 Global Magnitsky Act, yet has refused to do so.  The President's signing last week of the bipartisan Uyghur Human Rights Policy Act, which provides for further sanctions and accountability measures, rings extraordinarily hollow in light of his clearly stated lack of interest in standing up to Beijing.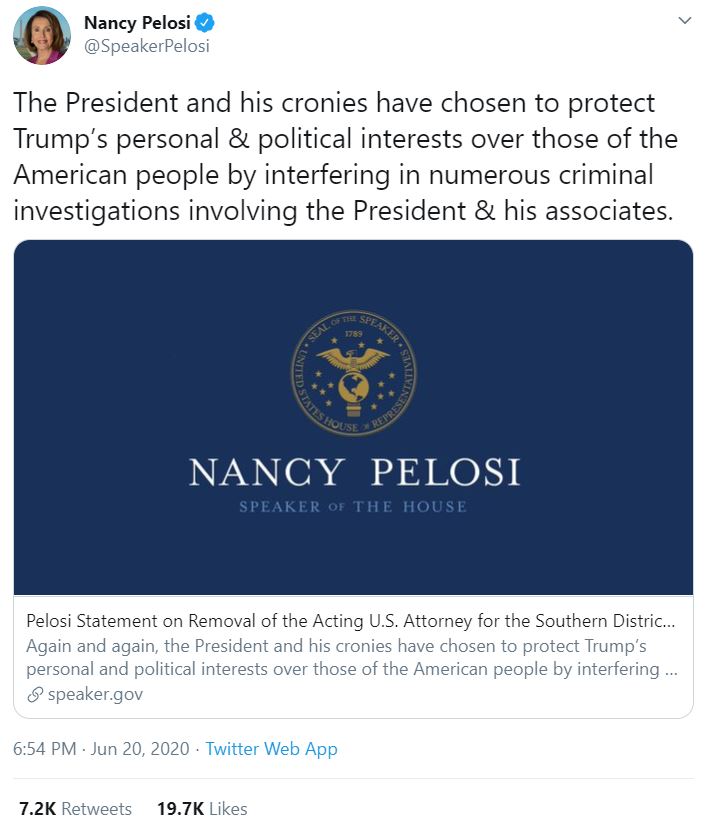 75th Anniversary of the United Nations
Today marks the 75th anniversary of the United Nations where in the aftermath of the staggering violence and inhumanity of WWII, the nations of the world gathered together in San Francisco to lay the foundations for a just and enduring peace.  Today, the United Nations and the ideals of the charter that guides it, continue to inspire and challenge its member nations to answer our responsibility to our fellow human beings and advance progress for all humanity.

Over its 75 years, the UN has been a source of tremendous leadership in our work to advance human rights and human dignity by opposing the scourge of disease, hunger and poverty.  It has focused the world's attention on advancing opportunity of women and girls, tackling illiteracy and discrimination and demanding action to safeguard refugees and combat the existential threat posed by the climate crisis.  And while challenges continue to confront our global community, the UN remains a vital force for hope and progress for millions around the world.  

While the Administration engages in dangerous, shortsighted attempts to undermine the UN and abandons America's global leadership and treaty obligations, we will ensure the United Nations continues to be a bulwark for global peace, security and prosperity now and into the future.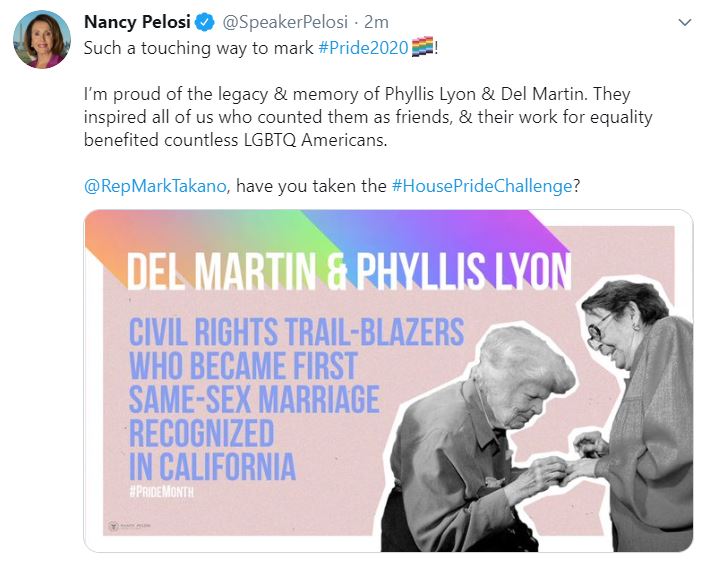 Staying Updated in San Francisco 
With the ever-present threat of COVID-19, it is important to stay updated with the ongoing changes in our community.  Below you can find some of those changes as well as tools and resources to help with these developments:
Thanks to the CARES Act, many Americans are eligible for Economic Impact Payments (EIP), which are payments to help families and provide timely stimulus for the economy. There are a number of reasons why someone may not have received their EIP yet – some eligible individuals may be required to use the  "nonfilers" tool to get their EIP. Eligible individuals have until October 15th to file for their stimulus payment.

To find out if you're eligible, and if there are any other steps you need to take to receive your stimulus payment, visit this resource site here.

For eligible individuals needing assistance in finding out the status of their missing Economic Impact Payment that have exhausted all options through the resource link above, you can call the Internal Revenue Service (IRS) at 1-800-919-9835. This line has been set up solely for Economic Impact Payment questions and assistance.
  A constituent contacted my office because his company's application was experiencing long delays with the U.S. Customs and Border Protection (CBP). The office contacted CBP on behalf of the constituent for more information. After contacting CBP, the office was able to provide the constituent with more information about the status of the application and evidence needed.
Caseworkers in my San Francisco office work to address any problems or concerns you may have with a federal government agency. To submit a Casework Authorization Form, please visit my website.
Please feel free to forward this information to your family and friends. To learn more about these efforts, to express your views, or to sign up for email updates, please visit my website. I am also on Twitter at http://twitter.com/NancyPelosi.
 


Sincerely,

Member of Congress