Fighting For Urgent Coronavirus Relief Now
Protecting Americans from Coronavirus
The heartbreaking acceleration of the coronavirus crisis demands bold, urgent and ongoing action from Congress to protect Americans' lives and livelihoods.  Congress must provide additional relief for small businesses and families, building on the strong down-payment made in the bipartisan CARES Act.
More emergency resources are desperately needed now to sustain the life and death fight to protect the lives and livelihoods of the American people:
The hospitals, states and local governments on the front lines of this crisis are already running out of the money provided in the CARES Act – and desperately need an emergency infusion of additional funds to care for patients and prevent greater spread and deaths.
Problems accessing the Paycheck Protection Program are preventing small businesses in communities across America from getting the financial help they need to survive. Underserved communities in rural and urban areas are disadvantaged relative to more connected businesses that could exhaust critical funding before aid reaches the most vulnerable job-creating small businesses – 

unless essential fixes are made when new money is added.
That is why Congressional Democrats are calling for an interim emergency relief bill that includes:
$250 billion in assistance to small businesses, with $125 billion channeled through community-based financial institutions that serve farmers, family, women, minority and veteran-owned small businesses and nonprofits in rural, tribal, suburban and urban communities across our country, and improvements to ensure all eligible small businesses can access this critical funding and are not turned away by banks;
$100 billion for hospitals, community health centers and health systems, providing desperately needed resources to the frontlines of this crisis, including production and distribution of national rapid testing and Personal Protective Equipment (PPE);
$150 billion for state and local governments to manage this crisis and mitigate lost revenue, doubling down on the investment secured in the CARES Act;
Strong additional support for families with a 15 percent increase to the maximum SNAP benefit to help put food on the table.
After we pass this interim emergency legislation, Congress will move to pass a CARES 2 Act that will extend and expand the bipartisan CARES Act to meet the needs of the American people. CARES 2 must provide transformational relief as the American people weather this assault on their lives and livelihoods.

The American people need to know that their government is there for them in their time of great need.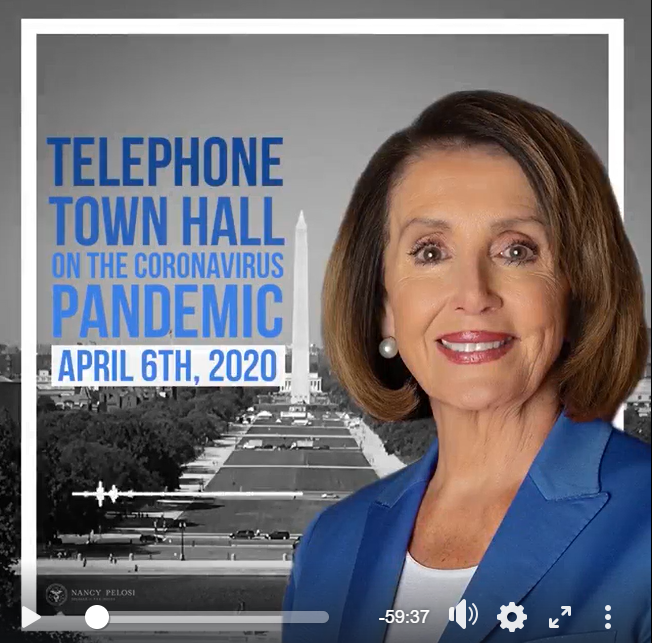 Listen to the Telephone Town Hall from Monday night where Congresswoman Nancy Pelosi spoke with experts and constituents focusing on combating the Coronavirus Pandemic.
Continuing Congressional Oversight
Tuesday, the President demoted Acting Defense Inspector General Glenn Fine and removed him from his position as the head of the Pandemic Response Accountability Committee.  This sudden removal is part of a disturbing pattern of retaliation by the President against independent overseers fulfilling their statutory and patriotic duties to conduct oversight on behalf of the American people.  It takes place just days after his shameful late-night firing of Intelligence Community Inspector General Atkinson and his nomination of one of his own lawyers to oversee the Treasury Department's implementation of the CARES Act.
The President's violation of oversight appears to be a reaction to Congressional Democrats transforming the CARES Act from corporations-focused to workers-first, requiring that taxpayer dollars given to industry go to workers' paychecks and benefits, not be used for CEO bonuses, stock buybacks or dividends.  We will continue to exercise our oversight to ensure that this historic investment of taxpayer dollars is being used wisely and efficiently to help workers and families.

That is why, last week I announced the formation of a special bipartisan oversight panel: the House Select Committee on the Coronavirus Crisis, to be chaired by Majority Whip Jim Clyburn.  Its purpose is to ensure that the over $2 trillion that Congress has dedicated to this battle – and any additional funds Congress provides in future legislation – are spent wisely and effectively.  

The Select Committee on the Coronavirus Crisis is modeled after the Truman Committee, formed by then Senator Harry Truman on the eve of the United States entering World War II, anticipating the urgency of oversight and accountability in making sure the money did what it was supposed to do.  Senator Truman could not have been more correct.  The Truman Committee turned into a tremendous investment for taxpayers.  Its total cost was less than $1 million and it saved lives and nearly $15 billion by preventing fraud, waste and abuse. 

We have no higher priority than making sure the money gets to those working families – struggling to pay rent and put food on the table – who need it most.  The panel will root out waste, fraud, and abuse.  It will protect against price gouging and profiteering.  It will press to ensure that the federal response is based on the best possible science and guided by the nation's best health experts.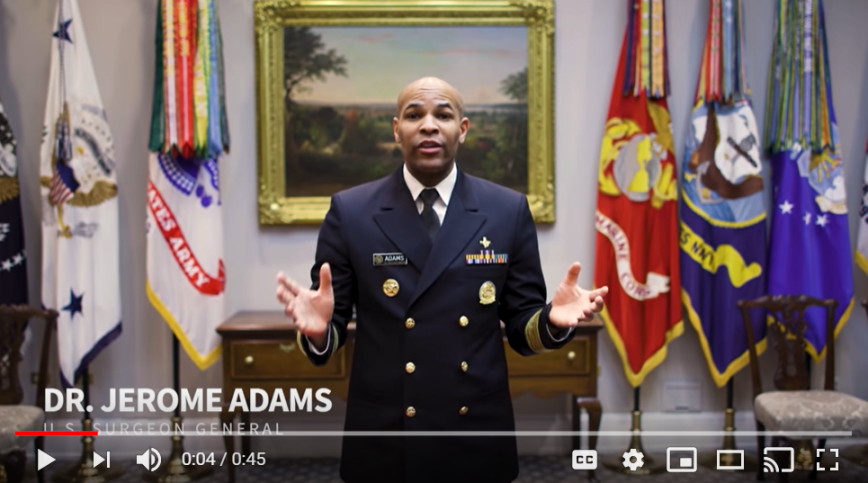 U.S. Surgeon General Dr. Jerome Adams demonstrates how to make a Do-It-Yourself Face Mask to prevent the spread of COVID-19
Staying Up To Date in San Francisco
With the ever present threat of COVID-19, it is important to know all of the changes occuring in our community.  Below you can find some of those changes as well as tools and resources to help with these developments: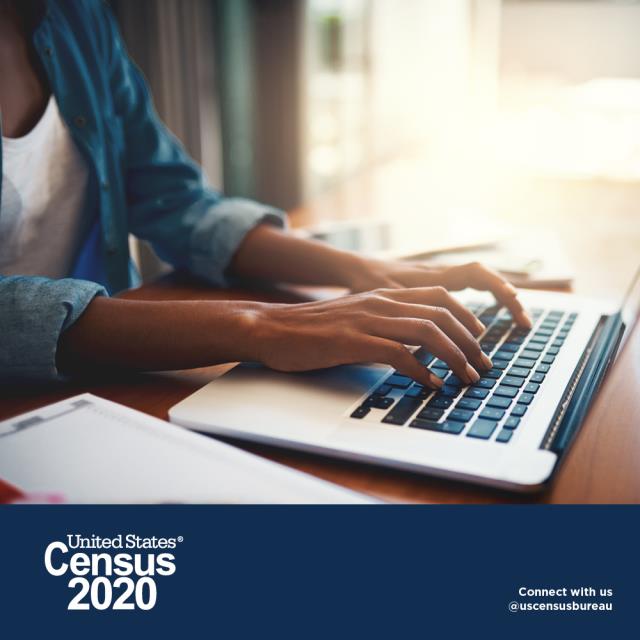 Don't forget to complete the 2020 Census! For the first time this year, the U.S. Census Bureau will be accepting responses online, but you can also respond by mail.  The process is quick and secure.  To learn more and make sure you are counted in this year's Census, visit 2020census.gov.
  A constituent contacted my office because her nephew was recently ordered into quarantine while working overseas without the ability to leave for weeks.  Staff contacted the US Consulate to communicate the assistance request.  After contacting the US Consulate, my office was able to track the case closely and ensure that the constituent was released.
Caseworkers in my San Francisco office work to address any problems or concerns you may have with a federal government agency.  To submit a Casework Authorization Form, please visit my website.
Please feel free to forward this information to your family and friends. To learn more about these efforts, to express your views, or to sign up for email updates, please visit my website. I am also on Twitter at http://twitter.com/NancyPelosi.
 


Sincerely,

Member of Congress