Black Lives Matter
Fighting for Justice
Our hearts ache for the family of George Floyd and the entire Minneapolis community. Last week, our nation witnessed a man being murdered on TV. Unfortunately, this is part of a pattern of racial injustice and police violence particularly against the African American community. We must remain vigilant and ensure a complete and credible investigation to guarantee that all those responsible are fully brought to justice. 
At this moment of immense sadness across America when our country cries out for unity, real leadership is needed.  Yet, the President has failed to bring our nation together, to provide reassurance to the Floyd family and other families who have lost loved ones to police violence and to calm waters as protests accelerate across the nation.  Instead, the President presents a tone-deaf and escalatory response that does not condemn racism and violence – consistently choosing to fan the flames of discord, bigotry and violence even more, only further dividing our country.
America deserves better. Led by the Congressional Black Caucus, House Democrats are working on legislation to address policing and other reforms to safeguard every American's right to equal justice. Last week, the House Judiciary Committee sent a letter to Attorney General Barr demanding federal investigations into the murders of Ahmaud Arbery, Breonna Taylor and George Floyd.  In the coming weeks, the Judiciary Committee will launch new oversight efforts and consider legislation to address the crisis of racial profiling, qualified immunity, excessive force by law enforcement and lost trust between police departments and the communities they serve. Additionally, next week, the full Judiciary Committee will hold a hearing on "Oversight on Policing Practices and Law Enforcement."
While we respect the difficult role of law enforcement to keep our communities safe, we also expect them to fulfill their duty with respect for the rights of all Americans. House Democrats will not rest until justice has been done and will continue to insist on the truth that Black Lives Matter.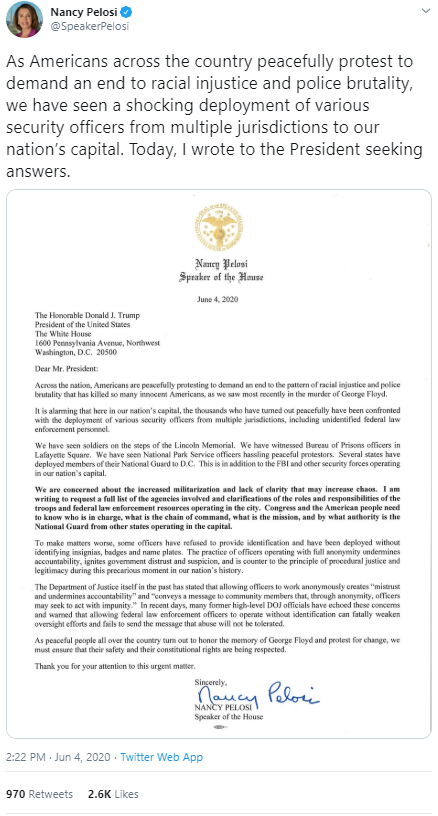 Marking 31 Years Since The Tiananmen Square Massacre
Every June 4, freedom-loving people worldwide pause to remember the courage of the students, workers and citizens who peacefully defied an oppressive Chinese regime to demand their liberties, only to be met with violence and death.  The image of a lone man before the tank is seared into our collective memory as a reminder of the values for which we must always fight: freedom, justice, and human rights.

In 1991, I stood with colleagues in Tiananmen Square and unfurled a black-and-white banner reading: 'To those who died for democracy.'  Sadly, three decades after the Tiananmen Massacre, we see that China's record of human rights abuse has not changed – from the brutal campaign of repression perpetrated against the Uyghurs, to the decades-long abuse faced by the Tibetan people, to Hong Kong's ongoing struggle for the freedoms promised long ago, and to the plight of the journalists, human rights lawyers, Christians and democracy advocates unjustly imprisoned on the mainland.

For three decades, the United States Congress on a bipartisan basis has been united in its strong support for human rights in China and for all who are oppressed by Beijing.  Over the past year, the House has proudly taken action to hold Beijing accountable for its ongoing human rights abuses, passing landmark legislation that includes the Uyghur Human Rights Policy Act, the Tibet Policy and Support Act, and the Hong Kong Human Rights and Democracy Act.

As the President prepares to implement this critical bipartisan legislation, we urge him to join us in support of a strategic plan to confront Beijing, working together with our allies.

During this moment of national anguish, let us remember how the Tiananmen heroes raised a Goddess of Democracy in the image of our own Statue of Liberty and quoted America's Founders – and may those memories move us to ensure that America truly lives up to its ideals.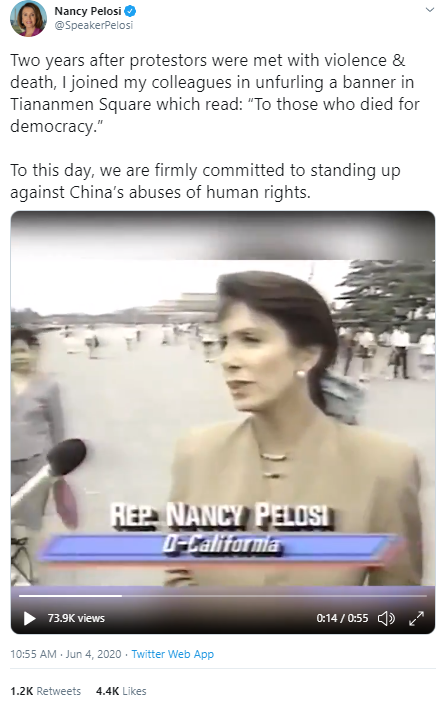 Staying Updated in San Francisco
With the ever present threat of COVID-19, it is important to stay updated with the ongoing changes in our community.  Below you can find some of those changes as well as tools and resources to help with these developments: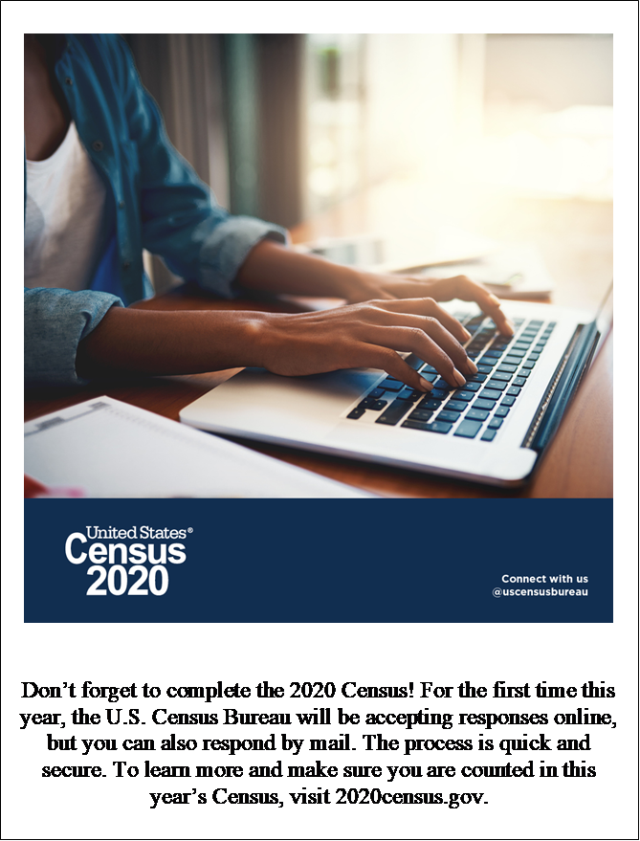 A constituent contacted my office because his daughter was stuck abroad with her high school classmates and teacher due to travel restrictions. Staff contacted the US Embassy to assist the constituent and her classmate sign up for a repatriation flight back to the United States. 

Caseworkers in my San Francisco office work to address any problems or concerns you may have with a federal government agency. To submit a Casework Authorization Form, please visit my website.
Please feel free to forward this information to your family and friends. To learn more about these efforts, to express your views, or to sign up for email updates, please visit my website. I am also on Twitter at http://twitter.com/NancyPelosi.
 


Sincerely,

Member of Congress