Biden Brings Hope, Healing, and Unity
Healing After Enormous Loss
This week, the hearts of all Americans break for the more than 400,000 who have died from the coronavirus – an unfathomable human toll almost beyond comprehension.  As one country, we pray for all lost to this vicious virus: children, mothers, fathers, sisters, brothers and friends.  As we mourn this devastating milestone, we must come together to move past the failed Trump response to crush the virus and deliver robust, real relief with the help of the Biden Administration.
President Biden has announced an emergency relief framework that sends a strong signal to struggling families that 'help is on the way,' and that includes much of what Congressional Democrats have been fighting for, including:
an increase in direct payments to $2,000 for American families;
support for vaccine distribution and testing;
additional aid to small businesses;
funding to safeguard state and local jobs;
extension of unemployment benefits;
help for renters and children in poor and middle-class families, and more.
The House and Senate are ready to get to work to turn this vision into legislation that will pass both chambers and be signed into law — without delay.  We echo the President's call for bipartisan action on his proposal and urge our Republican colleagues to work with us to quickly enact it.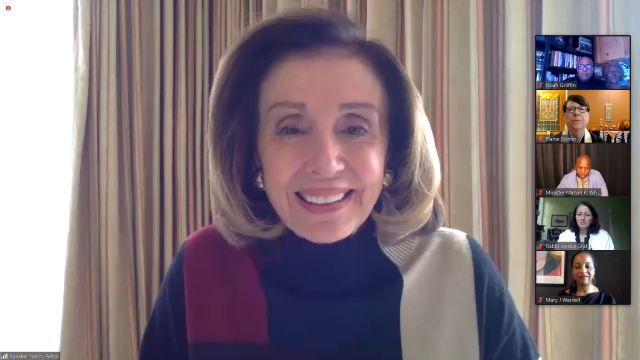 Congresswoman Nancy Pelosi joined the San Francisco Interfaith Council and San Francisco faith leaders for a prayer service celebrating the life of Dr. Martin Luther King, Jr., and a discussion on the power of Justice and Hope.
Executive Actions to Build Back Better
On Wednesday, our country rejoiced as Joe Biden and Kamala Harris took the oath of office and assumed the roles of President and Vice President of the United States.  It was a breath of fresh air for our democracy, for America and for our future. 

Working with the Biden-Harris Administration and the new Democratic Majority in the Senate, the House will ensure that our nation will not only recover from the coronavirus and economic crises, but will Build Back Better in a way that advances justice, equality and progress for all Americans.
We must get to work immediately – which is why I am pleased to support President Biden's Day One Executive Actions to meet the needs of the American people, which will start by addressing the coronavirus.  These Executive Actions will:
Crush the coronavirus: by launching a unified, all-of-government response to increase mask-wearing and other science-based steps to stop the virus's spread.  It also takes specific action to address the disproportionate impact on communities of color, while recognizing the importance of re-engaging with the international community.
Deliver urgent economic relief: by extending moratoriums on evictions, foreclosures and student loan payments.
Combat the climate crisis: by rejoining the historic Paris Climate Agreement and rolling back Trump's special interest, dirty energy Executive Actions.
Honor our nation's diverse heritage: by protecting Dreamers and TPS and DED recipients, rescinding the Muslim ban and taking bold action to end anti-LGBTQ discrimination.
Advance racial equality: by launching a whole-of-government initiative to promote racial equity.
As President Biden said in his inaugural address to our nation, "Today is America's day.  Today is democracy's day."  Let us rejoice in this exciting day.
Impeachment Arrives Monday
Monday, January 25th, will be a momentous and solemn day, as the House sadly transmits the Article of Impeachment for Donald Trump to the Senate. 

The idea that a President could commit any crime, including inciting an insurrection against the United States in an attempt to hold onto power, and escape responsibility if they committed these acts near the end of his or her term would endanger the security of our country and our democracy:
A President must be fully accountable from their 1st day in office to their last day in office.
It has always been the case that former officials can be impeached and tried – in fact that has been the standard practice in the United States Senate since the very earliest Congresses – and it would be a dangerous precedent if we were to depart from that practice.
The text of the Constitution makes clear that removal is not the only reason to impeach but separately allows for disqualification from holding federal office so that our democracy may be protected from particularly dangerous former officials who reject free and fair elections.
A President does not get a constitutional freebie so long as the wrongdoing, no matter how grave, is committed near the end of the term – especially when efforts to hold onto power and remain in office against the will of the people are most likely to happen at the end of a term, not the beginning.
The House has been respectful of the Senate's constitutional power over the trial and always attentive to the fairness of the process.  When the Article of Impeachment is transmitted to the Senate, the former President will have had nearly two weeks since we passed the Article.  Our Managers are ready for trial before the 100 Senate jurors.

As we work to defend our Constitution and our democracy, the House remains hard at work to save the lives and livelihoods of the American people from the pandemic and economic crises. 

Staying Up To Date on COVID in San Francisco 
With the ever-present threat of COVID-19, it is important to stay updated with the ongoing changes in our community.  Below you can find some of those changes as well as tools and resources to help with these developments:
  A constituent contacted my office for assistance because he urgently needed assistance with getting a background clearance from the State Department for his foreign visa. After my office contacted the State Department, we were able to help the constituent expedite the process.

Caseworkers in my San Francisco office work to address any problems or concerns you may have with a federal government agency. To submit a Casework Authorization Form, please visit my website.
Please feel free to forward this information to your family and friends. To learn more about these efforts, to express your views, or to sign up for email updates, please visit my website. I am also on Twitter at http://twitter.com/NancyPelosi.
 


Sincerely,

Member of Congress