Americans Need Relief NOW
270,000 Lives
Families all across the country are experiencing the unthinkable, unbearable losses of their loved ones and many are falling into financial ruin because of the economic fallout of the pandemic.  The United States is averaging over one million new cases a week and the national death toll has crossed the heartbreaking milestone of 270,000 lives lost.
The alarming November jobs report is another urgent warning that real relief is needed to crush the virus, stop the mass layoffs of essential workers and put money in the pockets of the American people.  We have an opportunity to do that by building on the bipartisan framework unveiled on Tuesday by Senators, which was developed with the support of House Members on both sides of the aisle.  With the vaccine imminent and just weeks until the inauguration of a new president committed to crushing the virus and growing the economy, Republicans and Democrats must immediately come together on a true, bipartisan effort to meaningfully address the health and economic crisis gripping our country. 
Every day, the coronavirus and accompanying economic crisis accelerate further out of control – but Senate Republicans are refusing to give families and frontline workers the help they desperately need:
We cannot get our economy working unless we can get the coronavirus under control:  We need to take major steps to finally establish a national COVID testing program and make sure our hospitals and community health centers have the resources to provide the care people need.  At the same time, we must significantly fund distribution efforts to get us from vaccine to vaccination and ensure that the vaccine is free and accessible to everyone.
Preventing permanent economic damage requires strong action, not a band-aid:  Unless the Senate stop blocking real relief to help those who are suffering and to stimulate the economy, we face the prospect of a prolonged recession with many people and businesses facing permanent economic damage.  Health experts and economists are clear that band-aid solutions will result in many more deaths, hospitalizations, business bankruptcies, lost jobs and people losing their health care.
Essential workers will lose their jobs and critical services will be cut unless Congress delivers emergency relief to state and local government: Government budgets in both blue states and red states have been devastated by the coronavirus crisis because of huge revenue losses and the need for extraordinary emergency expenditures.  Without help from the federal government, states and localities will have to lay off essential workers and make damaging cuts in critical services, including education, schools and public safety.
In light of the urgency of meeting the needs of the American people and the hope that the vaccine presents, it's time for Leader McConnell to sit down with Democrats to finally begin a true, bipartisan effort to meet the needs of the country.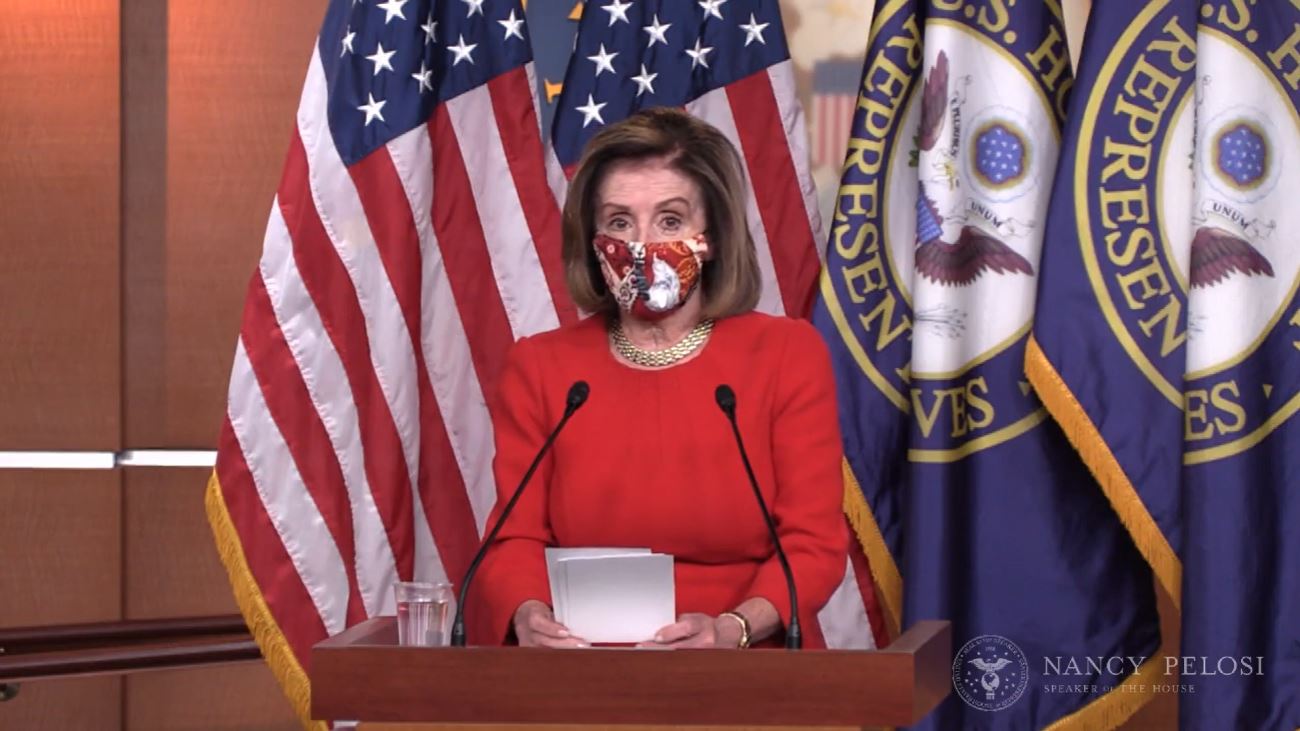 Congresswoman Nancy Pelosi speaks to reporters at the U.S. Capitol about ongoing stimulus negotiations
Remembering Those We Lost
This Tuesday on World AIDS Day, the international community came together to remember the beautiful souls lost to this terrible disease and to reaffirm our determination to banish HIV/AIDS to the annuls of history. 

Over the last 40 years, since the earliest cases began to devastate our community, San Francisco has been on the forefront of the global fight against HIV/AIDS.  Our trailblazing advancements in treatment, prevention and community-based models of care are now bringing hope and healing to millions around the world.  And thanks to the energy and activism of survivors, the LGBTQ community, scientists and advocates everywhere, our nation has been a global leader, advancing remarkable progress by passing the Ryan White Care Act and Housing Opportunities for People with AIDS, increasing funding for lifesaving research and establishing PEPFAR and the Global Fund.  Yet, despite these advancements, we must remain vigilant in combating ongoing stigma and discrimination, particularly against young people, those experiencing homelessness, communities of color and trans women of color who face a higher risk for HIV and violence.

This World AIDS Day, we reaffirm our commitment to global cooperation in the fight against HIV/AIDS that has been such a powerful force to keeping communities healthy and ending this scourge once and for all.  In honor of all those we have lost and those who have fought for decades to find a cure, we will never rest until we have finally achieved the dream of an AIDS-free generation.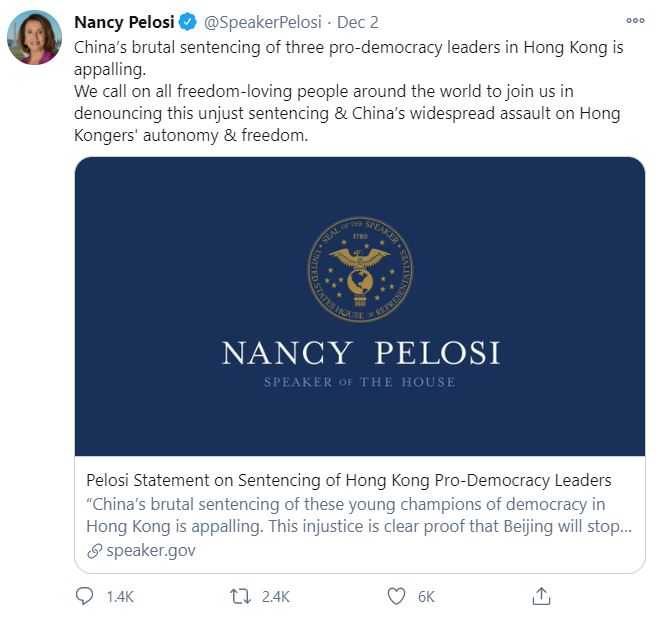 Staying Up To Date on COVID in San Francisco 
With the ever-present threat of COVID-19, it is important to stay updated with the ongoing changes in our community. Below you can find some of those changes as well as tools and resources to help with these developments:
  My office was recently contacted by a constituent, who urgently needed a visa for his child to attend school outside the country. After my office contacted the Passport Agency, the constituent was able to secure a passport for his child.

Caseworkers in my San Francisco office work to address any problems or concerns you may have with a federal government agency. To submit a Casework Authorization Form, please visit my website.
Please feel free to forward this information to your family and friends. To learn more about these efforts, to express your views, or to sign up for email updates, please visit my website. I am also on Twitter at http://twitter.com/NancyPelosi.
 


Sincerely,

Member of Congress