Americans Need Relief Now
Putting America's Children, Families and Workers First
Twelve weeks ago today, we passed The Heroes Act to honor our heroes, to safely re-open our economy and schools by defeating the virus and to put money in the pockets of the American people.  But Mitch McConnell pushed the pause button – waiting until last week to come forward with inadequate, piecemeal legislation, which would only prolong Americans' suffering.
In the past two weeks of negotiations, we have strived mightily to find common ground.  However, many critical differences remain:
Defeating the Virus: It is clear that the only way we are going to end the economic crisis in our country is to defeat the virus.  In The Heroes Act, there are significant resources for testing, tracing and treatment.  The Senate bill has $15 billion and we have $75 billion.  We absolutely need to find common ground in this area, especially as it relates to communities of color who have disproportionately suffered from infections and deaths.
Honoring Our Heroes: Democrats have fought to protect heroes in state and local government who have risked their lives to save lives and now may lose their jobs, by providing $915 billion in desperately needed funds.  Republicans have offered only $150 billion, which would guarantee mass layoffs of health care workers, first responders, transit workers, sanitation and food workers and teachers.
Safe Schools: We are a couple hundred billion dollars apart on the amount of money needed for schools, and Republicans want the education money to only go to schools opening in-person.  Meanwhile, school districts across the country are overwhelmingly announcing that they can only open virtually or hybrid.
Housing Insecurity: Millions of families are on the verge of eviction.  While the President may issue an eviction moratorium, without money it is grossly insufficient for renters and their landlords – who will only see their debts rise higher and their housing insecurity intensify. 
Food Insecurity: Another critical difference in our bills is that we have $67 billion for food, water and utility assistance, while Leader McConnell provides only $250,000 for food. 
For the Children: Children should not be hungry, homeless or afraid to go back to school – and if at home, we must provide sufficient childcare.  In addition, Republicans are insisting on keeping their CARES Act $135 billion tax break for the wealthiest, while rejecting funds for the Child Tax Credit or Earned Income Tax Credit, which are so necessary at this time.
Postal Service, Census, Voting: Central to the life of our democracy is support for the Postal Service, the integrity of the census and the protection of our voting system.  While we hope to make some progress in the Postal Service, much more needs to be done regarding the census and voting.
When we passed the CARES Act at the end of March, it was hoped that the Administration would take seriously the spread of the virus and respect science to end it.  Instead, the Administration's failure has enabled the virus to pick up steam.  It is coming like a freight train, and the response is like a convoy going only as fast as the slowest ship. 

We remain committed to continue negotiating and reaching a fair agreement with the Administration, but we will not go along with the meager legislative proposals that fail to address the gravity of the health and economic situation our country faces.  We call upon the White House's negotiators to join us once again at the negotiating table to secure a bipartisan agreement to put children, families and workers first.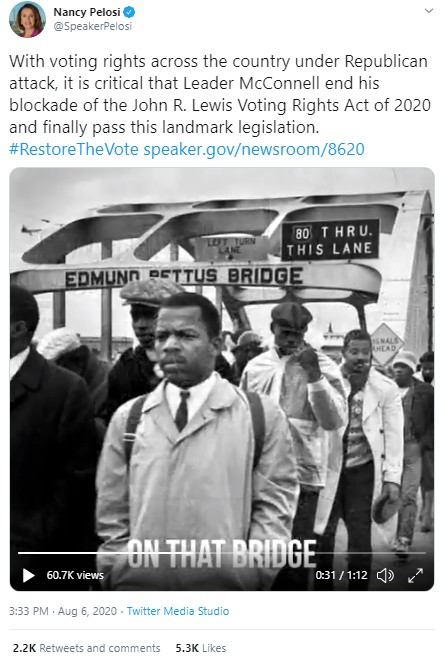 Americans Deserve a Fully Functioning Postal Service
On Wednesday, Leader Schumer and I met with Postmaster General DeJoy to discuss the urgent issues facing the Postal Service, including reports of a dramatic increase in delayed and undelivered mail impacting mail delivery times and quality of service for Americans who rely on an agency enshrined in the Constitution. 

At this meeting, Postmaster DeJoy confirmed that, contrary to certain prior denials and statements minimizing these changes, the Postal Service recently instituted operational changes shortly after he assumed the position of Postmaster General. These changes include reductions of overtime availability, restrictions on extra mail transportation trips, testing of new mail sorting and delivery policies at hundreds of Post Offices, and the reduction of the number and use of processing equipment at mail processing plants. 

These changes, made during the middle of a pandemic, now threaten the timely delivery of mail—including medicines for seniors, paychecks for workers, and absentee ballots for voters—that are essential to millions of Americans. While the Postal Service has and continues to face financial challenges, enacting these policies as cost-cutting or efficiency measures as the COVID-19 public health emergency continues is counterproductive and unacceptable. In this moment, Americans have turned to the Postal Service and depend on it for the timely delivery of critical goods and a safe alternative to in-person interactions. These changes must be reversed. 

We call on Postmaster DeJoy to fulfill his commitment to greater transparency regarding these changes and request additional documentation of the operational changes made, the Postal Service's plan to successfully deliver election mail during the 2020 elections and an analysis of the possible impact of operational changes on mail delivery, including impact of speed of delivery and quality of service. Now more than ever, our nation deserves a fully functioning Postal Service that is accountable to the American people.
If you are currently experiencing any issues with the Postal Service, please visit my website or call my San Francisco District Office at (415) 556-4862. Caseworkers in my San Francisco office are available to help address problems or concerns you may have with a federal agency, including the Postal Service.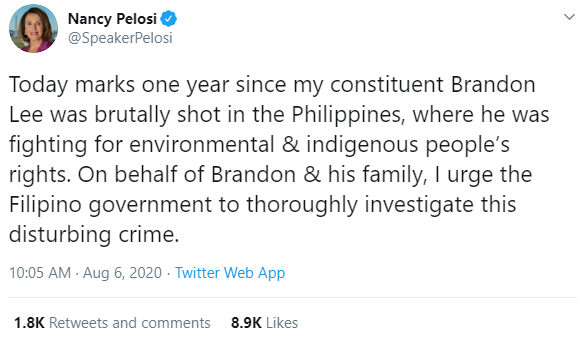 Staying Updated in San Francisco 
With the ever-present threat of COVID-19, it is important to stay updated with the ongoing changes in our community.  Below you can find some of those changes as well as tools and resources to help with these developments:
  My office was recently contacted by a constituent who was unable to receive a nonimmigrant visa to do COVID-19 research in the United States. After my office contacted the U.S. Embassy, the constituent was recommended and approved for a national interest wavier to conduct lifesaving research in the United States.

Caseworkers in my San Francisco office work to address any problems or concerns you may have with a federal government agency. To submit a Casework Authorization Form, please visit my website.
Please feel free to forward this information to your family and friends. To learn more about these efforts, to express your views, or to sign up for email updates, please visit my website. I am also on Twitter at http://twitter.com/NancyPelosi.
 


Sincerely,

Member of Congress