Americans Cannot Wait
Time is Running Out
Over two months ago, the House of Representatives passed The Heroes Act, to support our heroes who risk their lives to save lives and are now at risk of losing jobs, to crush the coronavirus with the testing, tracing and treatment to reopen safely and to put money in Americans' pockets. Yet, instead of taking action, the White House and Senate Republicans have spent months delaying and are now in disarray. Now, as time quickly runs out, Senate Majority Leader Mitch McConnell announced yesterday that he would not have a final proposal on a partisan COVID-19 response package until at least next week. This delay ensures that this weekend, millions of Americans who rely upon Unemployment Insurance will see their benefits expire, will be at risk of being evicted from their homes and could be laid off by state and local governments.
As our country marks the grave milestone of four million infections, Congressional Democrats call upon Leader McConnell to get serious about the needs of working families, stop the unnecessary delays and produce a proposal so that we can sit down and reach an agreement that puts workers and families first. 
We had expected to be working throughout this weekend to find common ground on the next COVID response package. It is simply unacceptable that Republicans have had this entire time to reach consensus among themselves and continue to flail. Time is of the essence and lives are being lost.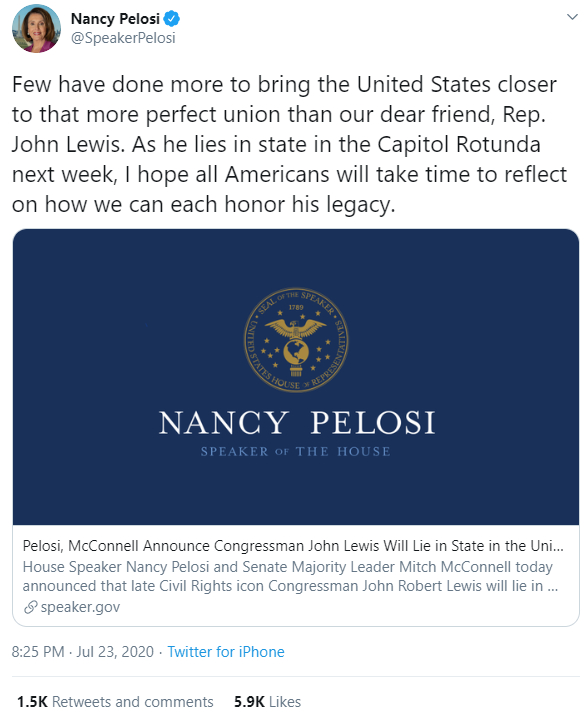 Everyone Counts
This week, the President issued a memorandum seeking to exclude non-citizens from being counted in the 2020 Census. The Census is a pillar of our democracy, enshrined by our Founders to ensure that all people who live in the United States, regardless of citizenship, are equally counted and represented. Yet, by seeking to exclude undocumented immigrants from being counted in the 2020 Census, the President is violating the Constitution and the rule of law.  

The Constitution is clear: it requires an 'actual Enumeration' of the 'whole numbers of persons' for the population count and congressional apportionment. There is no ambiguity about its command.  The President's unlawful effort is designed to again inject fear and distrust into vulnerable and traditionally undercounted communities, while sowing chaos with the Census.

The Administration's relentless, politically-motived attempt to illegally include a citizenship question on the 2020 Census was unequivocally rejected by the Supreme Court last year. Nevertheless, the Administration continues to advance its cruel anti-immigrant agenda, fanning the flames of hatred and xenophobia, tearing countless families apart and challenging our bedrock values of equality and justice for all.    

The House of Representatives will vigorously contest the President's unconstitutional and unlawful attempt to impair the Census. We will be vigilant to ensure a full, fair and accurate Census and continue working to guarantee maximum participation and inclusion so that every person in every community is counted.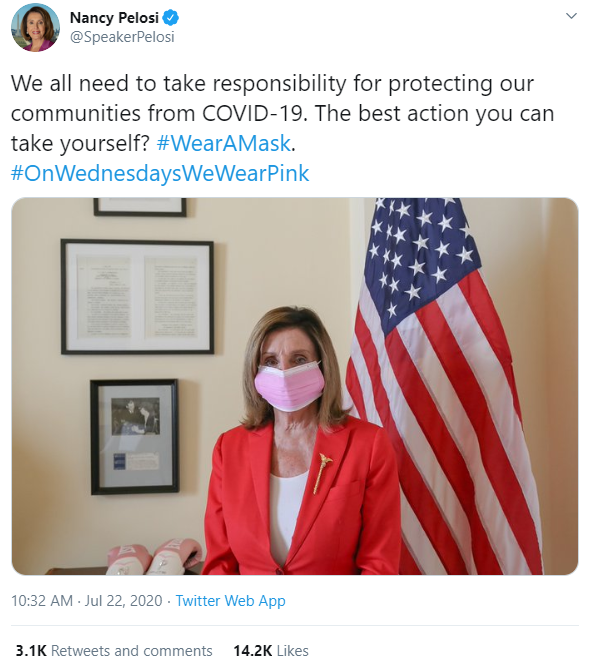 Upholding American Values
On Wednesday, the House of Representatives passed the No Ban Act, legislation to rescind the President's bigoted Muslim Ban and prohibit religious discrimination in our immigration system. The Administration's outrageous, un-American travel ban threatens our security, our values and the rule of law. The sweeping rule, barring more than 350 million individuals from predominantly African nations from traveling to the United States, is discrimination disguised as policy.     

America's strength has always been as a beacon of hope and opportunity for people around the world, whose dreams and aspirations have enriched our nation and made America more American. With this ban, the President doubled down on his cruelty and further undermined our global leadership, our Constitution and our proud heritage as a nation of immigrants.

In the Congress and in the Courts, House Democrats will continue to oppose the Administration's dangerous anti-immigrant agenda. We will never allow hatred or bigotry to define our nation or destroy our values.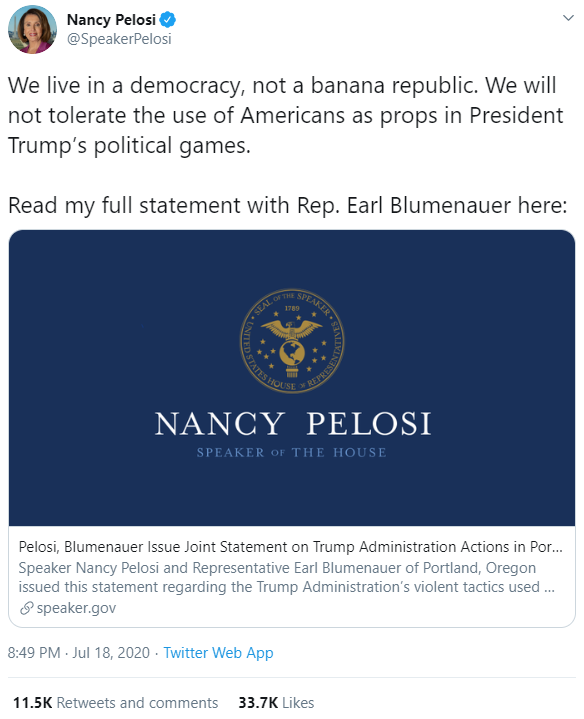 Justice for Sean Monterrosa
Last Friday, I joined Vallejo city officials to call for a Federal Bureau of Investigation inquiry into the police killing of 22-year-old San Franciscan Sean Monterrosa. The police killing of Sean was a horrible act of brutality that continues to shake our Bay Area community. Recent reports that key evidence in the investigation was destroyed are deeply disturbing and highlight the urgency and necessity of an outside, independent federal investigation. We must insist on justice and accountability to honor Sean's life and the lives of all killed by police brutality in America. Sean's killing highlights the urgent need for the Senate to pass the House-passed George Floyd Justice in Policing Act, which will fundamentally transform the culture of policing in America as it saves lives.

May Sean's memory be a source of strength to all as we seek justice in his name. May it be a comfort to his family and loved ones that so many in our city mourn with and pray for them during this devastating time.
Staying Updated in San Francisco
With the ever present threat of COVID-19, it is important to stay updated with the ongoing changes in our community. Below you can find some of those changes as well as tools and resources to help with these developments: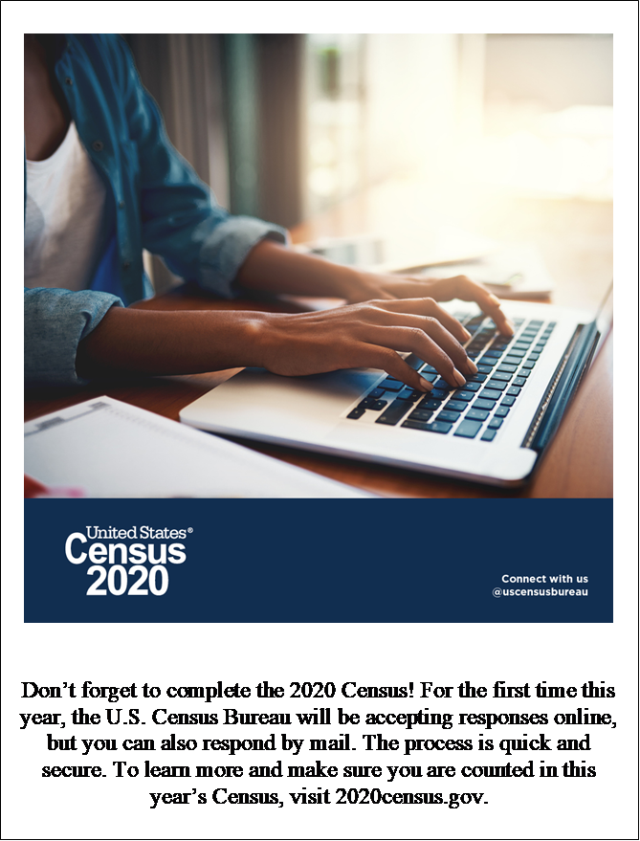 A constituent contacted my office because her family was stuck overseas due to COVID-19 travel restrictions. The office was able to provide the constituent with more repatriation process information from the U.S. Embassy.

Caseworkers in my San Francisco office work to address any problems or concerns you may have with a federal government agency. To submit a Casework Authorization Form, please visit my website.
Please feel free to forward this information to your family and friends. To learn more about these efforts, to express your views, or to sign up for email updates, please visit my website. I am also on Twitter at http://twitter.com/NancyPelosi.
 


Sincerely,

Member of Congress