All Are Equal, All Are Welcome
Ringing in Pride Month
In June, Americans celebrate the beauty, bravery and vibrancy of our cherished LGBTQ communities and commemorate the remarkable progress our nation has made toward full equality.  Our nation has taken important strides towards full equality, thanks to generations of leaders and activists.
Tragically, hatred and bigotry still linger today: an alarming wave of anti-LGBTQ legislation is sweeping statehouses across the nation, while transgender women of color are suffering rising violence in our communities.  As these dark forces threaten to erode our hard-won progress, we cannot relent until our LGBTQ friends, family and neighbors can live with safety, dignity and pride.  That is why, in February, the Democratic House once again passed the landmark Equality Act, which must now become law.
To celebrate Pride in San Francisco, I had the honor of attending the 26th annual Pink Triangle Commemoration Ceremony on Twin Peaks on Tuesday.  At the ceremony, we illuminated a large pink triangle that will shine atop our city landmark for the month of June, commemorating LGBTQ victims of the Holocaust who were forced to wear the Pink Triangle.  Today, this symbol is now a beacon of hope and a powerful reminder of the horrors that arise when people are indifferent to injustice and blind to bigotry.
This month and every month, we proudly march with our LGBTQ community to demand an end to discrimination and to advance the cause of justice.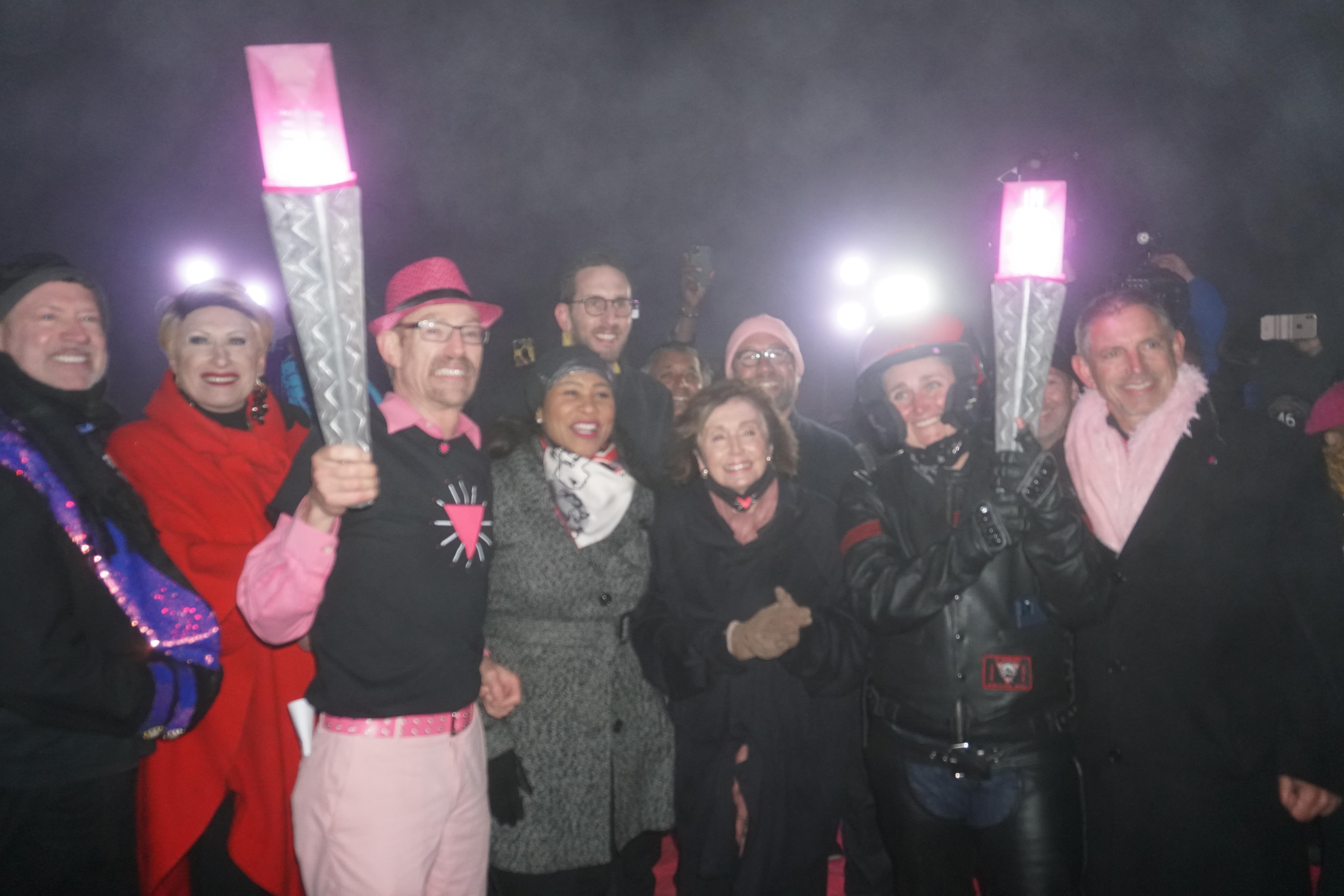 Congresswoman Nancy Pelosi joins San Francisco Mayor London Breed lighting the 26th Annual Pink Triangle on the first night of LGBTQ Pride Month.
Supporting Our City's Food Bank
This week, I had the privilege of volunteering with the San Francisco-Marin Food Bank's North Beach pop-up pantry.  The S.F.-Marin Food Bank's work has been essential to supporting hungry San Franciscans during the coronavirus crisis, as our city has faced a 70 percent spike in demand at food banks. By opening 27 new pop-up pantries across the city and offering food delivery for 9,000 homebound seniors and people with disabilities, the S.F.-Marin Food Bank heroically ensured our city was fed and helped save countless lives.
As we continue to fight the virus, we cannot relent in our work to keep food on families' tables—which is why it is vital Congress continues to support nutrition assistance initiatives.  Through the COVID relief bills, Congress has allocated over $71 billion in nutrition assistance to Americans, including nearly $12 billion to fight hunger from the American Rescue Plan.  These American Rescue Plan funds have provided $2 million in direct assistance to the S.F.-Marin Food Bank and over $14 million worth of food to distribute across the Bay Area.  Our work, however, is not over yet, and Democrats are unwavering in our commitment to bringing robust nutrition assistance to San Francisco and the nation as we emerge from the pandemic.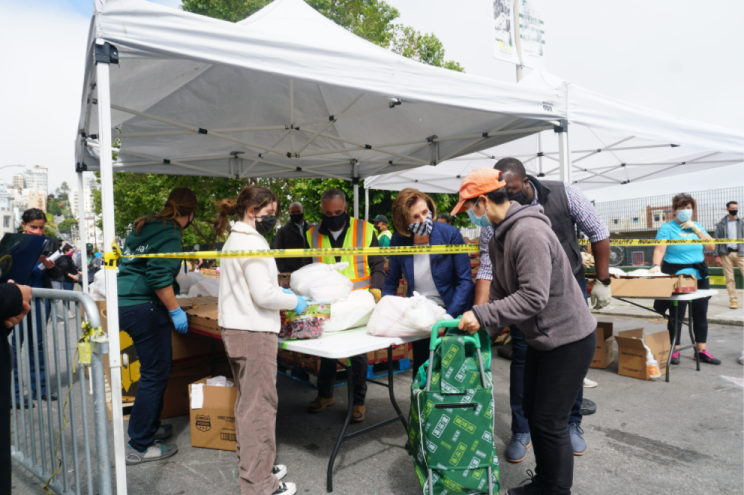 Congresswoman Nancy Pelosi volunteered at the San Francisco-Marin Food Bank's North Beach pop-up food pantry, highlighting the American Rescue Plan's nutrition benefits for food insecure Americans during the COVID-19 pandemic.

Help Is Here!
Under the leadership of Democrats in Congress and the Biden-Harris Administration, the American Rescue Plan is bringing hope and healing across the nation.  This week, the Department of Health and Human Services announced the launch of the Low-Income Household Water Assistance Program.  Funded by the American Rescue Plan and December COVID-19 Relief Bill, this program will advance environmental justice by bringing $116 million to California communities to help low-income households affected by the pandemic pay their water bills and improve communities' access to water and wastewater services.  See below for additional ways you can benefit from the American Rescue Plan: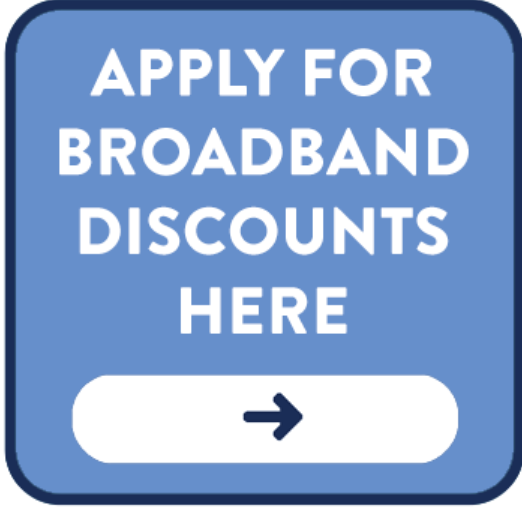 Staying Up To Date on COVID in San Francisco 
With the ever-present threat of COVID-19, it is important to stay updated with the ongoing changes in our community.  Below you can find some of those changes as well as tools and resources to help with COVID health:
The deadline for this year's Congressional Art Competition has been extended to Friday, June 11; apply here.
  A constituent contacted my San Francisco office to get assistance with their Paycheck Protection Program application to help offset costs for their local production company.  We contacted the Small Business Administration on behalf of the San Franciscan to help expedite their application, and they received $146,272 in assistance for their company.

Caseworkers in my San Francisco office work to address any problems or concerns you may have with a federal government agency.  To submit a Casework Authorization Form, please visit my website.

 
Please feel free to forward this information to your family and friends. To learn more about these efforts, to express your views, or to sign up for email updates, please visit my website. I am also on Twitter at http://twitter.com/NancyPelosi.
 


Sincerely,

Member of Congress