A Time to be Thankful
Season of Giving
Thanksgiving is an all-American holiday, when our country recognizes the great blessings that have been bestowed upon our nation.  As we prepare to celebrate with our loved ones, I want to express my deep gratitude for the honor of representing you.  Best wishes for a restful, hopeful and Happy Thanksgiving with your family, friends and neighbors!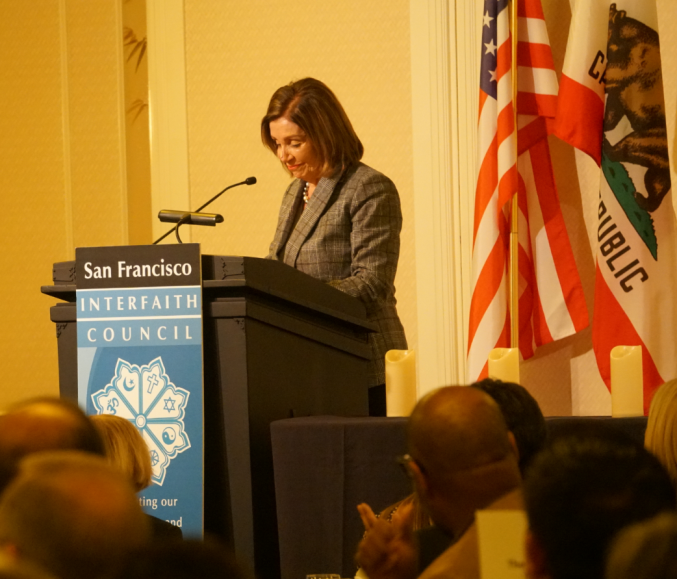 Congresswoman Nancy Pelosi joined the San Francisco Interfaith Council and faith-based leaders in celebration of the Council's 30th Anniversary at the 22nd Annual Thanksgiving Prayer Breakfast.
Turkey Tips
In celebration of the holiday season, the USDA has released some helpful tips on how to cook a turkey safely this Thanksgiving.
The USDA recommends buying only frozen pre-stuffed turkeys that display the USDA or State mark of inspection on the packaging. These turkeys are safe because they have been processed under controlled conditions. A food thermometer should also be used to ensure a safe minimum internal temperature of 165 °F has been reached to destroy bacteria and prevent foodborne illness.

For more information regarding food safety visit USDA online or call the USDA Meat and Poultry Hotline at 1-888-MPHotline.
Defending our Democracy
The Courts have been clear: the President's insistence that he is above the law is an offense to our Constitution and to every American.  Monday's District Court decision in the McGahn case is yet another resounding ruling that the Administration's claim of 'absolute immunity' from Congress's subpoenas has no basis in the law or our democracy, and must immediately cease.  Again and again, the Courts have reaffirmed the Congress's constitutional authority to conduct oversight on behalf of the American people.

As the Court ruled, 'It is hard to imagine a more significant wound than such alleged interference with Congress' ability to detect and deter abuses of power within the Executive branch for the protection of the People of the United States.'  The judge concluded that, 'Stated simply, the primary takeaway from the past 250 years of recorded American history is that Presidents are not kings.'

The House will continue to conduct oversight for the people, upholding the separation of powers that is the genius of our Constitution and the cornerstone of our Republic.
  My office assisted a constituent in retaining his disability benefits that had been suddenly terminated by the Social Security Administration (SSA). My constituent successfully appealed the termination, resuming his monthly benefits, and secured a significant back payment for the months he had not been receiving his financial benefits.

Caseworkers in my San Francisco office work to address any problems or concerns you may have with a federal government agency. To submit a Casework Authorization Form, please visit my website.
Please feel free to forward this information to your family and friends. To learn more about these efforts, to express your views, or to sign up for email updates, please visit my website. I am also on Twitter at http://twitter.com/NancyPelosi.
 


Sincerely,

Member of Congress