#WEmatter
#WEmatter
Women's Equality Day celebrates an American victory – extending voting rights to America's mothers, sisters, and daughters with the ratification of the 19th Amendment. Women fought, marched, sacrificed, demanded, and were imprisoned for the right to vote – and we must honor their strength and sacrifice. To commemorate Women's Equality Day, I was proud to join with Congresswoman Eshoo and community leaders at the San Francisco Women's Building – the first woman-owned and operated community center in the country – and reflect on the strides our nation has made towards women's equality and acknowledge the work that remains to ensure that every woman is afforded the opportunities to reach her full potential.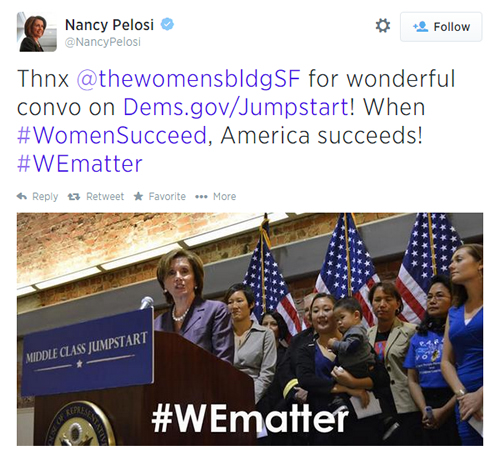 To follow Congresswoman Nancy Pelosi on Twitter, please click here.
Across the country, House Democrats are raising the drumbeat for our Middle Class Jumpstart action plan to put America's families first by promoting job creation, increasing accessibility to affordable education, and at the center of our initiative, increasing opportunities for women with our agenda, When Women Succeed, America Succeeds. Although nearly a century has passed since women gained the right to vote, women on average still earn only 77 cents for every dollar earned by men. Working mothers face an uphill battle in finding affordable, quality child care. Nationally more than 80 percent of low-wage workers do not have a single paid sick day. Women's reproductive rights are increasingly coming under attack with House Republicans' attempts to defund Planned Parenthood and the Supreme Court's deeply misguided Hobby Lobby decision. We need to fix this. 

Women deserve equality in the workplace, security at home, and access to affordable child careand health care. Your ideas and voices are vital to every policy discussion in our nation. You have the power to make progress in our continued fight for equality. Make your voice heard. Share your story.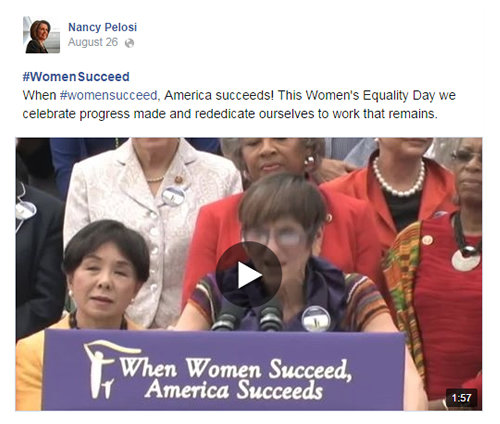 Earthquake Preparation
The recent earthquake in Napa reminds us of the strength in coming together as a community to offer food, shelter, and comfort to those affected in their time of need. We are reminded that after a natural disaster, it may be several days before vital services, like electricity and running water, are restored, and the importance of having an emergency plan in place for you and your loved ones. With the help of SF72, San Francisco's hub for emergency preparedness, you can sign up to receive updates and information should an emergency occur. You can also find out how to prepare for an emergency and make an emergency plan. Feel free to take a look at the useful tips below on how to best protect yourself and your loved ones should an earthquake occur. 
 
Earthquake Emergency Preparedness
Choose a safe place in every room — under a sturdy table or desk or against an inside wall where nothing can fall on you
Practice DROP, COVER, AND HOLD ON. Drop under a sturdy desk or table, hold on, and protect your eyes by pressing your face against your arm. If there's no table or desk nearby, sit on the floor against an interior wall away from windows, bookcases, or tall furniture that could fall on you.
Choose an out-of-town family contact.
Make sure you have a fire extinguisher in your home.
If you have children, inform babysitters and caregivers of your plan.
Be prepared to be without electricity, gas, water and telephones for up to three days. Have supplies on-hand including:

First aid kit and essential medications.
Canned food and can opener.
At least three gallons of water per person.
Battery-powered radio, flashlight, and extra batteries.
Special items for infant, elderly, or disabled family members.
To follow Congresswoman Nancy Pelosi on Twitter, please click here.
Please feel free to forward this information to your family and friends. To learn more about these efforts, to express your views, or to sign up for email updates, please visit my website. I am also on Twitter at http://twitter.com/NancyPelosi.
 


Sincerely,

Member of Congress