Use Water Wisely
Use Water Wisely
California is suffering from an historic drought that requires real, comprehensive solutions and serious conservation efforts from Californians. San Franciscans have continuously led the nation with our sustainability efforts, and in the face of this severe drought, it is important that now, more than ever, our City comes together to preserve this essential resource. In order to conserve water, small adjustments can have a big impact. Please take a look at the water-saving tips below from the Association of California Water Agencies. 

Laundry Room
Use the washing machine for full loads only to save water and energy.
Washing dark clothes in cold water saves water and energy.
Kitchen
Run the dishwasher only when full.
Install aerators on the kitchen faucet to reduce flows to less than 1 gallon per minute.
Use the garbage disposal sparingly. Instead, compost vegetable food waste and save gallons every time.
Wash your fruits and vegetables in a pan of water instead of running water from the tap.
Keep a pitcher of drinking water in the refrigerator instead of running the tap.
Cook food in as little water as possible. This also helps it retain more nutrients.
Bathroom
Install low-flow shower heads. Save: 2.5 Gallons.
Take five minute showers instead of 10 minute showers. Save: 12.5 gallons with a low flow showerhead, 25 gallons with a standard 5.0 gallon per minute showerhead.
Install aerators on bathroom faucets. Save: 1.2 Gallons Per Person/Day.
Turn water off when brushing teeth or shaving. Save: Approximately 10 Gallons/Day.
Turn off the water while washing your hair and save up to 150 gallons a month.
Fill the bathtub halfway or less. Save: 12 Gallons.
Take a (short) shower instead of a bath. A bathtub can use up to 70 gallons of water.
Be sure to test your toilet for leaks at least once a year by putting food coloring in your toilet tank. If it seeps into the bowl without flushing, there's a leak. Fix it and start saving gallons.

Water early in the morning or later in the evening when temperatures are cooler. Save: 25 gallons/each time you water
Check your sprinkler system frequently and adjust sprinklers so only your lawn is watered and not the house, sidewalk, or street. Save: 15-12 gallons/each time you water
Choose a water-efficient irrigation system such as drip irrigation for your trees, shrubs, and flowers. Save: 15 gallons/each time you water.
Water deeply but less frequently to create healthier and stronger landscapes.
Put a layer of mulch around trees and plants to reduce evaporation and keep the soil cool. Organic mulch also improves the soil and prevents weeds. Save: 20-30 gallons/each time you water/1,000 sq. ft.
Plant drought-resistant trees and plants. Save: 30- 60 gallons/each time you water/1,000 sq. ft.
Only by working together in our conservation efforts can we protect and expand our state's water supply, preserve our environment and natural resources, and build a sustainable future for all Californians.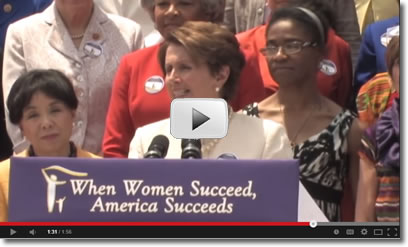 Passport Day – September 20, 2014
For San Franciscans that are interested in applying for a passport, the San Francisco Passport Agency will host Passport Day on Saturday, September 20, from 9:00 a.m. until 2 p.m. On Passport Day, no appointments are needed to apply for a passport, and customers can request routine or expedited service. Click here to find information on how to apply for a U.S. passport, including necessary documents and fees. To reduce your wait time, you may be interested in completing your application online and bring all completed, unsigned forms to the agency. 
 
Event:
Passport Day
Date:
Saturday, September 20, 2014
Time:
9:00 a.m. - 2:00 p.m.
Where:
San Francisco Passport Agency
95 Hawthorne Street, 5th Floor
San Francisco, CA 94105

You may also obtain passport information by phone, in English and Spanish, by calling the National Passport Information Center toll-free at 1-877-487-2778.
Please feel free to forward this information to your family and friends. To learn more about these efforts, to express your views, or to sign up for email updates, please visit my website. I am also on Twitter at http://twitter.com/NancyPelosi.
 


Sincerely,

Member of Congress