The State of Our Union is Strong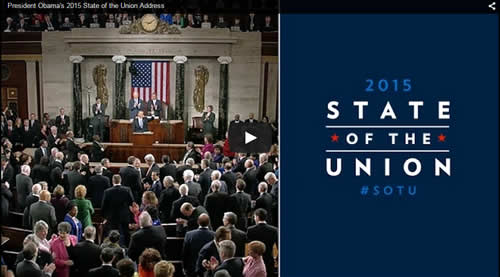 President Barack Obama's 2015 State of the Union Address on January 20th.
At his State of the Union Address on Tuesday night, President Obama articulated a powerful vision of opportunity and prosperity for the working families of our country. The President was forward-looking, and boldly embraced the imperative to grow the wages and bolster the financial security of hard working Americans. 

The strength of our society and the success of our economy depend on a strong and growing middle class. Unleashing the full purchasing power of working families is the guiding force behind the President's determination to work for bigger paychecks and better infrastructure, greater college affordability, fairer taxes and more recognition of the needs of families. 

President Obama has challenged Congress to build an economy that works for everyone, not just the wealthy and well-connected. Now, Republicans have a choice: come together with Democrats to advance the priorities of the American people, or dig in their heels for the same tired special interest giveaways. I hope we can find common ground and achieve the hard-fought, long-sought progress American families deserve.
Nancy Pelosi 
@NancyPelosi

---

Today in the House? Tea Party attacks on women's health care. I'd rather we work on growing the economy as POTUS discussed in his#SOTU.
5:18 PM - 22 Jan 2015
To follow Congresswoman Pelosi on twitter, please click here.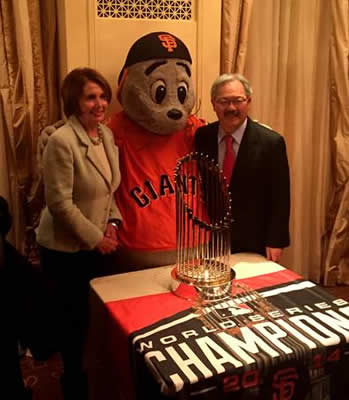 Congresswoman Pelosi welcomes Mayor Ed Lee, Lou Seal, and the Giants World Series Trophy to Washington, D.C. Congresswoman Pelosi joined Mayor Lee at the United States Conference of Mayors on Thursday, January 22nd.
Please feel free to forward this information to your family and friends. To learn more about these efforts, to express your views, or to sign up for email updates, please visit my website. I am also on Twitter at http://twitter.com/NancyPelosi.
 


Sincerely,

Member of Congress