Take It Down
A Stronger, More Inclusive Democracy 
This week, as we celebrated the 147th anniversary of the ratification of the 14th Amendment, granting equal protection for all, South Carolina voted to remove the Confederate Battle Flag from their Statehouse grounds. Yet at the same time, House Republicans moved to allow a vote to undo successful Democratic amendments that would have barred the display of Confederate flags in federal cemeteries and barred the National Park Service from doing business with gift shops that sell Confederate flag merchandise as part of the Interior Appropriations bill. After the terrible tragedy in Charleston, after decades of this flag serving as a banner of oppression, hate, and segregation, it is long overdue to take down the Confederate Battle Flag. That is why I rose on the Floor of the House of Representatives to offer a Privileged Motion calling on Speaker Boehner to remove any state flag containing the Confederate Battle Flag from the United States Capitol. However, along a largely party line vote, instead of taking action, my resolution was sent instead to languish at the Committee on House Administration. House Democrats stand with the victims and families of Charleston, and against the public display of this symbol of hate.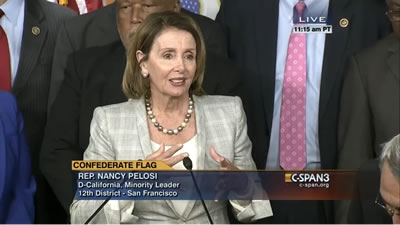 Congresswoman Nancy Pelosi joins with House Democrats to discuss removing the Confederate Battle Flag from the U.S. Capitol, National Parks and military cemeteries.

Unfortunately, in addition to defending the Confederate Battle Flag, House Republicans resumed their attacks on our children's education, the water we drink, the air we breathe while ignoring the need to create good paying jobs. In their Department of Interior and Environmental Protection Agency funding bill, they support empowering polluters and eviscerating protections for clean air and clean water. In their Elementary and Secondary Education Act bill, they freeze funding for six years, diverting funds from low income schools, and eliminating accountability. And instead of supporting President Obama's actions to compensate the overtime worked by of millions of salaried Americans, they say the American people just need to work harder.

In contrast, House Democrats believe that the most important investment we can make in our nation's future is to provide quality education to our children and create opportunities for lifelong learning for the American people. We are fighting for 'Bigger Paychecks, Better Infrastructure,' and are working to pass a long-term, robustly fundedHighway Trust Fund bill – with just 22 days left before the Trust Fund goes bankrupt. And we are fighting for theExport-Import Bank to create jobs and ensure America's competitiveness in the global marketplace.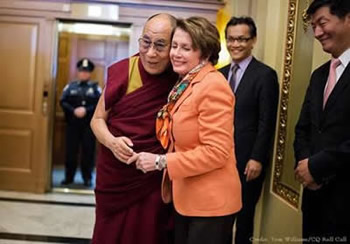 This Wednesday, His Holiness the Dalai Lama celebrated his 80th birthday. His role as a compassionate religious leader, an astute diplomat, and an undaunted believer in the power of nonviolence has uplifted numerous people throughout the world. Photo Credit: Tom Williams/CQ Roll Call
You can find my op-ed with Richard Gere in the Wall Street Journal celebrating the life of His Holiness and urging us to stand with the Tibetan people.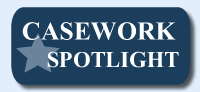 A constituent recently contacted my office seeking assistance with Medicare after she was denied coverage for a hip surgery she underwent several months ago. My office contacted Medicare and discovered that Medicare's system at the time of the surgery had not processed the change from when she had unenrolled from her previous HMO to join Medicare. Through my office's assistance, Medicare was able to reprocess her previously denied claims that were affected by the administrative error, and as a result my constituent will not be billed the full cost of the procedure, and Medicare will process all future claims going forward.

Caseworkers in my San Francisco office work to address any problems or concerns you may have with a federal government agency. To submit a Casework Authorization Form, please visit my website.
Nancy Pelosi 
@NancyPelosi

---

To follow Congresswoman Pelosi on twitter, please click here

.

Doyle Drive Closed July 9-13th, 2015 

Doyle Drive will be closed this weekend and will reopen on July 13th. Once the roadway is opened motorists will be driving on the new Doyle Drive, completely replaced with new state-of-the-art infrastructure!

This is a great moment for San Francisco as we complete the transformation of Doyle Drive and open the new Presidio Parkway. This modern parkway ensures safety in an earthquake and eliminates dangerous conditions for the 120,000 vehicles travelling over Doyle Drive every weekday.

For the full statement, click here.
 

 
Please feel free to forward this information to your family and friends. To learn more about these efforts, to express your views, or to sign up for email updates, please visit my website. I am also on Twitter at http://twitter.com/NancyPelosi.
 


Sincerely,

Member of Congress