Safe in the Face of Terror
Keep America Safe, Ensure our Values 
In the aftermath of the horrifying Paris attacks, we must and will continue to strengthen our effort to destroy ISIS and fight terror. ISIS's brutality is a threat to all nations and all people – and in Syria and Iraq we see families desperately trying to escape ISIS's unspeakable violence and gruesome campaign of torture, rape and executions.

However, the Republican Syrian Refugee bill passed on Thursday does nothing to enhance our security. Instead, it effectively ends resettlement for these terrified families fleeing from Syria and Iraq, and severely handicaps refugee settlement in the future. It betrays our proudest values to slam the door in the face of desperate mothers and fathers seeking a safe place for their children. Democrats called for a vote on a strong alternative, the Thompson-Lofgren Secure Refugee Process Act, which would require the Secretary of Homeland Security to verify the identity of all refugee applicants. As is the American tradition, we can both ensure the security of our country and welcome families fleeing terror.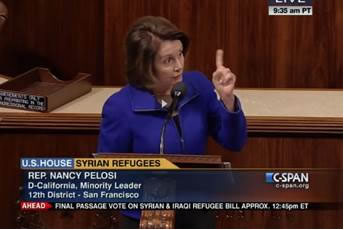 Leader Pelosi delivers remarks on the House Floor in opposition of the Syrian Refugee bill.


Strengthening US-China Relations
Last week, I led a Congressional Delegation to Hong Kong, Beijing and Tibet to meet with local Chinese government officials, students and civil society. Throughout the trip, we engaged in respectful and candid discussions on economic growth, national security and cyber security issues, human rights and the importance of bold action to reduce carbon pollution. Our trip was constructive and expanded cooperation between our nations. 

Our trip to Tibet was the first visit by Members of Congress since the 2008 unrest marked by protests, demonstrations, and violence. We were able to see first-hand China's commitment to building infrastructure across China, including in Tibet, and addressing climate change. However, we still have strong concerns regarding freedom of religion and expression for the Tibetan people; the preservation of Tibet's unique cultural, religious and linguistic heritage; and diplomatic and public access to Tibet. We also conveyed to the Chinese government officials the strong, bipartisan support the Dalai Lama enjoys in the Congress of the United States and among the American people. The human rights of the Tibetan people must be strengthened, and I will continue to work with my colleagues in Congress to push for reforms needed to achieve this. 
 
Nancy Pelosi 
@NancyPelosi

---

We visited the iconic Potala Palace, which served as the living quarters & burial sites for former Dalai Lamas. 
 
7:28 PM - 17 Nov 2015

       To follow Congresswoman Pelosi on twitter, please click here

.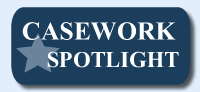 A health care organization serving the community in my district recently applied for reinstatement as a nonprofit organization with the Internal Revenue Service (IRS) for tax exempt status. Because the organization relies on donations for operation, it was concerned about the length of time it was taking for the IRS to make its determination. Therefore, my staff contacted the IRS and conveyed the organization's concerns, requesting an update on the status of the case. Shortly thereafter, the organization's IRS status was reinstated, and it was once again able to accept donations to allow it to continue providing vital healthcare services to the community. 

Caseworkers in my San Francisco office work to address any problems or concerns you may have with a federal government agency. To submit a Casework Authorization Form, please visit my website.
Please feel free to forward this information to your family and friends. To learn more about these efforts, to express your views, or to sign up for email updates, please visit my website. I am also on Twitter at http://twitter.com/NancyPelosi.
 


Sincerely,

Member of Congress