Rejecting Our Values
Rejecting Our Values
Last week, the House had an opportunity to work together to address the humanitarian emergency at the border in a compassionate manner and in a way that best reflects who we are as a country. Instead of constructive steps, like bringing comprehensive immigration reform for a vote, the House Republican leadership rejected our hand of friendship and passed legislation that is opposed by humanitarian and religious leaders across all faiths.

The legislation failed to include resources for legal aid for unaccompanied children. It also failed to provide sufficient resources for immigration judges to adjudicate claims, exposing vulnerable unaccompanied children to a rushed process without counsel, without the right to appeal, and without the ability to make their terror understood. The legislation makes current law much harsher for all unaccompanied children, whether they are from Central America or from Mexico. Yet, in their eyes, this was not punitive enough, as they also voted to end the Deferred Action for Childhood Arrivals (DACA) and deport the DREAMers.

It is not enough for House Republicans to send desperate children back to the violence of their home countries – they must also deport the bright young immigrants in our schools and deny work permits to victims of domestic violence while their cases move through the court system. These pieces of legislation are a rejection of our most cherished values and run counter to the spark of divinity that exists in all people.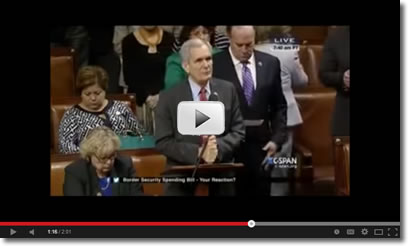 House Democrats Call upon GOP to Address #BorderCrisis with Comprehensive Immigration Reform.
A Fresh Celebration
As we celebrate National Farmer's Market Week, what better way to spend it than stopping by one of San Francisco's markets this weekend to pick up some fresh fare from local farmers? 

San Franciscans understand the importance of supporting local markets and purchasing fresh produce and thanks to the efforts of the United States Department of Agriculture (USDA), eating healthy just got easier! With the USDA National Farmers Market Directory, you can locate farmers markets near you. You may also be interested in Know Your Farmer, Know Your Food to see how the USDA is working to strengthen local and regional food systems. Through efforts like the Food and Nutrition Service, many farmers markets now have the ability to accept CalFresh, commonly referred to as food stamps. In 2013, over three million dollars in food stamps was spent at farmers markets throughout California.

By buying local produce, we expand opportunities for our farmers markets and small businesses, and support the health and livelihood of our families and our local economy. 

To follow Congresswoman Nancy Pelosi on Twitter, please click here.
Please feel free to forward this information to your family and friends. To learn more about these efforts, to express your views, or to sign up for email updates, please visit my website. I am also on Twitter at http://twitter.com/NancyPelosi.
 


Sincerely,

Member of Congress