Put People Before Politics
Recklessness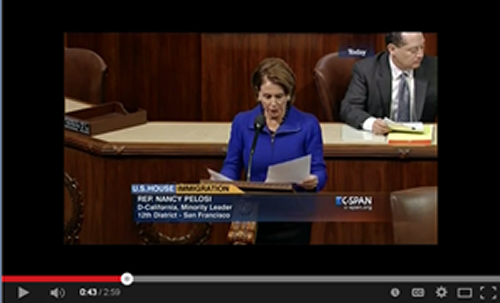 Congresswoman Nancy Pelosi delivered remarks on the House floor on Wednesday in opposition to amendments to the Homeland Security Bill.
House Republicans this week approved a bill meant to reverse President Obama's Immigration Accountability Executive Actions over my strong objections. House Democrats unanimously opposed one Republican amendment that would deport the DREAMers, our nation's aspiring Americans who came to this country as children. In this extreme, anti-immigrant amendment, resources would be diverted away from deporting felons and threats to our national security, instead tearing apart millions of hard working families. This action by Speaker Boehner was an extremely dangerous and cavalier approach to the safety of American families, and he should reconsider this reckless agenda and come together with Democrats to swiftly restore certainty to the funding of the Department of Homeland Security.

Safety Bridge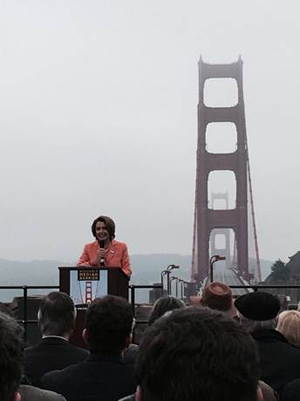 Congresswoman Nancy Pelosi delivers remarks at the ribbon cutting ceremony for the new movable median barrier on the Golden Gate Bridge on Sunday, January 11th.
Remembering Dr. King

The Rev. Dr. Martin L. King, Jr. is an American hero who dedicated his life to moving our country closer to living up to our ideals. As a courageous organizer and compassionate faith leader, Dr. King spoke out on the major challenges of the 20th century, advocating for the end of segregation, economic exploitation, and war. This weekend, communities throughout the United States honor his legacy through service. In Congress, we must strive to honor Dr. King by ensuring that the victories he made possible – for equality, for health care, for justice, for peace, for voting rights and workers' rights – are not diluted by pernicious legislation or eroded by apathy. Dr. King taught us that, together, we have the power to triumph over adversity. 

Fifty years after his leadership helped bring about the Voting Rights Act, Dr. King's insistence that the ballot is vital to strengthening our democracy renews the urgency with which House Democrats continue the fight to restore key portions of this historic law and advocate for equality of opportunity for all.
 
Until January 19, 7th, 8th, and 9th grade students can see the movie Selma, chronicling the historic 1965 Selma to Montgomery march for civil rights led by Dr. King and others, at no cost, if they provide a student ID or report card. Participating theaters include AMC Metreon 16, AMC Van Ness 14, Cinemark 20 Daly City, and the Marina Theater.
Nancy Pelosi 
@NancyPelosi

---

Amid this week's terrorist attacks, Americans stand in solidarity with the people of France & those taking part in the #ParisMarch.
2:29 PM - 16 Jan 2015
Congresswoman Pelosi's tweet of condolence after the Paris terrorist attacks last week. To follow Congresswoman Pelosi on twitter, please click here
.                                                                                                                                                    
Please feel free to forward this information to your family and friends. To learn more about these efforts, to express your views, or to sign up for email updates, please visit my website. I am also on Twitter at http://twitter.com/NancyPelosi.
 


Sincerely,

Member of Congress