Orlando Strong
Love Conquers Hate
Two months ago, an act of unfathomable hate claimed 49 lives at Pulse nightclub in Orlando. Yesterday, it was my somber privilege to meet with survivors and the family members of those who lost their lives, and to lay flowers at the makeshift memorial outside Pulse.

In San Francisco, and all across the nation, Americans continue to hold the victims, the survivors and the families of Pulse in our hearts. After losing her brother to AIDS, Barbara Poma opened Pulse to keep his memory alive through a place where young LGBT Americans would know they were loved, celebrated and safe. Pulse was a monument to joy, born out of grief. Through our tears, in the name of the young lives cut too short, let us renew this enduring faith: love will triumph over hate.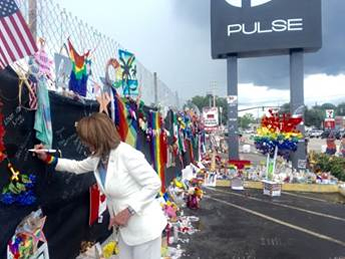 Congresswoman Nancy Pelosi visits and pays respects at the Pulse Nightclub Memorial in Orlando, Florida.

Reckless Recess
Last month, House Republicans chose to begin their seven-week recess – the longest summer break in 60 years – without taking action to confront the urgent, unfinished issues facing the American people. From Zika, to the Flint water crisis, to gun violence prevention and the opioids epidemic, Republicans are abdicating Congress' moral responsibility to protect and defend the American people. House Democrats are calling on the Speaker to end this reckless recess – and we are demanding real action on the priorities of hard-working Americans. With our Stronger America: A New American Security Agenda, House Democrats are proposing bold, specific solutions to secure our nation, secure our future and secure our democracy for all of America's hard-working families.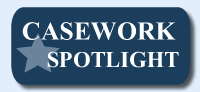 My constituent, a former federal employee who was injured on the job, was prescribed a motorized wheelchair by his physician, and he sent a request to obtain the specific wheelchair to the Department of Labor Office of Workers Compensation Programs (OWCP) along with quotes from potential vendors. After a long delay with no response, he contacted my office for assistance. My staff inquired with OWCP as to the status of my constituent's request and was informed that he needed to provide a description of any similar appliances that he presently owned. Since my constituent did not own any similar appliances, my staff relayed this to OWCP, which was then able to make a favorable decision. Subsequently, my constituent obtained his motorized wheelchair, which has mobilized and empowered him in our geographically complex city.

Caseworkers in my San Francisco office work to address any problems or concerns you may have with a federal government agency. To submit a Casework Authorization Form, please visit my website. 
Please feel free to forward this information to your family and friends. To learn more about these efforts, to express your views, or to sign up for email updates, please visit my website. I am also on Twitter at http://twitter.com/NancyPelosi.
 


Sincerely,

Member of Congress