Only 9 Days Left
Delivering on the Promise of Care 
Anita Hiley was uninsured when she was diagnosed with stage-four uterine cancer, which had metastasized throughout her body. Knowing she needed the best care possible, totaling hundreds of thousands of dollars, Anita turned to Covered California, California's health insurance marketplace, allowing her to obtain health insurance and the lifesaving cancer treatment she desperately needed at UCSF. It is through the Affordable Care Act that Anita was able to receive treatment, and the reason she is alive today. 

Anita's remarkable story is one of many across California, as documented in a report released this week by Covered California unveiling data on the Affordable Care Act's success at delivering care to Covered California enrollees in more than 100 of the best hospitals across California. With 89 organ transplants performed, 10,928 incidents of cancer treatment provided, and 5,745 babies delivered for Covered California enrollees in the first 18 months of its installment, the Affordable Care Act is delivering on the promise of making health care a right for all Americans, not just a privilege for the few. 

Thanks to the Affordable Care Act, more than 1.3 million Californians now have affordable coverage through Covered California – allowing them to access vital, high-quality health care. 

Covered California is currently in its third open enrollment period. There are only 9 days remaining until the deadline for enrolling in coverage for 2016 ends, as open enrollment ends January 31st, 2016.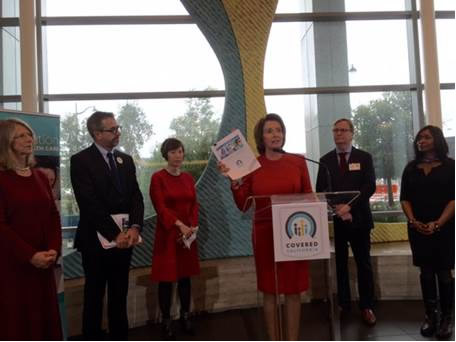 Congresswoman Pelosi joins patients, providers, and health officials at UCSF Mission Bay to unveil data on the Affordable Care Act's success at delivering care to Covered California enrollees in more than 100 of the best hospitals across California.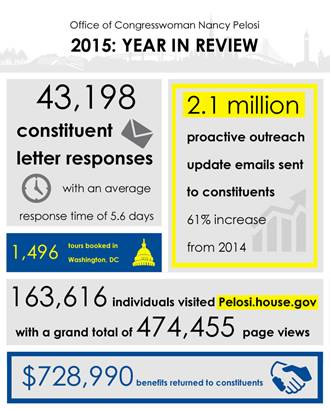 In 2015, my office worked around the clock to assist the San Franciscans in California's 12th Congressional District. In 2016, I will continue to fight to improve the lives of the residents in this great city. Click here if you need assistance from my office.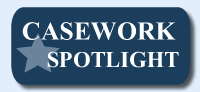 Recently, a constituent who is a veteran contacted my office regarding a billing problem with the San Francisco VA Medical Center (SFVAMC). Several years ago, my constituent had received emergency care at a local hospital, and had provided the SFVAMC with the necessary billing forms so the VA could reimburse the hospital for the expenses. Unfortunately, a miscommunication caused a lengthy delay in the VA releasing funds to pay the bills, and consequently, the hospital sent the unpaid bills to a collection agency. This adversely affected my constituent's credit score. Upon contacting my office, my staff submitted a request to the SFVAMC to review my constituent's file and ensure the bills were paid. Shortly thereafter, the SFVAMC confirmed that the constituent should not have to pay the expenses from the hospital, and it processed the payments. 
Caseworkers in my San Francisco office work to address any problems or concerns you may have with a federal government agency. To submit a Casework Authorization Form, please 
visit
 my website.
Please feel free to forward this information to your family and friends. To learn more about these efforts, to express your views, or to sign up for email updates, please visit my website. I am also on Twitter at http://twitter.com/NancyPelosi.
 


Sincerely,

Member of Congress