Lessons for Protecting America's Children
The Story of Flint 
The children and families of Flint, Michigan are caught in an unconscionable crisis. In an American city, thousands and thousands of children have been drinking and bathing in poisonous water for more than a year. This was not an unavoidable natural disaster — it was a man-made catastrophe. Now, thousands of children are at risk of lifelong damage from lead exposure — and we must help to get them the care, attention and resources they need. 

That is why House Democrats held a hearing this week — "The Flint Water Crisis: Lessons for Protecting America's Children" — to gather testimony from public health experts and local officials on this ongoing emergency. 

We have a responsibility to help the people of Flint tell their story, and to be sure that story is heard loudly and clearly in the halls of Congress. The story of Flint challenges the conscience of America. It holds lessons and warnings for communities across the country. For the children of Flint, for the families of America, we must understand what happened here — and we must act to fix it.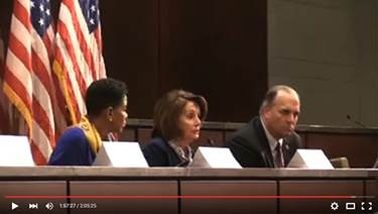 Democratic Leader Nancy Pelosi delivers remarks Wednesday at a Steering & Policy Committee hearing entitled "The Flint Water Crisis: Lessons for Protecting American's Children" with Congresswoman Donna Edwards and Congressman Dan Kildee.

A Statement of our National Values 
This week, President Obama released his budget proposal — a bold, forward-looking plan for a new American future fueled by innovation, world-class education, and respect for the needs of working families. 

The President's budget honors the bipartisan agreement signed into law last fall and charts a new course for growth. Under this budget, we double investment in clean energy R&D, create the industries and jobs of the future, embrace 21st Century transportation, and launch Vice President Biden's Moonshot to end cancer. We empower hard-working families with expanded tax credits and access to quality child care, lift striving students with strengthened Pell Grants, and enact long-overdue comprehensive immigration reform. We build on our success in reducing health care cost growth, support our national security and energize our economy.

While Republicans cling to a narrow, special-interests-first program for our future, Democrats will stand with the President's vision for a new American era of prosperity, opportunity and ambition.
 
Nancy Pelosi 
@NancyPelosi

---

To follow Congresswoman Pelosi on twitter, please click here

.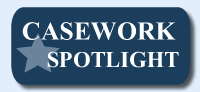 My office was recently contacted by a college student who is taking this semester to intern at a local company. Because he is an international student, he had to apply for employment authorization through U.S. Citizenship and Immigration Services (USCIS). After applying in November, he expected to receive his employment authorization card by his start date at the beginning of February. However, when that did not happen, he could not report to work and had no means to support himself. After he contacted my office, my staff sent an inquiry to USCIS conveying my constituent's concerns. Shortly thereafter, USCIS approved my constituent's employment authorization, allowing him to start his internship. 

Caseworkers in my San Francisco office work to address any problems or concerns you may have with a federal government agency. To submit a Casework Authorization Form, please visit my website.
Please feel free to forward this information to your family and friends. To learn more about these efforts, to express your views, or to sign up for email updates, please visit my website. I am also on Twitter at http://twitter.com/NancyPelosi.
 


Sincerely,

Member of Congress