Kindergarten to College
Saving for College Early 
Education is the most important investment that families can make in themselves and that a nation can make in its future. With the Kindergarten to College initiative, San Francisco is once more leading the way for the nation. This week, I visited a class of first graders at Monroe Elementary School in the Excelsior neighborhood who have a head start in saving for college through this unique program. 

This automatic, universal initiative is empowering thousands of hard-working San Francisco families to begin saving for the future. The goal of the program is simple - to ensure every child in San Francisco can save for college. Upon entering kindergarten, each child is given a $50 deposit from the City and County of San Francisco to put into a college savings account, with additional contributions to lower income families and philanthropic contributions to help match families that save.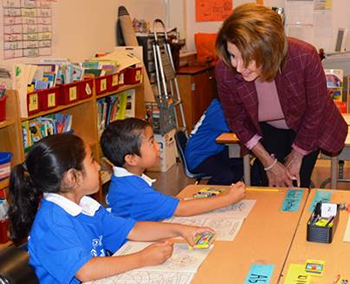 Congresswoman Nancy Pelosi meets San Francisco 1st graders who are beneficiaries to the Kindergarten to College program at Monroe Elementary School in the Excelsior neighborhood.

With the start of the new school year, we are reminded of the need to put college within reach for every American. That is why House Democrats have championed the Bank On Students Emergency Loan Refinancing Act – to allow borrowers to refinance their student loan debt at lower interest rates. If we are to close the gap of opportunity, we must close the gap in education. We have a responsibility to our children to put them on a path to success – ensuring they have access to quality higher education. 
 
Nancy Pelosi 
@NancyPelosi

---

To follow Congresswoman Pelosi on twitter, please click here

.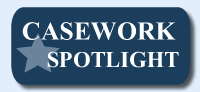 My office was recently contacted by a constituent who is a victim of domestic violence. As an immigrant to the United States, she recently separated from her U.S. citizen spouse, which left her without the financial means to support herself. Although she applied for employment authorization with the U.S. Citizenship and Immigration Services under the Violence Against Women Act, her application had been pending for over 90 days and during that time she had no means to support herself. She had also been offered employment and accepted a position at a local company, but was unable to begin work until her employment authorization was approved. My office contacted USCIS to relay the urgency of my constituent's situation as well as the hardship the situation had caused her. Shortly thereafter, her employment authorization was approved, allowing her to begin work at her new job. 

Caseworkers in my San Francisco office work to address any problems or concerns you may have with a federal government agency. To submit a Casework Authorization Form, please visit my website.
Bart Transbay Tube Closure 
Please be aware that BART has an upcoming closures of Transbay Tube service. BART will close the West Oakland Station and will not run trains between Oakland and San Francisco stations Friday 9/5, Saturday 9/6, & Sunday 9/7

For more information, click here.
Please feel free to forward this information to your family and friends. To learn more about these efforts, to express your views, or to sign up for email updates, please visit my website. I am also on Twitter at http://twitter.com/NancyPelosi.
 


Sincerely,

Member of Congress