Heritage through the Arts
40 Years in the Making
This past week, I had the distinct honor to attend the dedication ceremony of the new Mexican Museum in our beloved Yerba Buena art district. Art lovers and city leaders came together and saw a 40 year old dream come true. In the heart of our great city, we honored the many Latino leaders who came before us and reflected on the contributions of immigrants who help make America more American. I was honored to join Mexican Foreign Secretary Claudia Ruiz Massieu and listen to her discuss the importance of preserving Latino art and artifacts and strengthening the relationship between the United States and our southern neighbor.

The ceremony was a beautiful tribute to the determination and courage immigrants bring to our city, our state, and our country. Mexican immigrants coming to the United States, whether a hundred years ago or four months ago, enrich our nation. By bringing their commitment to family, faith, and community to our city, they help create a better future for all of us.. These are the qualities that reinvigorate America's cities, our economy, and our art.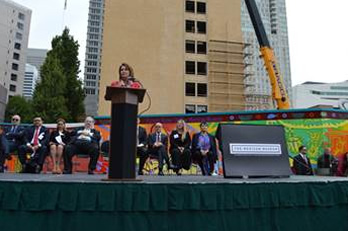 Congresswoman Nancy Pelosi and other distinguished guests promote Latino culture and values during a dedication ceremony for San Francisco's new Mexican Museum

Invigoration in Bayview
The arts are central to who we are as a country. That is why I was proud to attend the ribbon-cutting ceremony of the renovated Bayview Opera House. The two-year renovation will make this historic and artistic landmark accessible to our fellow San Franciscans and guests from around the world. The Bayview Opera House will also be accessible to young people in Bayview. This restoration celebrates the spiritual, intellectual, and cultural life of this community.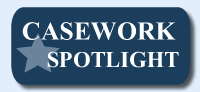 A hard-working San Franciscan was recently hired for a teaching position in the San Francisco Unified School District. However, she had been waiting for over 100 days for U.S. Citizenship and Immigration Services (USCIS) to process her employment authorization, which she needed to obtain her teaching credential and start her job. With the school year approaching, my constituent was concerned that additional delays might prevent her from starting her new job. Upon learning of the situation, my staff immediately relayed my constituent's concerns to USCIS. Shortly thereafter, my constituent was informed that her employment authorization had been approved, thus clearing the way for her to begin her new teaching position and contributing to the lives of young San Franciscans.

Caseworkers in my San Francisco office work to address any problems or concerns you may have with a federal government agency. To submit a Casework Authorization Form, please visit my website. 
Please feel free to forward this information to your family and friends. To learn more about these efforts, to express your views, or to sign up for email updates, please visit my website. I am also on Twitter at http://twitter.com/NancyPelosi.
 


Sincerely,

Member of Congress