#HealthierNextGen
Fueling Young Minds
It was an honor to join Chef Tom Colicchio at Mission High School to discuss ways to ensure success in the classroom by fueling young minds with proper nutrition and take a tour of the student run farm and a cooking demonstration. 

Today, the San Francisco Unified School District is leading the way in our nation – setting high nutrition standards with fresh, high quality school lunches, breakfasts, suppers and snacks. This achievement has been the product of a community-wide effort with nutritious meals provided by Revolution Foods, forward-looking local leaders, dedicated cafeteria workers and the Mission High students working on "My Farm", who know that a healthier future takes effort. The same is true in Congress. In 2010, with the help of our stalwart champion First Lady Michelle Obama, we passed the Healthy, Hunger-Free Kids Act of 2010, which advances two goals: reducing childhood hunger and childhood obesity. In the United States, 1 in 3 children suffer from obesity. In San Francisco, 150,000 people are at risk of hunger, with 1 in 4 being children. 

As Chef Tom Colicchio said, "It is about the future; you plant the seed and watch it grow, just as you watch children grow." Providing our children with healthy food is not an expense; it is an investment in the future of our nation. We must work together to ensure that children have healthy meals, everyday – regardless of their parents' income or where they live. We must empower students with the health, the education, and the economic security they need to carry our nation in the future.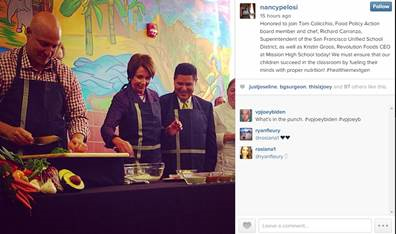 To follow Congresswoman Nancy Pelosi on Instagram, please click here.
A Community of Compassion
Congresswoman Nancy Pelosi lends a hand at the first meal service of the new St. Anthony's Dining Room.
On Saturday, I was proud to join with Mayor Ed Lee and community leaders to celebrate the grand opening of the new St. Anthony's Dining Room. 

What St. Anthony's provides is more than just a hearty meal; more than a center for clothes and services; more than a site of affordable senior housing. St. Anthony's gives strength to the struggling. It gives dignity to the downtrodden. It reaches through the hardships of those who come here in need, and recognizes the spark of divinity that burns within us all. It is a place that reignites the humanity of every person who walks through its doors – helped and helper alike. 

As we open the doors to this marvelous new facility, let us dedicate ourselves to a renewed, optimistic, and emboldened vision for Our City. Let us keep our commitment to expanding and strengthening this community of compassion. Let us lift our eyes and our spirits to a warm and hearty hope in the future of St. Anthony's – and all those it serves.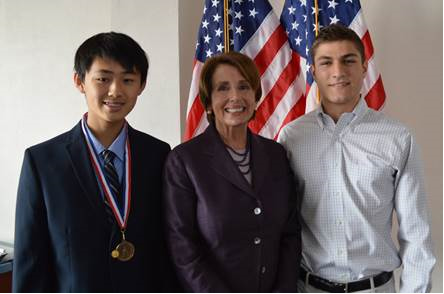 Congresswoman Nancy Pelosi joins with Jeff Ung, this year's District 12 Congressional Art Competition winner and Matthew Schrage, creator of the "Time to Code" app and District 12 winner of the 1st Annual House Student App Contest.
Please feel free to forward this information to your family and friends. To learn more about these efforts, to express your views, or to sign up for email updates, please visit my website. I am also on Twitter at http://twitter.com/NancyPelosi.
 


Sincerely,

Member of Congress