Groundbreaking Growth
Groundbreaking Growth
It was a pleasure to attend the groundbreaking of the Alice Griffith Housing Development this Wednesday. In this wonderful new part of the Candlestick Point and Hunters Point Shipyard area, we are taking steps to meet one of the most pressing challenges we face: affordable housing. 

By revitalizing 256 distressed public housing units into an economically-integrated community, we are transforming isolated islands of poverty and connecting families to services, resources, and opportunities to create a better future. By building an additional 248 housing units, we are also building new possibilities for families that will soon call Alice Griffith home. 

This has been a joint effort. I am so proud that the Alice Griffith rebuild was one of the five recipients of more than $30 million in Choice Neighborhoods Initiative Implementation grants that Senators Feinstein, Boxer and I were able to secure for this project. 

Affordable housing is a critical tool in our shared efforts to build a stronger, more vibrant, more inclusive future for San Francisco. We must ensure that people from all walks of life can continue to live in our beautiful city, share in its vibrancy, and enjoy its diversity and its energy.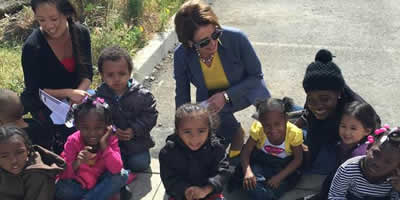 Congresswoman Nancy Pelosi joins future leaders at the groundbreaking ceremony for the Alice Griffith Housing Development on Wednesday, April 8.
LGBT Lives Matter
LGBT lives matter. Here in San Francisco, we have long known this simple fact. Yet, we have lost too many loved ones who are lesbian, gay, bisexual, and transgender as the result of misguided, harmful efforts to shame, punish, and coerce LGBT Americans into denying who they are or who they love. 

President Obama's leadership on calling for an end to these practices serves as a clarion call for states to act swiftly to protect the lives of LGBT citizens, especially children and young adults, whose lives and dignity are at risk every time a medical professional or community member refuses to accept them. 

Under the leadership of Governor Jerry Brown, California leads the nation as the first state to ban this harmful practice and now is the time for other states to lead the charge until we have a national law that protects LGBT Americans from these practices.

#BankonStudents 
Education is the best investment we can make in our children and our nation. At City College of San Francisco (CCSF) on Tuesday, Mayor Ed Lee and I spoke about how to ensure that higher education is accessible to all. 

Community colleges are critical to preparing our nation to meet the challenges of the 21st century economy. That is why affordable, quality college education is a key pillar of Democrats' agenda – including the Bank on Students Emergency Loan Refinancing Act. The quality education provided at America's community colleges is an essential tool to achieving prosperity and economic security.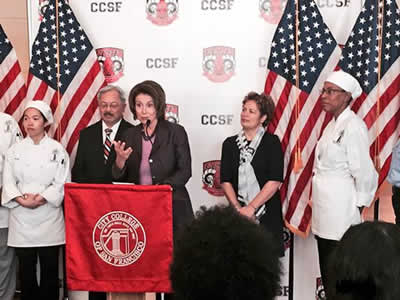 Congresswoman Pelosi joins Mayor Ed Lee at CCSF to discuss the importance of quality, affordable higher education – and the vital role that CCSF plays in our city.
Please feel free to forward this information to your family and friends. To learn more about these efforts, to express your views, or to sign up for email updates, please visit my website. I am also on Twitter at http://twitter.com/NancyPelosi.
 


Sincerely,

Member of Congress