From Post to Park
Our City's Treasure
On Tuesday, I was proud to join with former U.S. Secretary of State George Shultz, Presidio Trust Chair Nancy Bechtle, and Presidio Trust Executive Director Craig Middleton for the Presidio Officers' Club Re-Opening Celebration. As we participated in the ribbon cutting ceremony and took in some of the most beautiful views of the City, I was reminded of the words Franklin D. Roosevelt spoke during his visit to San Francisco: "America is new. It is in the process of change and development. It has the great potentialities of youth, and particularly is this true of the great West, and of this coast, and of California." 

More than eight decades later, Roosevelt's words still ring true. There is perhaps no more fitting an example of our great nation's process of change and development – and of our progress – than the Presidio, which has become a national gem from post to park. Thanks to $6.75 million in federal funding and the relentless dedication of community leaders, the Presidio Officers' Club, which was once the social hub for Army brass, will now serve as the Presidio's front door, offering a gathering place for people of all ages, from all walks of life, from all communities in San Francisco and around the world.

The Presidio reminds us that the most durable future will be the one we build together. As we move forward, we will continue the process of change and development that honors our City's past and creates a more progressive, inclusive, and hopeful future.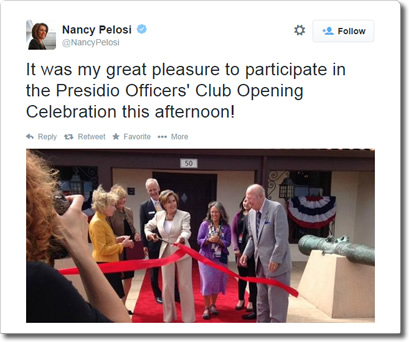 To follow Congresswoman Nancy Pelosi on Twitter, please click here.
The Power of Innovation
This week, I joined with Congresswoman Eshoo for a tour of Yelp's headquarters at 140 New Montgomery, a building that demonstrates the historic foundation and entrepreneurial spirit that defines our City.

140 New Montgomery, the first significant skyscraper to grace the San Francisco skyline, served as the first home of the Pacific Telephone Co. In 1929, Sir Winston Churchill made one of the world's first transatlantic telephone calls to his wife on their 21st wedding anniversary from the historic tower. After making the call, he said, "Why say the age of miracles is past? It is just the beginning." In San Francisco, we proudly carry on this commitment to innovation by growing the economy of today and expanding the possibilities of tomorrow. 
Congresswoman Nancy Pelosi and Anna Eshoo join Yelp CEO Jeremy Stoppelman and Yelp executives for a tour and policy discussion at Yelp Headquarters in San Francisco.
Please feel free to forward this information to your family and friends. To learn more about these efforts, to express your views, or to sign up for email updates, please visit my website. I am also on Twitter at http://twitter.com/NancyPelosi.
 


Sincerely,

Member of Congress